Art Talk with Theater Artist Rose Cano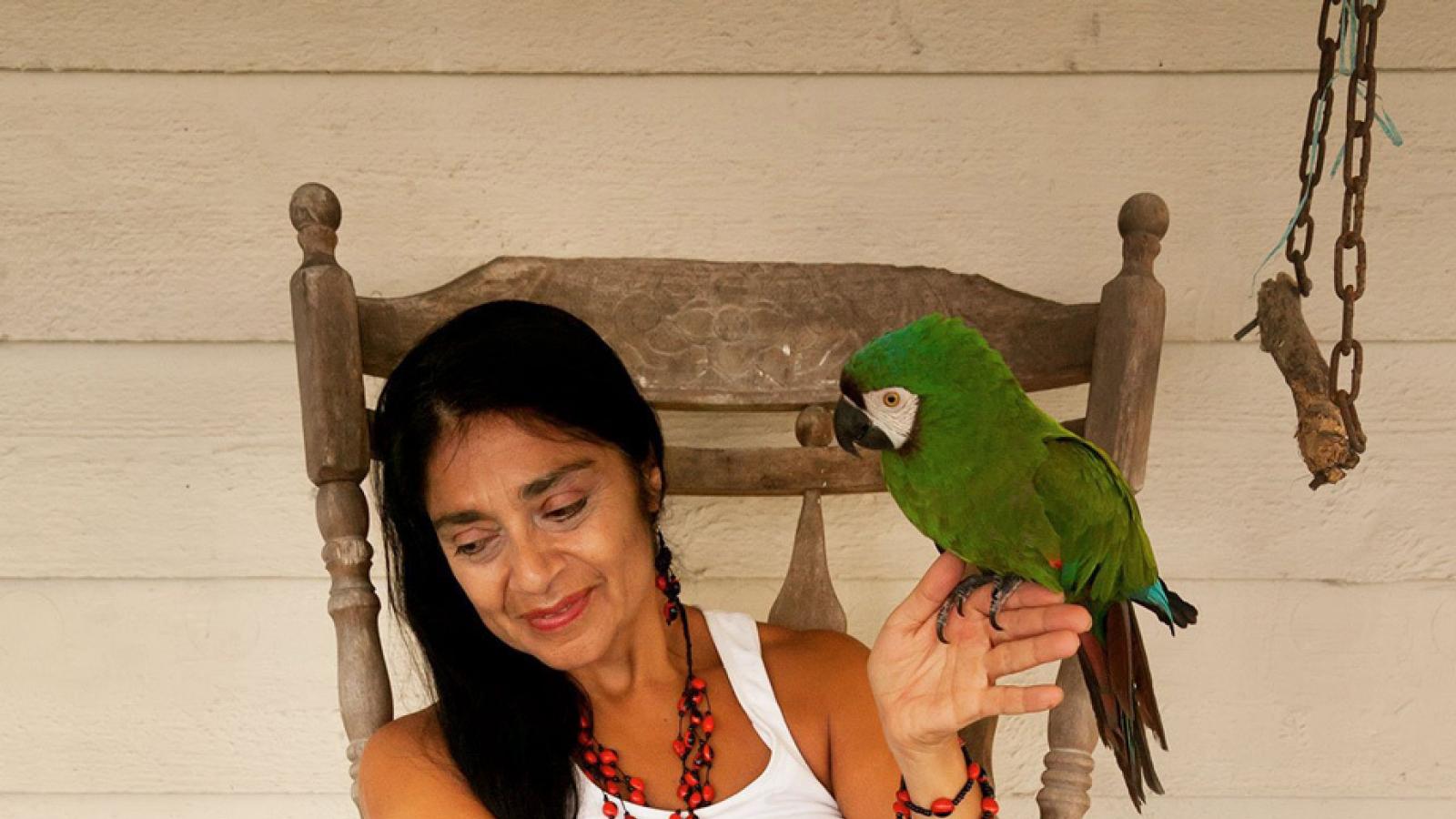 There is a line in Cervantes's masterpiece Don Quixote that reads: "Maddest of all—to see life as it is, and not as it should be!" As a medical interpreter in Seattle, Washington, Rose Cano has seen her share of life as it is. At Harborview Medical Center, where she translates for Spanish-speaking patients, she has worked with inmates, the homeless, those with cancer, and trauma victims—all of whom must navigate an inscrutable hospital system in a similarly inscrutable language.

But as a theater artist, she also has a gift for seeing life as it could be. Through her work, she has reimagined her patients as gallant heroes in a bilingual adaptation of Don Quixote. She also imagined a place where they and other Spanish speakers would feel welcome within Seattle's theater community. In 2010, she acted on this vision and founded eSe Teatro, Seattle's first Latino theater, and today a member of the Latino Theatre Commons. eSe Teatro has held three mainstage productions—including Cano's Don Quixote and Sancho Panza: Homeless in Seattle—workshops, festivals, and dozens of readings in a variety of venues. Cano, who was born in Peru but raised in Seattle, talked with us recently about the intersection between her medical and theater work, how her decade in Peru shaped her artistic sensibility, and the healing power of art.    

NEA: Before eSe Teatro, you did a lot of work with cultural exchanges, particularly between North and South America. What do you think artists and communities gain from exposure to international perspective?

ROSE CANO: The project North-South ConeXions was a Native-to-Native exchange between Native people of the Peruvian Andes and five tribes in Washington State. For me, it was really important to demystify. This is 1994. Peru wasn't on the worldwide web until about 1998. So TV and movies were our only access to Native American culture in the U.S. So there were a lot of stereotypes. I wanted to bring people from Washington State so people could see the different tribes, and how different they are from what you usually see in movies, and to make these cultures real to people here. I also wanted to invite Native artists from Seattle to get a look at Peruvian culture, both people that have a Western lifestyle and people that still lead a Native lifestyle in the Andes. It was wonderful. I think it was very impactful.

Then we started bringing Peruvian artists to the Northwest. We'd visit these tribes and establish relationships. Then I wanted to explore the other part of our Latinidad. So if that's the Native part, the other part is the Afro part, because of the slave trade. So for the next ten years or so I started bringing Afro-Latino artists from different Afro-Latina countries. I started with Cuba, then I brought Afro-Peruvian artists. In the last six years, I finally got people together and founded a theater—eSe Teatro. We really want to give a real look at all the colors in the rainbow of brown, and really explore the gambit of our Latindad expressed in the United States. I like to break down those stereotypes, and how we portray ourselves on stage is really important.

NEA: You lived in Peru for ten years as an adult. How did your time abroad shape you as an artist?

CANO: I came during the hot years of civil unrest; it was almost civil war. It was the time of the Shining Path. Everything was urgent, but there was always time for theater. All you needed was a floor to walk on and your body to move around in. We performed in really amazing conditions. There was power rationing. Often there were no lights; often you would lose your power. But there were always candles and matches. I remember once [the power went out]. Suddenly there were 100 candles lit and we did the last scene with intense candlelight, which was beautiful. Then there was 11 p.m. curfew. So you'd finish your show and go home quickly on the bus or spend the night at someone's house. The word "terrorist" was part of our daily lives. There was also hyperinflation. So it was just very fluid and unreliable. The things that mattered were your work—the things that could hang on to. It made the work really present. You could manage these amazing images with things that cost nothing: your body, maybe a few lights. It was sheer imagination without the million-dollar effects.

NEA: Can you talk about the intersection of your work as a theater artist and medical translator?

CANO: I work at a hospital. I've interpreted at end-of-life conversations, labor and delivery, eye surgery, child checkups, and for people receiving news that they have advanced cancer. I've been a medical interpreter for 20 years, so I've been privileged to hear a lot of stories. The resiliency of Latino culture has been a source of inspiration for me, and it definitely makes its way into my theater.

NEA: What were the origins of Don Quixote and Sancho Panza: Homeless in Seattle?

CANO: In 2012, I started my new job at Harborview Medical Center as a medical interpreter. It's a Level 1 trauma center. We see all highway accidents for five states, we see all the inmates of Washington State, violent crime, and there's also an emergency psychiatric unit. Finally, we see anyone who's indigent, so we have a really large homeless population that comes through the doors. 

After about a year learning an amazing amount of realities, getting to know the Latino homeless people that came in, it occurred to me do a play based on Don Quixote, which was written by Cervantes in 1605. That was a direct result of bringing together health and theater. The notion of being a caballero—a gentleman—in Latino culture is very important. It's your manners, how you were raised, how you treat a woman. So I noticed for some of these guys, even though they'd be living on the street in really difficult conditions, they were still caballeros. I started to think of the most quintessential gentleman—Don Quixote. Then my imagination just started going. What if Don Quixote was alive today? Who would his sidekick be? I thought if [he and his sidekick Sancho Panza] were alive today, they definitely would end up at Harborview, because they'd sleep outside all the time, they traveled rural Spain, they were constantly being beat up or tricked into something, or used. Then Don Quixote had mental health issues and Sancho Panza liked to drink a lot—it seemed like a perfect fit.

[My character] Sancha Panza was from Oaxaca, Mexico, illegal since the age of one, and also living on the street. He hooks up with an elderly immigrant who's Don Quixote. I got a grant to visit shelters and give readings. I developed this way of working called Dialogues on Dignity. I'd come in with professional, bilingual actors, we'd read, and then I'd moderate this bilingual dialogue. One question I would pose them is: How do you hang on to your dignity as you live on the street or in the shelter system?

We did that for two or three years, visiting the shelters. Sometimes I would see some of my patients from Harborview. Finally we had a staged production at ACT Theater downtown. So this whole process moved through the community. It was not just lip service to outreach. I called these gentlemen my co-authors. So that's how that play came about over a two- to three-year period.

NEA: How do you think performing in shelters, hospitals, tent cities, etc. benefitted audience members?

CANO: They got to see a representation of people they never saw represented: themselves. Then afterward, I got them to go into a theater. At the end of this whole process, we had a couple of readings at ACT, and they were invited. As a homeless person, you don't feel welcome inside a theater. They walk around all day until the shelter opens at 7. But now they could go into a fancy theater and see a show about themselves. A few of the guys came, and one guy at intermission said [in Spanish]: "Thank you. I never thought anyone would ever take us into account." I think they were happy to know they were part of this process. This play had everything to do with their reality.

NEA: Do you consider theater a form of social work?

CANO: I have a huge respect for social work, so I wouldn't ever dare call myself a social worker, because I respect them way too much. But I do think artists have a responsibility, and a natural tendency to reflect society around you. What are the pulse and needs and wants? I do like writing humanistic plays, and I believe in the healing power of art. After a Dialogue on Dignity, these guys are laughing and talking about their own stories. So I know that was a good therapy for that day. Social work is healing as well, so I suppose there's that link. But I definitely think there's something holistic—art helps you reflect on yourself in a different way. 

NEA: How do you think eSe Teatro has influenced Seattle's Latino community, as well as Seattle's theater community at large?

CANO: I think eSe Teatro has been able to help solidify a body of talent, of actors, dramaturges, directors. It's providing a home. We've also given employment to a lot of different Latino artists. We started a database of Latino actors, so when people reach out and say they're looking for Latino actors, I point them to the database.

We've had three mainstage productions, which proves there is an audience for Latino theater. We do some things completely in Spanish, which I think is an important statement. We do a lot of things that are bilingual or to some degree in Spanglish, and then some things in English.

Latino theater has been here for a long time. By finding those roots and loose ends and weaving them together, we can make a tight net and then stand on that and move forward. We've spent most of our time trying to be part of a movement, and connecting to the rest of the Latinidad in the United States. So I think that's our biggest contribution—making us feel connected.

NEA: You mentioned that you think having readings entirely in Spanish is an important statement. What do you hope that statement is?

CANO: I think it's stretching people's minds. [My character] Don Quixote spoke 100 percent in Spanish. Some people said, "I didn't understand what he was saying, so I feel left out." I think that's a good point to prove, because that is what many people feel: left out of society. We have so many people speaking different language in Seattle. The hospital where I work, we serve 80 languages I think. So it is part of daily modern life.

NEA: Why does art matter to you?

CANO: I don't separate it from the rest of life. Certainly I think it's a part of general well-being, to have this outlet of expression. I think everyone has their form of art integrated into their life; an artist is then someone who studies a specialty within that. You write it down, so you're a writer, or you make a play about it. I think sometimes in Western culture we separate it, dissect it so much that it becomes just of the elite. But I think it's part of an everyday experience.