Community Orchestras in the United States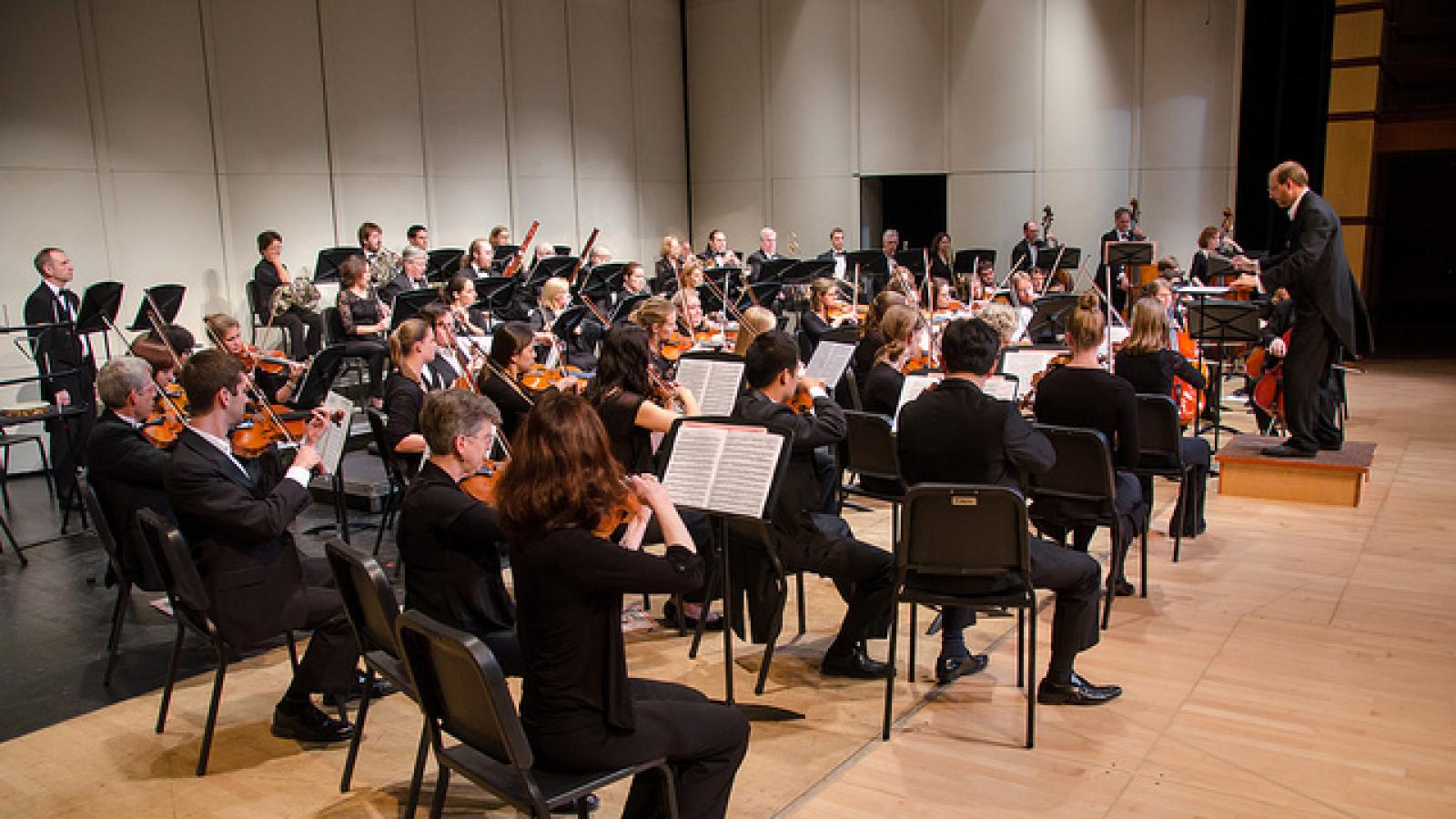 "Once you join an amateur group, you are a member of a great fraternity, whose purpose is the most dignified one you can imagine: to inspire one another and unite in building up a creation that is greater than one individual's deeds." —Paul Hindemith, composer, in A Composer's World

Community music-making has long been a part of the arts-and-culture fabric in the United States. From the very earliest days of the country, amateur musicians have come together to form ensembles for the love of music. Community orchestras—ensembles of musicians who are not paid to play—are an important part of this community music-making ecosystem in the U.S. These are small-budget organizations with free or low-cost performances, whose members come from different professions, educational backgrounds, ages, and political and religious traditions. But what is the history of community orchestras? What do they look like today? And why do we need them?

Background

The founding of community choirs, bands, and orchestras date back to the beginnings of the U.S. Religion played a central role in the music of the early colonies, and examples of early musical activity include publication of the Bay Psalm Book in 1712 and the subsequent organization of singing schools in 1717, which represented the first step towards a systematic form of music education. 

In addition to choral ensembles, community bands contributed to the music making of the day and were rooted in European tradition. Immigrants, such as German Moravians who settled in Pennsylvania and North Carolina, brought the band tradition with them to the U.S., and organized bands in towns where they settled, offering both secular and religious music. There is one estimate that 10,000 amateur bands existed in the United States in 1889, bringing thousands of ordinary citizens together to participate in these ensembles, whose performances were often associated with specific civic and patriotic occasions.

Many of these community ensembles were buoyed by community music schools. The overarching purpose of the community music school was "to promote national culture through music based upon democratic principles." The schools—many of which are still in existence today—combine high-quality music teaching with the fundamental principle that music is a vital part of living and is an essential element in the enrichment of the human spirit.

Among the first community orchestras established in the country is the Symphony of Oak Park & River Forest, founded in 1931. The ensemble began as a self-described "Sunday School Orchestra" at a church in Oak Park, Illinois, playing for church services and giving concerts. According to a history of the orchestra by Elizabeth Rexford, "By 1933, the fledgling orchestra had grown in size and began to perform major works from the symphonic repertoire. The orchestra has continued throughout the decades of the 20th century and into the early years of the 21st century, surviving economic upheavals such as the Great Depression, World War II, the rock and roll revolution, and changing tastes and mores."

Founding a Community Orchestra

The impulse to establish community orchestras often comes from the ground up, when amateur musicians are eager to play together, or when an ambitious conductor has an appetite for creating an orchestra for his/her community. These ensembles can be an important community asset for the players in the orchestra, and a valuable way to provide music experiences for community members who attend their performances as well. For example:

The Seattle Philharmonic Orchestra was formed by a group of businessmen who gathered together in 1944 to play classical orchestra pieces to lift their spirits during World War II. By the spring of 1945, the orchestra had grown to more than 70 musicians and Don Bushell, chairman of the Music Department at Western Washington College at Bellingham, agreed to act as music director for the group.

The Cleveland Women's Orchestra was founded in northern Ohio in 1935 by Hyman Schandler, a member of the famed Cleveland Orchestra and a violin teacher, after he noticed that his adult female students had few performance opportunities. Schandler held auditions and ended up creating an orchestra of 80 women, which he conducted and ran himself until 1946, when he formed an advisory board to help him run the growing orchestra. Schandler remained the conductor of the orchestra until his death in 1990.

Community Orchestra Activity Today

Each community orchestra in the U.S. is shaped by the needs and interests of the communities they serve, but all share in the aim to provide lifelong learning and access for amateur musicians. For example, The Broadway Bach Ensemble was founded in 1985. This 45-piece community chamber orchestra made up of dedicated musicians from many professions who, quite simply, like to make and perform great music together. The members take their playing seriously—many have played professionally, and most actively study and are coached in chamber music.

The term "affinity community orchestra" describes an orchestra whose musicians share a strong connection, often through a particular employer or profession. For example, the Orchestra of the Chicago Bar Association (CBA) is for CBA members who are interested in playing in an orchestra. The 70 players include judges, law clerks, attorneys, and law students.

Established in 1982, Boston's Longwood Symphony Orchestra draws its musicians from Boston's medical community, performing high-quality concerts while supporting medically related nonprofit organizations. With a roster of 120 musicians, the organization performs at least 12 concerts every year at local hospitals, homeless shelters, and care facilities.

Several professional orchestras in the U.S. have started "side-by-side" opportunities for avocational musicians to reconnect with music through so called "pro-am" (professional-amateur) events. In addition to providing a service for community members, a motivation for offering these opportunities is to help professional orchestras—which are sometimes perceived as disconnected from their communities—build relationships with community members who will hopefully become patrons. As one orchestra manager put it, "The days of just running an ad for a Saturday evening concert and expecting the people to fill the hall are long gone. The challenge is to reach people at multiple touch points. Most people are very busy, but they will still make time for music if you reach out to them."

Examples of these side-by-side opportunities include Virginia's Richmond Symphony Come & Play, an annual program that invites musicians of all ages and ability levels to play alongside musicians of the Richmond Symphony. The participants are conducted by the Richmond Symphony's associate conductor and the program concludes with an evening concert at the Verizon Wireless Arena at Virginia Commonwealth University.

There is also the Columbus Symphony Side by Side, which is a two-hour workshop where participating adult amateur musicians are given the opportunity to receive individual coaching from a professional musician and to rehearse with the Columbus Symphony Orchestra on the stage of the Ohio Theatre.

The Impact of Community Orchestras

In addition to the benefits for those who play in the ensembles, community orchestras add to the richness of their communities as a whole. 

While there has been no national research about the impact of community orchestras on those who play in them, there is data to draw upon regarding the impact of singing in community choruses, which likely mirrors the impact of playing in a community orchestra. According to Chorus America (the advocacy, research, and leadership development association for choruses) chorus members gain benefits from being in a community of singers that come together to create something of beauty with one another that no one individual can create on his/her own. Singers report that their choruses are very effective at what social scientists refer to as "bridging" between people of different cultures, backgrounds, and experiences. In addition, singing in a community chorus is strongly correlated with qualities that are associated with success throughout life. Greater discipline, teamwork, arts patronage, and civic involvement—from volunteering and donating to voting—are just a few of the attributes fostered by singing with a choral ensemble.

While singing in a chorus may not cause these positive attributes, they are strongly correlated with choral singers, and it is likely that the same social and civic attributes are found in those who play in community orchestras.

In addition, the personal relationships that are developed through community music-making can be of enormous value in a person's life. In Rexford's history of the Symphony of Oak Park & River Forest, for example, she notes that "there is a feeling of 'family' within the orchestra." Over time, the members of the orchestra develop a shared personal history as they experience life's milestones together. Also, many players report that romance can bloom within the orchestra, with several members finding their life partners in the orchestra.

A community orchestra can be a point of significant local pride—pride on the part of the community, as well as for the musicians and the board. Chambers of commerce and tourism boards often promote the fact that their town has a symphony orchestra as an attraction for people to move there. 

The experience of attending a community orchestra performance can be different from attending a concert by a professional orchestra. Typically the setting is more relaxed, parking is free, the audience attire is more casual, and the experience can be more intimate. The quality of playing today in many community music groups is quite high, and community orchestras often display a special sense of joy and love for the music, which is recognized by the audience. After concerts, performers often come out to greet family and friends who have come to support them.

Community orchestras in the U.S. provide a great deal of musical, social, and civic value for their musicians and audiences, and for the broader community as well. In addition to their intrinsic value, community orchestras also provide value for professional orchestras that develop close relationships with them, thereby increasing their community impact. 

A version of this post was presented at the 2016 International Community Orchestra Forum in Seoul, Korea, in September 2016.