Art-full Resolutions From the Big Read Team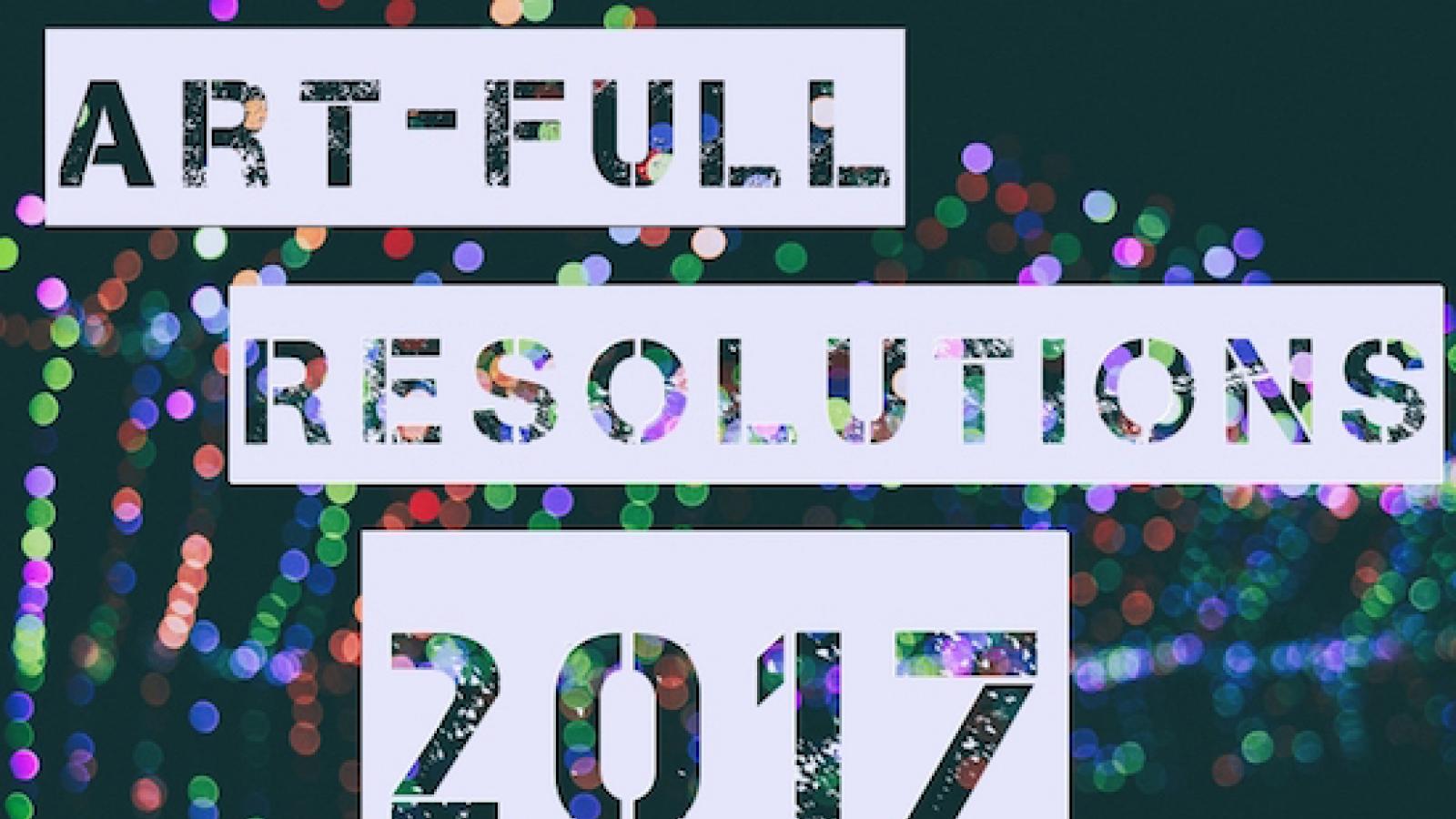 We asked the Big Read team to share their arts-inspired resolutions for 2017. Here's what they had to say. What are your art-full resolutions for the new year? Let us know in comments or on the NEA Facebook page. And if your inspiration is to read more, well, we can help with that. Check out neabigread.org for ideas. 

My art-full resolution for 2017 is to read a "bedtime poem" to my daughter every night in addition to a story book. We have several books of children's verse with gorgeous illustrations, and I was waiting until she was a toddler to break them out. However, I tried a couple of poems with her on January 1, and she was enthralled. Cheers for lots more poetry in 2017! — Eleanor Billington

I'd like to read all the suggestions on all the "most anticipated books of 2017" lists, though I've hardly made a dent in the "best books of 2016" lists. I'd like to binge-watch all the documentaries and TV series and films that my colleagues and friends keep espousing instead of only binge-watching the trailers. I'd like to find the time to replace our babysitter who left us for grad school so I can go to plays and concerts and museums the way I used to do in my 20s. I want to see Hamilton, read the Elena Ferrante novels, and spend a whole day in the National Museum of African American History and Culture. Like wading into a vast ocean and contemplating what's below the surface and beyond the horizon, I take comfort in knowing there will always be art beyond my reach, if only to imagine what's out there. — Amy Stolls

What will come as no surprise to anyone who knows me professionally, my resolution for 2017 is to read more. According to my GoodReads account statistics, I read only nine books in 2016. I hope I'm granted some sort of pass for having a full-time job, two pets, and two small children under 5 to care for. It's literally quite difficult to find time to read without borrowing from much needed time spent sleeping. Since I'm on the go so much, it's also not easy to carry a physical book around with me. I've always preferred reading on my phone or tablet because my place is always kept automatically, I can look up words in the digital dictionary, I can read in low light, and I carry my book with me everywhere in my pocket. The downside is the availability and cost of ebooks. My library has a decent selection of ebooks but not as many in the typical literary genres I like: sci-fi, fantasy, historical fiction, and non-fiction. The library selection is free but sometimes the wait list is quite lengthy. For instance, I'm dying to read the Carrie Fisher autobiographies, but the waiting list is six months long. To supplement the library offerings, I've taken advantage of my Amazon Prime account. I can read a certain subset of books for free as a Prime Member and I've also signed up for the $10 a month Kindle Unlimited service. I now have 3 books queued up that I cannot wait to dig into. I'm confident I'll be able to easily beat nine books in 2017 especially as I'm reading Harry Potter series for the first time. Yes, I know, I'm way behind the times. I have two small children too, and they love to read. My wife and I hope to keep it that way. She works as a librarian so we always have a fresh set of children's books at home each week that she tailors to their "flavor-of-the-week" interests. Excavators, frogs, dinosaurs, and the like. What's funny is that they read way more books last year than I did, even though each of my books had about 270 more pages than theirs. But hey, who's counting? — Joshua Feist

I resolve to travel around the world…from my seat on the Metro. I love to read books in translation, so I'm hoping to read a book from a different country each month. I've kicked off the year with Memoirs of a Polar Bear by Yoko Tawada, translated from the German by Susan Bernofsky. So far, the novel is written from the point of view of a polar bear, who, following a life in the circus, becomes something of a literary star. I'm looking forward to seeing how this book unfolds! — Jessica Flynn

My resolution is to read at least one more new-to-me Big Read book. I get very inspired by the events and activities the Big Read communities are doing and it will influence which book I will want to pick up next. I've also decided to start practicing my flute again! — Allison Hill

My goal is the same as last year, which is to finish a book every month! — Samra Khawaja

My art-full resolution is to spend more time writing in museums. I also failed miserably at my goal to read more books in translation in 2016, managing only to read Neruda's Odas Elementales. But this year I'm bound and determined to read at least 10 books—whether they're poetry or prose—originally written in another language. — Paulette Beete

My resolution this year is to read more widely. I tend to focus on the genres and authors I know I love, and while I know a number of these will still appear on my bedside table, I want to open myself to different perspectives and discover some new favorite authors. It's also a good reason to visit a bookstore in person, rather than online (something else I resolve to do more in 2017), to wander and see what catches my eye. — Liz Auclair

I resolve to spend more time on my writing and to read more of the hundreds of books on my list of books to read. — Don Ball

You can still apply until January 26, 2017 to bring the NEA Big Read to your community for 2017-2018. Visit the NEA Big Read website for details.