Art Talk with director Liesl Tommy
"I'm so moved all the time by people's stories and experiences that I just feel like I could work until I'm in my grave because there's a never-ending source of inspiration and beauty because of what's in people's hearts. That is something I always forget to talk about, but it's really the most important part of what I do." — Liesl Tommy


If you happen to get a chance to see the production of Macbeth now onstage at Washington, DC's Shakespeare Theatre, you'll probably notice that the production looks a lot different from the Shakespeare productions you may be used to. For one thing, all but four of the roles in this NEA-supported production, including Macbeth and Lady Macbeth, are played by actors of color. You'll also notice that the play is not set in what we think of as Scotland, but rather in an unnamed North African country. Did we mention that the doomed Duncan's a queen not a king? If you know, however, that the director behind this iteration of "the Scottish play" is Tony-nominated director Liesl Tommy—who received that historic nomination for directing Danai Gurira's Eclipsed—then you'll have known better than to expect the same old same old. But don't dismiss Tommy's boundary-pushing interpretation of the tragedy as being played for mere shock value. Rather, as she explained when we spoke to her during the play's tech week, Tommy's plan for the plays she directs always come from a place of deep engagement with the work's text and an attempt to make a personal connection with that text. Tommy is concerned not only with making theater that is thought-provoking, but also with providing access for people of multiple backgrounds to enter into the worlds she creates. Read on to hear from Tommy herself about why at 15 she had already determined she was going to work in theater, what she thinks diversity really means, and why her love of storytelling comes down to a love for other people.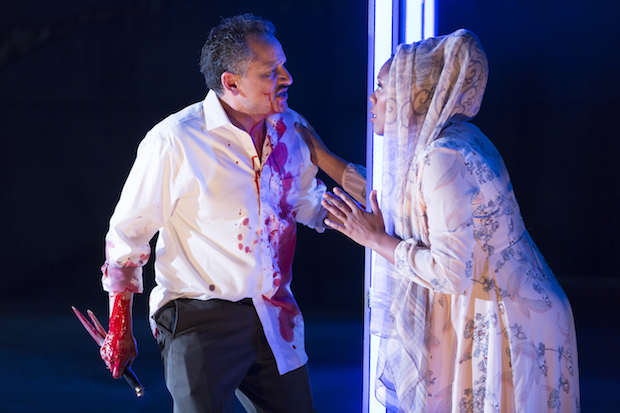 NEA: Let's start with your journey to becoming a theater artist.

LIESL TOMMY: I think before I decided to be a theater artist, I definitely felt I had an artist's soul, if you will. My father was an amateur photographer, and there were a lot of photography books around me growing up. There was also a lot of music in my family. So, I feel like I was very sensorily stimulated from an early age. I remember sitting in front of my parents' bookshelf and just paging through photography books. They had these Time-Life Books, a lot of books that just captured photography of current events around the world, and I absorbed a lot of images at an early age that I, to this day, think are a huge part of how I compose images on stage.

When my family emigrated to the United States from South Africa, I did my first play, which was For Colored Girls Who Have Considered Suicide When the Rainbow is Enuf [by Ntozake Shange], for Black History month. [We lived] in Massachusetts, and I think there were maybe five people of color in the school. A few black teachers came up to all of the people of color and said, "Would you like to do this play?" I did, and it was wonderful. It changed my life. It helped me transition as an emigrant to such a different environment, and I was able to speak to my American peers suddenly in a way that I hadn't been able to before. That was the beginning for me, and I really never looked back. I felt I had instant belonging, and I felt instant understanding.

NEA: If you were to write a job description for what you do as a director, what would it say?

TOMMY: First and foremost, you have to be a good leader. You have to understand how to inspire people, how to create a safe environment for people to be the most vulnerable versions of their artist's self so you can activate their imaginations and their emotional life. You have to be a combination of a drill sergeant and a psychologist. For the kind of work that I'm interested in, from the designers and from the actors, you have to be able to create a space where they can be transcendent, where they can push themselves further than they knew that they had the ability to go. It's really the combination of tough, pragmatic leadership and [being] almost like a cult leader in terms of convincing people of the merits of the vision.

NEA: When you say "the kind of work you're interested in," what do you mean by that?

TOMMY: I have always been interested in changing peoples' lives through storytelling. That sounds very highfalutin, but I really do feel like every single show I do, I want to present images and people and stories that are profoundly affecting and are original and are innovating the field. That means the script or the way I've cast [the show] could be pushing the norms, or the actual story that's being told is something that we don't see a lot. For me, the idea [is to be] always presenting something new and thought-provoking. Whether it's funny or tragic, it has to feel really new and relevant.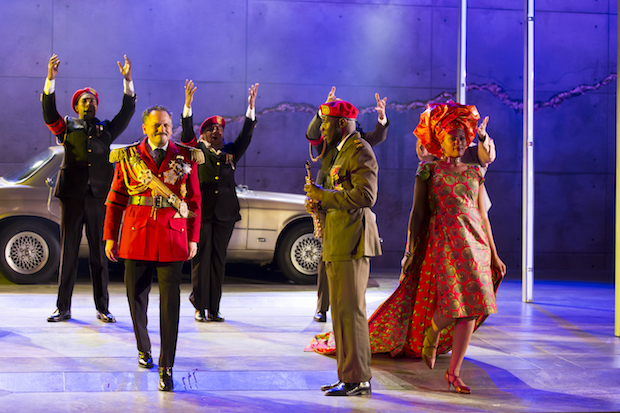 NEA: That's a good segue into asking you to talk about your vision for Macbeth as your production seems radically different from what we've seen before.

TOMMY: It's probably radically different because there are not a whole lot of women of color directing. When you have a new voice at the helm, they're going to personalize the show differently than all of the white men who have directed productions before, which is a reason to hire diverse voices to be at the helm of storytelling, so that you can get all different kinds of ideas. Now, I'm a woman. I am an African woman, and I'm also one who grew up during a very volatile era in South Africa, the Apartheid Era. All of these things are going to influence how I think about everything.

The first thing that you have to do when you work on a classic text is you have to do the text analysis, find out what, from your point of view, is the central story, the literal story. Then your artist-person takes over and you have to look at what the metaphor is, and then you have to personalize it. The way I personalize [Macbeth] is to place it in North Africa—in what I call the future present because it's a thing that could be happening now or could be happening in the future—and really question what Shakespeare was trying to say with that play.

I think that that play is Shakespeare's great cautionary tale against tyranny, and it's a play about the personal cost of political chaos and war. I wanted to make it immediate. I wanted to create images that would be evocative, that would feel like things we see today on the news, things that we are connected to emotionally. I wanted it to be about America, and I also wanted it to be about the world. That's why on the stage you'll see people who are from America and people who are from other parts of the world coming together and grappling with what a dictatorship looks like, and who benefits from a dictatorship, and who loses during a dictatorship.

NEA: You just talked about personalizing the show and that idea of personalization has come up quite a bit in other interviews you've done. Can you speak more about that idea, that process?

TOMMY: Well, I think directing is an artform. You're not, and especially when you're doing a classic, you are not the help. It's not your job to just execute the vision of the writer. You are meant to find your way into it, otherwise you'll just keep on doing the same period production over and over again. I have found that when I do classical work the more I personalize it, the more I find what I want to talk about and watch, the more the audience likes it because it's coming from a place of depth. Every single thing that happens on the stage has been examined, unpacked, and there's emotional truth behind it. When I did a production of Les Misérables where I put it in the present, when I did Hamlet, I really worked on text analysis and personalizing it, and those were very successful productions because people felt like they understood the story in a new way. I think that's our job—if you're tackling a classic—get it into the lap of the audience, make it as accessible and powerful as possible. I don't want people sitting in the theater when I work leaning back and just letting a play wash over them. I want them leaning forward and actively engaged with what they're seeing. I don't want them to get ahead of us; I want them to be racing after us trying to figure it out, so that it's a really intense exchange [between] the audience and the performers, and it feels very alive and necessary.

NEA: I want to talk to you about diversity. It's a word we hear a lot, but I don't know that we see it in action as often as we hear it spoken about. What does diversity look like for you and how do you live out that vision in your work?

TOMMY: I don't really think about it as diversity so much as access because I feel like I have been fighting for access my whole career, my whole life actually, growing up in South Africa during Apartheid. People try to tell us "No" all the time in so many ways that I feel like from the moment I started working professionally I was kicking down doors to get access. So if you're in a position of leadership and you have access, then it is your job to create further access for other people. That's the philosophical part of diversity when I think about it. The other thing is I see so many terrific actors of color who are often playing supporting roles and I always go, "Oh I would love to see that person playing Hamlet. I'd love to see that person play Lady Macbeth and that person play Macbeth." There's what I call the polite diversity casting, which is just enough people of color to fill out the thing and to get the cultural police off your back. But, it's not meaningful to me. It is not providing actual access. It's not furthering the conversation about communal humanity. I still feel watching a lot of plays where there is superficial diverse casting that the white experience is the primary experience, and I'm just here every time to show that people from all backgrounds have equal humanity. You still apparently have to fight that fight.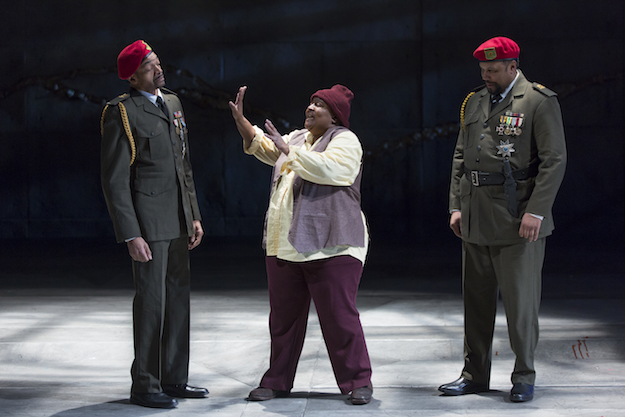 NEA: What is your superpower as an artist?

TOMMY: I think my superpower is my ability to inspire others because I have found that no matter how crazy my idea is, I'm somehow able to bring people together and they trust me and they'll follow me all the way to the ends of the earth with a crazy idea. I don't take that for granted, and I am grateful every day that people put their faith in me.

NEA: What do you wish you were better at as an artist?

TOMMY: Let me think, that's a good question. As a human being, I wish I were better at getting to responding to emails faster. (laughs) As an artist, I wish I were a little less stubborn.

NEA: What do you wish you could tell your younger self about preparing to have a life in the theater?

TOMMY: That's a very interesting question because the thing that I would tell my younger self is probably the thing that got me where I am in the first place. I don't know if it actually would've helped my younger self, but I definitely feel like my younger self could've been a little less intense and could've taken herself a little less seriously.

NEA: Fill-in-the-blank: The arts matter because...

TOMMY: The arts matter because the human experience matters, and the arts are the most direct way to share that experience.

NEA: What do you wish I'd asked you?

TOMMY: The thing that I always wish I had talked about when I finish an interview is that I have a profound love of human beings, and I find every single human being to be fascinating. This love of people and their stories and this curiosity, this insatiable curiosity I have for people's lives, I think has allowed me to get where I am as a storyteller. That is the motor that drives me and my work because every time I feel like I'm able to help an actor or a designer illuminate another part of what it is to be a human being, and therefore part of the communal experience, is profoundly satisfying to me. I'm so moved all the time by people's stories and experiences that I just feel like I could work until I'm in my grave because there's a never-ending source of inspiration and beauty because of what's in people's hearts. That is something I always forget to talk about, but it's really the most important part of what I do.