Art Talk with sound artist Christine Sun Kim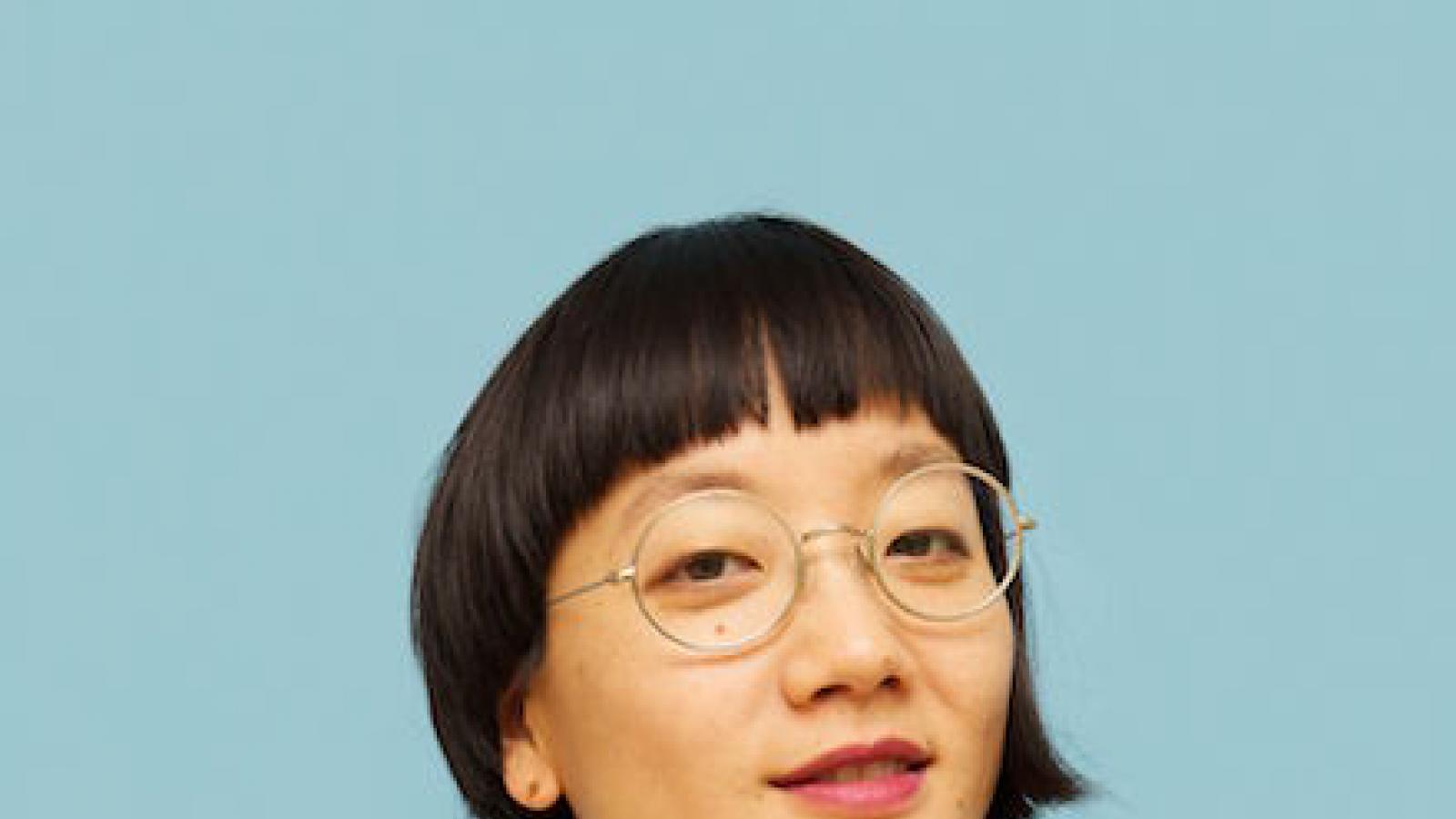 "I have learned that being an artist is one of the most vulnerable things you can do to your mind and body…" — Christine Sun Kim


From works on paper that play with our understanding of standard music notation to participatory works that explore the idea of silence, through her art practice Christine Sun Kim explores the many personalities of sound. While it may surprise some that a Deaf artist would work with sound, as Kim has explained in numerous interviews, just because deaf people cannot hear sound, it doesn't mean that they do not participate in the world of sound in many ways, such as the simple act of closing a door. For Kim, American Sign Language is more than a communications system, it's a type of music, a likeness she often investigates in her work. Kim also prizes collaboration in her work, foremost so with the interpreters with whom she works when, as she puts it, she needs to wear a voice. Kim has produced and shown her work nationally and internationally at venues including the Tate Modern, Art Basel Hong Kong, the Calder Foundation, and the Fusebox Festival, among many others. We spoke with Kim by e-mail about her earliest memories of engaging with the arts, her job description as an artist, and why having fun is her superpower as an artist. 

NEA: What is your earliest memory of participating in the arts—formally or informally?

CHRISTINE SUN KIM: I remember those simple art evaluations I was asked to do in elementary school—to see if I was up to date on my visual skills—such as cutting circles, making sure I cut outside the line, or painting certain objects. One time my class was visiting another school and I went crazy over their huge collection of beautiful paint colors (especially the ones we didn't have at my school). As I was making a huge painting, my teacher came up to me and said, "Please do not paint too big; you need to leave some paints for the other kids. Keep it small." That's when I knew I was going to excel in something visual.

NEA: What was your journey to becoming an artist?

KIM: I had a bunch of detours before I realized how much they really shaped my journey as an artist. For example, my day job as a digital archivist at a publishing company gave me organizational skills, and another one as a museum educator taught me how to communicate art ideas to certain audiences. Applying to a bunch of art residencies and grants has taught me how to be smarter when it comes to writing and stronger when it comes to rejection. (I still have those rejection letters that I received via snail mail stored up somewhere.) I have learned that being an artist is one of the most vulnerable things you can do to your mind and body; placing your ideas (or life) out there while not knowing how they will be received. Being self aware instead of self conscious is a way to protect oneself.

NEA: What's your job description for the work you do as an artist?

KIM: I consider myself a workaholic with a completely unstable schedule and no daily routines, and that's a luxury. I take so much pleasure in watching my ideas materialize with the support of others and meeting people who blow my mind. For some reason, I often get invited to give talks, much more than to exhibit.

NEA: What do you think you have you learned about sound by making it part of your art practice that perhaps might not be as apparent to hearing artists, or might not be as discoverable by hearing artists?

KIM: I think it mainly has to do with asking the right questions. When I first started working with sound, I asked myself a bunch of questions that didn't benefit my practice. Later on, I realized that I was still thinking within the hearing sphere of what defines sound, so I had to get out of that space in order to ask myself better questions. The process itself is almost like decolonizing my mind and it has taken me years.

NEA: I think it was in your TEDtalk that you spoke about the similarities between American Sign Language (ASL) and music? What are these similarities and how did they inform/contribute to the incorporation of sound into your art practice?

KIM: Music is so full of social value, respect, and recognition, and so rich in research, and has a very clear place in history. I can honestly say the same for ASL, but people often treat it as a "cute" language for deaf people that often battles with stigma. ASL is highly nuanced and functions almost like music, except that it does not have sound. There is even a "writing" system for ASL that is similar to musical notation. In some of my projects, it feels like I employ music as a vehicle for ASL, like I do with sign language interpreters as a vehicle for my voice. People often do not see the importance of utilizing sound in order to have a voice.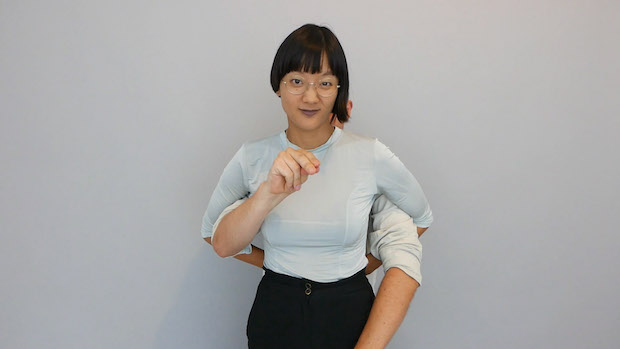 NEA: You have talked about using other people's voices to express your own ideas as putting on a costume. Can you say more about that, and how that idea informs your work?

KIM: It seems like you need to have a sonic identity (or identity with sound) in most social settings, such as taking courses and giving talks. It's like getting up one morning and looking at the closet full of costumes (all different interpreters: age, personality, gender, etc.) and seeing which one my voice should wear before attending a course or giving a talk. If "I want to be funny today," then I put on the funniest interpreter I know and step out. The experience of intimately working with interpreters over the years has taught me how to trust and be a good collaborator, and that, in turn, makes me good at collaborating with artists and organizers. I've been lucky.

NEA: You explore sound both in works on paper as well as actions, such as (LISTEN). Can you talk about how you decide which medium to work in and also tell us a bit more about (LISTEN)?

KIM: I think it's a matter of how each platform fits my ideas. Some of my ideas "sound" better through people, on paper, or as a talk. For example, I did two sound walks with Avant.org where I brought out my experience with captions on TV into real life and showed how non-sound captions can add up to my storytelling during the walks: (the sound of spacing out) and (the sound of a pavement floor) on my iPad. There shouldn't strictly be any one platform/format for ideas.

The concept for (LISTEN) comes from Max Nehaus's 1966 non-verbal lecture during the walk in New York City, and here we are, 50 years later, doing an adaptation of that. It was our goal to let our audience compose their own listening experiences as they listened to my stories and read my captions on the iPad. My experience with captions often comes in parentheses because of the sound cues on TV and in movies, hence the title (LISTEN). I wanted the participants to reconsider the boundaries of sounds and how they can be perceived during storytelling.

NEA: Do you think of activism as part of your art practice, or as a direct result of your art practice? In what way(s)?

KIM: I still struggle with the notion of my work as activism. I strongly identify myself as a Deaf person who communicates in ASL and it clearly shapes but does not define my practice as an artist. In a way, I'm subconsciously proving that ASL is as legit as any other language through my work but I would like very much to feel comfortable in my role as an artist before I could think about this very topic. Well, why not have both?

NEA: What's your superpower as an artist? What do you wish you were better at as an artist?

Oh, I want to be better at everything I do! I think the secret (superpower) is to have fun (so cliché but so true) and be grateful to the people who support you and your projects. Being an artist can be overly individualistic and autonomous but everything I have done as an artist wouldn't be possible without interpreters, technicians, assistants, organizers, friends, and family.

NEA: Finish the sentence: The arts matter because…

KIM: The arts matter because they help you imagine all possible solutions for anything. That leads to research and inventions and cures.

For sound artists of a different sort, check out our NEA Jazz Masters. And don't forget you can watch the 2017 NEA Jazz Masters Tribute concert on April 3 live on arts.gov.