Artwork Soars at MOCA Jacksonville's Project Atrium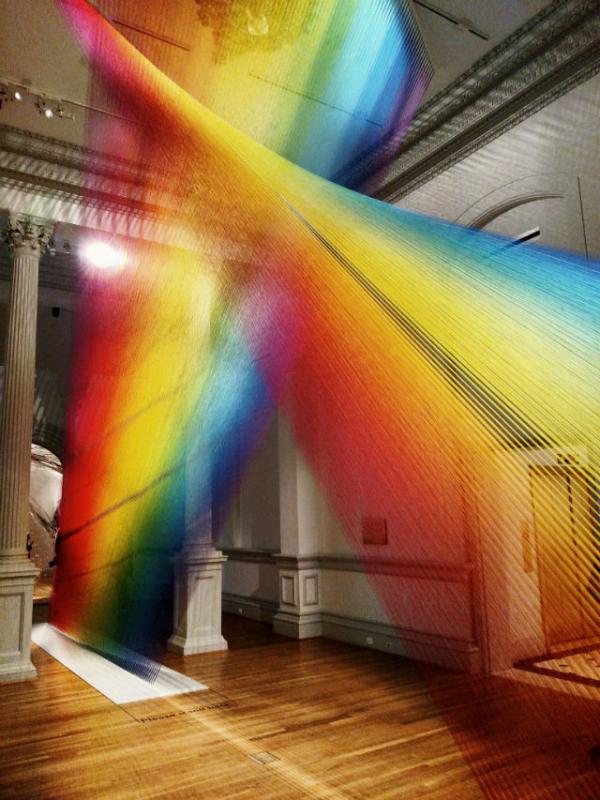 As part of the University of North Florida, it makes sense that the Museum of Contemporary Art (MOCA) Jacksonville is also a place of learning and reflection, much like its associated institute of higher learning. "I think through art, we're able to really open up conversations and look at the world a wee bit differently," said Caitlín Doherty, who became executive director of MOCA Jacksonville in February. "By having the diversity of work on display that we do, I think that we not only bring the world to Jacksonville, but have the opportunity to bring Jacksonville to the world."
This is on full display this summer, when MOCA Jacksonville will be participating in Blue Star Museums. In July, the museum will kick off its new season of Project Atrium, which received NEA support during our most recent grant cycle. The Project Atrium series features large-scale, site-specific works in the museum's soaring lobby atrium, which can be seen from different vantage points as visitors scale the museum's first three levels. "You're encouraged constantly to stop and look again, and reconsider," said Doherty of Project Atrium. "It links together all that happens, both physically and conceptually, within the museum." Because the space is at the center of the museum, visitors are also able to see installations as they are mounted.
The new season begins with Gabriel Dawe, who is known for creating monumental, prismatic installations of multihued thread. Doherty expects that Dawe's piece will be "an absolutely magical work spanning ceiling to floor. These miles and miles of multicolored threads become some sort of hypnotic alternative space," she said. "It challenges us to think about the space were inhabiting, and think about how artwork inhabits that space. It challenges us to slow down a wee bit."
After Dawe, Project Atrium will transition to artist Juan Fontanive, who will create what Doherty described as a kinetic sculpture as part of his new Machine Language series. "It has rods and pulleys, but it's also dependent on gravity," Doherty said. "You've got this collision, in my mind, of the mechanical and the natural, and that results in this kind of [changing] choreography." Fontanive's installation will be on view from November through February.
The final piece for the upcoming Project Atrium season will be an installation by Anila Quayyum Agha, a Pakistani-American artist who frequently invokes the patterns and motifs found in Islamic art and architecture. "[Agha's piece] will be an entirely different medium—using light and shadow to transform the atrium space," said Doherty. "Having lived and worked in the Middle East for a number of years [Doherty was formerly a curator for The Gallery at Virginia Commonwealth University in Qatar], I've stood in some of the great mosques. I think of those incredible central spaces, with their incredibly elaborate, breathtaking designs. I can only imagine that I might be reminded of that standing within the atrium as [the piece] moves upward in a soaring movement. I think it's going to be an incredibly moving piece." Agha's work will be on view from March through June, 2018.
Check out the MOCA Jacksonville website to see what else will be on view during your visit!