Moving Images in Rural Iowa: A Look at the Documentary "Saving Brinton"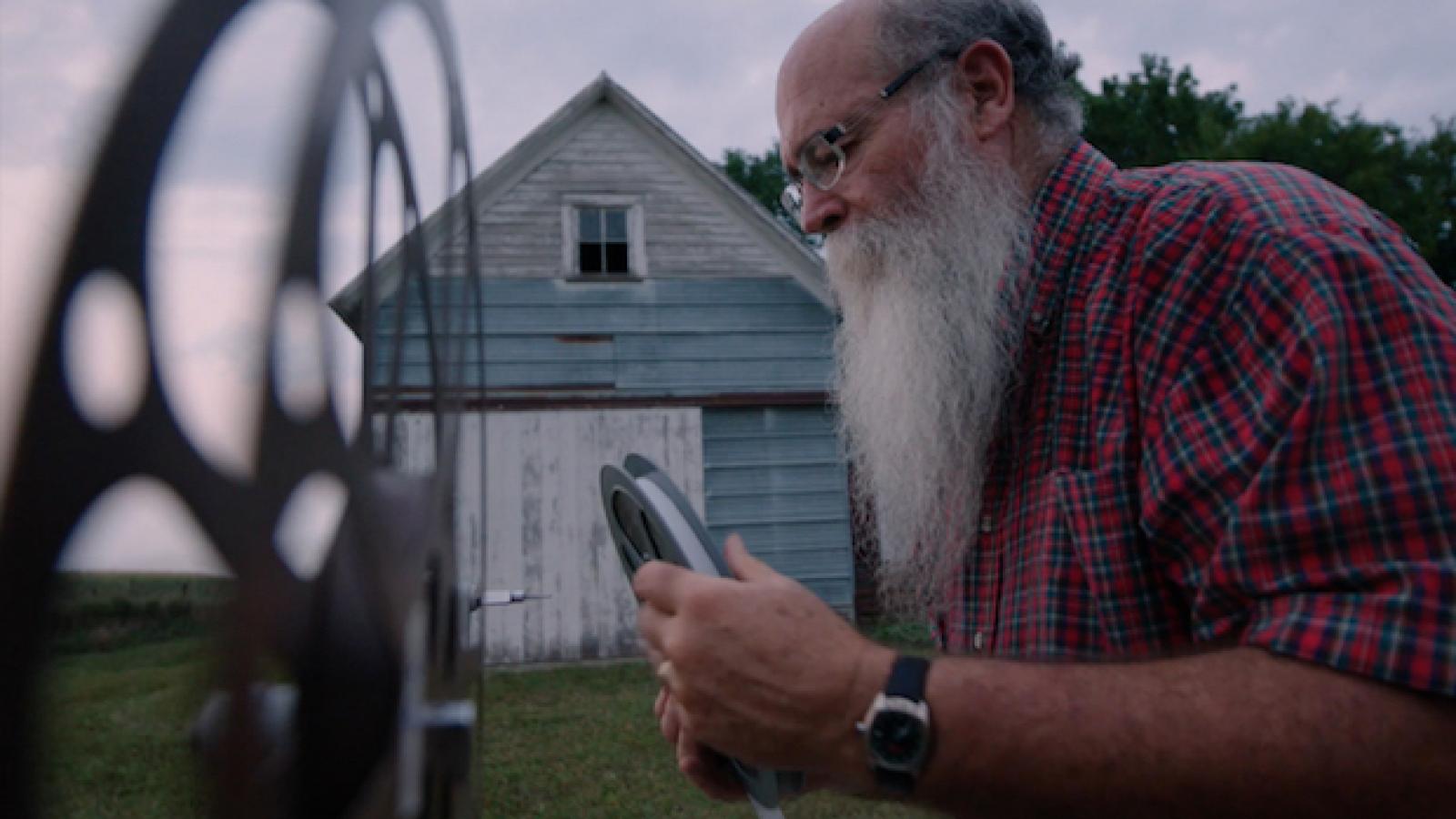 We don't generally think of Iowa as a film capital, but at the turn of the 19th century it sure seemed that way. Frank Brinton, a traveling entertainer based in Washington, Iowa, discovered motion pictures when they were still in their infancy, ordering catalogs and subsequently projection equipment and films from the Lumiere Brothers and  Georges Méliès in Paris as well as from Thomas Edison's studio. In 1897, for the first time, Brinton screened a "moving picture" to a sold-out crowd at the Graham Opera House in Washington, Iowa. Through 1908, Brinton and his wife Indiana traveled throughout the Midwest and as far afield as Texas introducing spellbound audiences to the new technology. When Indiana Brinton died in 1955, however, the artifacts of the couple's pioneering efforts, including the rare films themselves, were all but lost, packed away into a clutter of unremarkable boxes in a neighbor's basement. That is until those boxes were found by Mike Zahs, teacher, historian, inveterate collector, and lover of the secret histories stored in other people's cast-offs.
A native of Washington, Iowa, Zahs is the subject of Saving Brinton, a film by Tommy Haines, John Richard, and Andrew Sherburne, which premiered at this year's AFI Docs festival. According to Sherburne, while they became interested in the project because of the trove of historic films, it was meeting Mike Zahs that really convinced them to make the documentary. "I think it immediately piqued our interest because these films were incredibly rare, over 100 years old, and we just wanted to know more about them," said Sherburne. "When we met Mike, we knew that there was a lot more to the story. He's just an amazing, charismatic, eccentric personality, and somebody we really gravitated toward."
Despite the fact that Zahs is a lifelong educator and has for years given presentations on Iowa history in schools and to community groups, he was understandably apprehensive about being subject to the filmmakers' lens. Richard explained, "He's a somewhat private person even though he's someone who gives a lot of presentations and has taught his whole life. I don't think he quite knew what he was in for. But I think we knew it was just a great story and that if we followed him it would turn out well for everybody. He trusted us to do that. It was a relief to find out that he liked our film after we finally saw it."
The filmmakers acknowledge that they had a lot of help making Saving Brinton, particularly in the form of several grants that allowed them to finance various parts of the filmmaking process. Sherburne noted, "Grants were critical to the creation of this film. It was almost entirely supported by granting organizations. The Iowa Arts Council, Produce Iowa, and Humanities Iowa, all three of those organizations were invested in this project at different phases."
He added, "We were driven to make this film and we were going to try and find a way, but [the grants] just made it so much easier for us to focus on our job and tell a good story. [We could] do our work the best that we could and take some peace of mind that there was somebody there that cared enough to support it and that valued the same kind of Iowa storytelling that we did."
While Zahs' dual efforts to get film preservationists interested in the collection and to mount a show of the films at the Graham Opera House are the ostensible engine of the story, the film is also an intimate look at contemporary life in rural Iowa, including farm work, church potlucks and even the funeral of Zahs mother who passed away during filming. Sherburne credits Zahs sensibility with informing that choice: "Something that Mike said to us very early on was that half of history is geography, so he's very much about the sense of place. It became pretty apparent right away that this story could only unfold the way it does in a very particular place, in a very specific community that's very engaged and connected and appreciative of their own history and legacy."
Richard added, "I hope people get a chance to see part of the country that I think is often overlooked and understand a small rural community in the Midwest in a different way than maybe they've seen portrayed before. I think what Mike's really about is he's about bringing community together using history as a tool to connect people."
According to Sherburne, an avowed "city boy" not only did the project give him a chance to connect with rural places in a different way, but it also helped him to connect to the history of filmmaking in a more concrete way. "As a documentary filmmaker, it's really fascinating to see some of these old films that are 110 years old. These films are really remarkable in that you can still see the filmmaker's hand in the making of them even a century later," he related. "People were just so enthralled by this new technology and the opportunity to share what they were seeing out in the world with other people… So much of it is still the same. It's really just about sharing stories and sharing the world the way that we see it with our audiences."
Some of the most arresting scenes in Saving Brinton are those in which contemporary audiences see the Brinton films on the large screen, both in Iowa and outdoors at an Italian film festival. Despite the antique films' brevity and relative lack of sophistication compared to today's movies, viewers are still spellbound as the black-and-white images dance across the screen. Richard ascribes that to the fact that we haven't changed nearly as much as we think we have in the last century. He explained, "As different as things are than they were 100 years ago, people aren't in some ways that different. We still think some of the same things are funny… We still appreciate a story and we still marvel at animals and far-off places. A lot of the same things that we marvel at today were the same things people were interested in back then."
Sherburne believes that it's the medium itself that gives those early films such staying power. "I do think that film is this magical medium that combines so many different artistic elements. You've got visuals, you've got sound, you've got storytelling, and you put them all together…. In a dark room surrounded by other people, and that's the way that these films [also] would have been viewed 110 years ago, you're really able to be transported as you shut off the world around you and you let the images on screen transport you into another world."
Though the filmmaking process is finished, the project itself is not yet over. The filmmakers and Zahs are working with the University of Iowa library to create a website around the Brinton films as well as to preserve and display all of the ephemera, such as catalogs and the couple's date books, associated with the collection.
Richard hopes that audiences following Zahs' deep dive into the past via the Brinton films will be inspired to catch a bit of the Brintons' spirit. "As important as it is to immerse ourselves in the news, to stay aware of what's going on, it's also important to step back occasionally and experience joy in the world and experience wonder and look at the good side of humanity and not just the political problems, he said." The time when the Brintons were exhibiting was a magical time when people thought that anything was possible. There was a lot of technological advancement, people were dreaming of flight and a future that was better than the one they were experiencing at the time. I hope that we can find that place again in our world where we have a space to imagine a different world. I hope that people see this film and they realize that that was once possible, that it can be possible again."