Art Talk with Visual Artist Jessica Maria Hopkins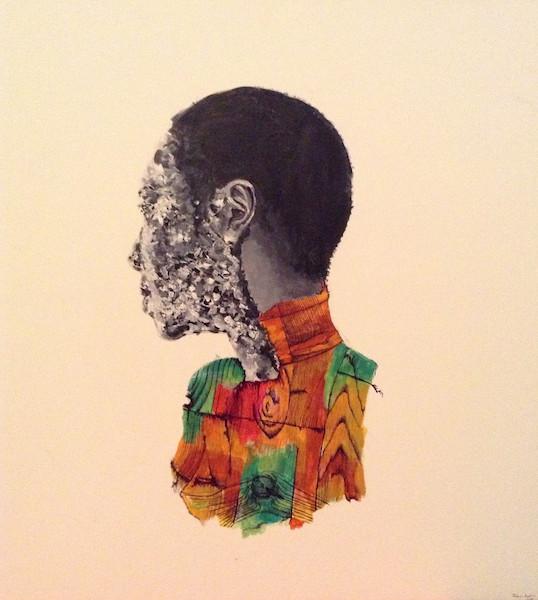 While working on her Master of Fine Arts in Painting at Howard University, Jessica Maria Hopkins received life-changing news. After a routine visit to the doctor's office in 2011, she was diagnosed with cancer. Having to postpone her studies, with the support of her mother and her eight siblings, Hopkins underwent radiation to combat the outspread of Non-Hodgkin's Lymphoma.
Now in remission, Hopkins has been able to move forward, obtaining her master's degree in 2012 and currently working as an art teacher at DC's Mary McLeod Bethune Day Academy Public Charter School.  As she told us in a recent phone interview, "Everything happens for a reason in life, and I think cancer really has transformed my work in a good way, for people's healing, and for me as an artist."
While in recovery, Hopkins decided to use her canvases to archive the different stages of her transformation because of radiation treatment. By utilizing new utensils and materials she had never used before—like ink, pens, and a palette knife—to capture her body's response to treatment, a surprising new style of abstraction became visible in her artwork. Her work has since appeared in several exhibitions including Abstract at the Linus Galleries, Alchemical Vessels at the Joan Hisaoka Healing Arts Gallery, How I Identify—Myself at Las Laguna Gallery, and Typecast at Hillyer Art Space.
In the following interview, we speak with Hopkins about how cancer unexpectedly helped her artwork to evolve.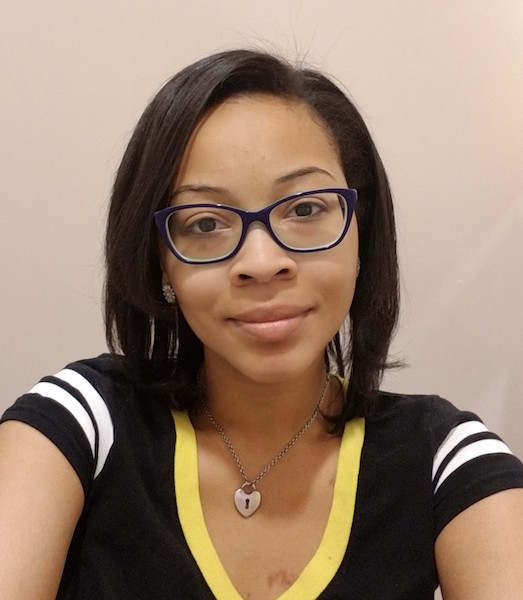 NEA: Who introduced you to drawing and how has your work as an artist developed throughout your life?
JESSICA MARIA HOPKINS: One of my older brothers introduced me to drawing when I was young. He used to draw mostly comic books and cartoons, and one day I decided to challenge him. We had a competition and what I ended up drawing actually turned out to be better than what he drew. So, my interest in drawing started then. I continued to draw comic books and cartoons until junior high, when I started drawing portraits. After high school, I went to the University of the District of Columbia where I received my Bachelors in Studio Arts and after I attended Howard where I received my Masters in Painting.
I did not start painting until college when one of my professors told me to use color to fill in certain areas. Color is one of the elements that's always going to be used throughout my piece [whether] it's an abstract form or if it's a representational form. I constantly use that particular element to map out my pieces, and it's become the most dominant element in my artwork.
NEA: What led you to start making artwork about your illness?
HOPKINS: In 2011, I was diagnosed with Non-Hodgkin's Lymphoma… while I was working on my masters degree at Howard. While I was [undergoing] treatment, I began to base my artwork on my illness, so I became the subject matter of my art. As an artist, I paint on canvas, and now placing myself as the subject, I consider myself the canvas. At first, I saw myself as something that was not beautiful because of what happened to my body during and after treatment. But after talking to people, and receiving support from my family, friends, and the staff at Howard University, my whole frame of mind changed. With my artwork, I wanted to explore and share with people what the whole cancer experience means to me. How it's supposed to be something negative but can also be positive if you have a certain frame of mind.
NEA: Can you talk about if and how this changed your art practice and how you think about your materials?
HOPKINS: Before I was just using basically all graphite and acrylic, but now I use acrylic, watercolor, ink, and also, I will use gray patinas to achieve certain textures and patterns on my pieces. I began to use color to represent a mask and use a wood pattern to represent how the exterior of my body felt after radiation. [In the portraits] I would use wood patterns to cover my chest area because that's the area where radiation was given. Wood textures can feel rough, and for me, I choose to use wood to represent that particular type of texture. I used black ink… which is a material I never used before, to show the radiation treatment. I used to sit from 9:00 in the morning to 5:00 in the evening receiving chemotherapy, just watching the solution drip. Chemo [infusions are] clear, but they're considered to be a poison that kills your good cells and your bad cells. I was using color as a mask to try to heal and to shield myself from people and what was happening to me. I also use a lot of watercolors. Watercolors are transparent, and that reminds me of chemotherapy, again with the clear solution – something that's translucent.
NEA: Does making artwork about your illness affect your relationship with your body?
HOPKINS: My artwork about my illness has affected my relationship with my body in a positive way. It has led to discoveries about my body like I've never had surgery before being diagnosed with cancer, and now I have four incision scars. It's just been a whole transformation. Now, with some of my pieces, I see my body as texture, something I can feel that is rough and has a pattern. And I know my body is never going to be the same again, but that's not a bad thing. I believe that the whole medical experience has helped my artwork evolve. With my body as the subject matter of my work, I just see [my body] as something that continues to evolve and change.
NEA: What do you hope to communicate to your viewers through your artwork?
HOPKINS: When people look at my artwork, they can definitely see that there is some type of pain that has taken place. As an artist, I don't want people to just look at my work and say, "Oh, it's beautiful." I want them to analyze it and to question it. What's actually happened to this person? Why is she using these different textures and patterns? Why these materials? [The] majority of the people who have viewed my work are not cancer patients, but some people have friends or family members who had or still have cancer. They are very inspired by my work, and I've received a lot of positive feedback. People tell me that they love the fact I'm using my artwork as a voice to share my story. I've found that my cancer experience is nothing to be ashamed of; it's actually something beautiful.
My professor used to tell me, don't just create a beautiful picture for a picture's sake. Try to make that portrait more personal—make it more you. To be honest, if I was never inspired by cancer my artwork wouldn't have gone the direction it's going now. I mean, everything happens for a reason in life, and I think cancer really has changed my work and transformed it in a good way, for other people's healing, and for me as an artist.
NEA: Can you complete this sentence for me? The arts matter because…
HOPKINS: The arts matter because it gives everybody a voice to communicate something.