Congratulations to the 2018 National Endowment for the Arts National Heritage Fellows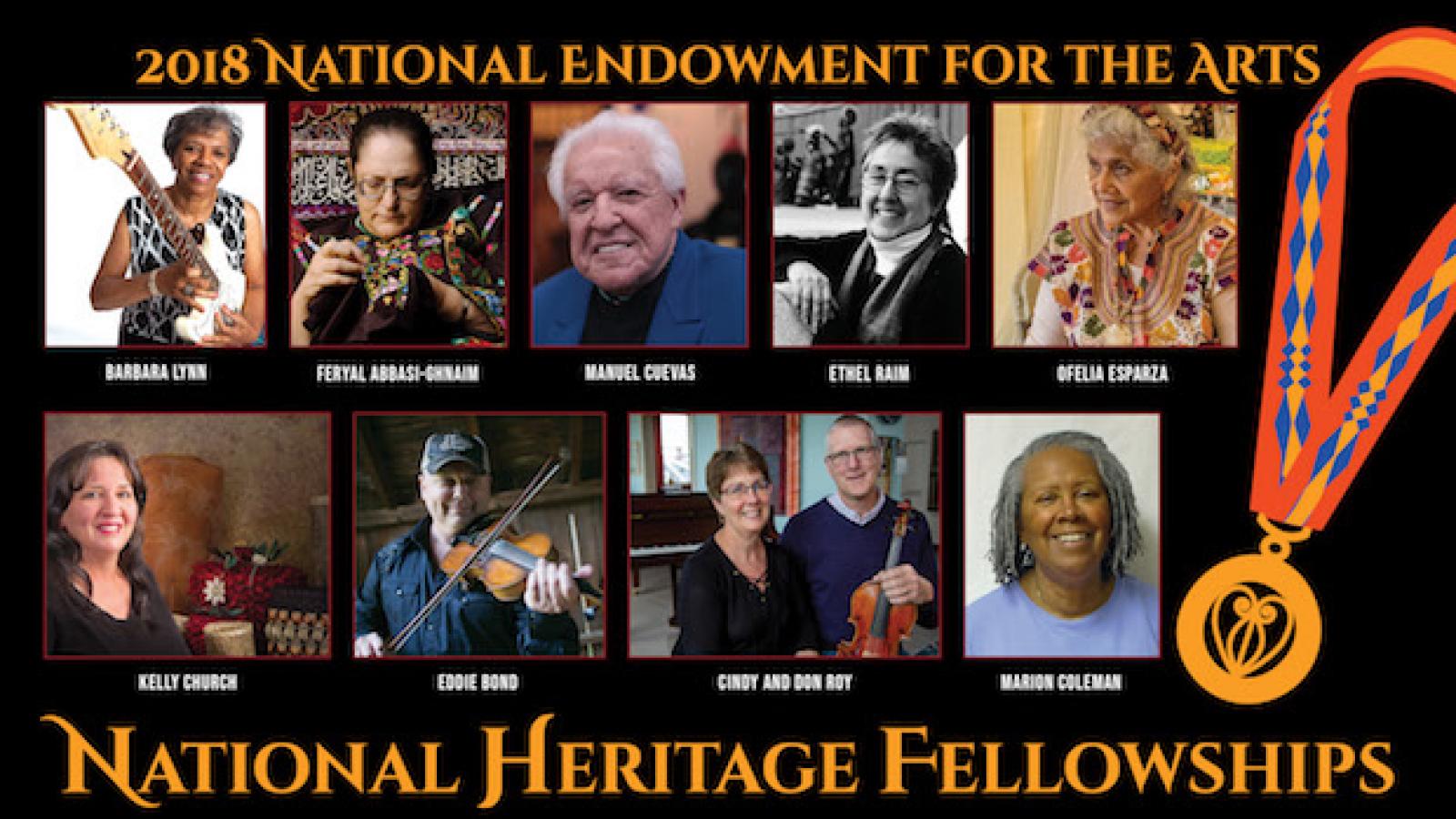 Today the National Endowment for the Arts is announcing the newest recipients of the NEA National Heritage Fellowships, who range from an old-time fiddler to a Day of the Dead altar maker to an R&B musician. The NEA National Heritage Fellowships, awarded annually by the National Endowment for the Arts, highlight the breadth and excellence of the artistic traditions found in communities all across the United States. Read the complete announcement here.

The 2018 recipients are: Feryal Abbasi-Ghnaim, a Palestinianembroiderer (Milwaukie, OR); Eddie Bond, an Appalachian old-time fiddler (Fries, VA); Kelly Church, an Anishinabe (Gun Lake Band) black ash basketmaker (Allegan, MI); Marion Coleman, an African-American quilter (Castro Valley, CA); Manuel Cuevas, a rodeo tailor (Nashville, TN); Ofelia Esparza, a Chicana altarista (Los Angeles, CA); Barbara Lynn, an R&B musician (Beaumont, TX); Don and Cindy Roy, Franco-American musicians (Gorham, ME); and Ethel Raim, a traditional music and dance advocate (New York, NY).

Visit arts.gov to learn more about the 2018 NEA National Heritage Fellows. Don't forget to save the date for the free celebration concert on Friday, September 28, 2018!

Did you know that in addition to their fellowship award, each of the new Heritage Fellows will also receive an NEA National Heritage Fellow medal? Learn the story behind the medal here.