From a Great Height: Traversing a Public Canvas with BANDALOOP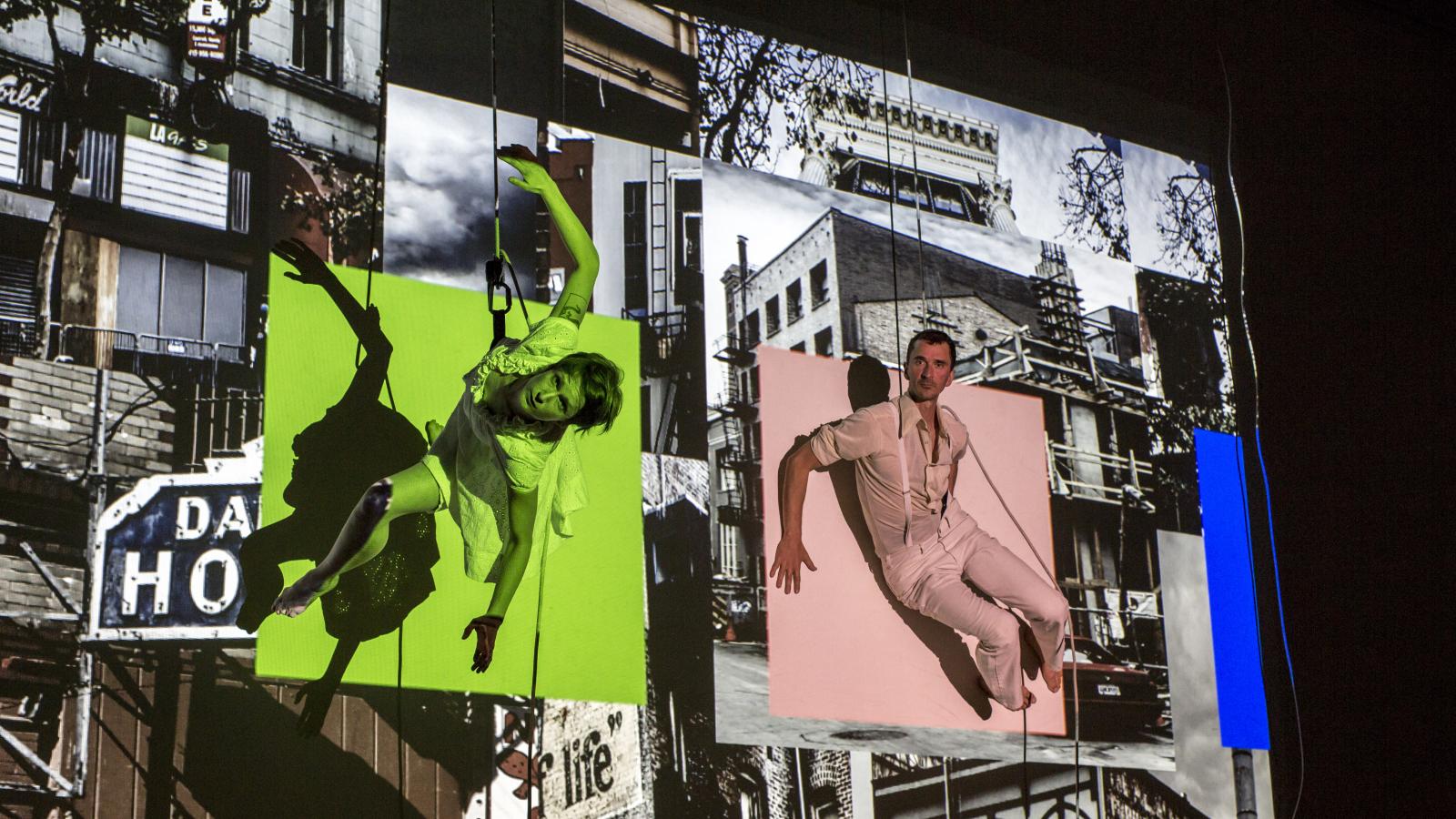 As people gathered below the building and looked up, a dancer sprang out from one of the windows. Tethered by mountaineering ropes, she completed a graceful and joyous arc before landing feet first on the side of the building, using it as a stage to catapult herself again into space. Spectators' faces showed gaping wonder, smile-busting delight, and a touch of terror. The dancer was soon joined by others, and together they created stunning currents of movement that gave a whole new identity to a public building. This is the work of the vertical dance company BANDALOOP.
Since 1991, the company—which is led by Amelia Rudolph and long supported by the National Endowment for the Arts—has literally scaled the heights of structures and surfaces around the world with its unique blend of choreography and rock climbing. In addition to dancing with buildings, BANDALOOP has presented its work on historic sites such as the stone parapet of a 16th-century fort in southern India; in natural environments including cliff faces in China and Yosemite National Park; and in arenas, stadiums, and unexpected indoor spaces. 
The dancers, secured in special rock-climbing harnesses anchored to the top of the "stage," are suspended over the side of a structure. This unusual relationship to gravity allows them to fly, leap, float, and jump with extraordinary amplitude to spectacular effect. 
Rudolph described her company's impact as both an amplifier and flypaper "because we amplify so many different things—especially what is possible, and a change in one's perspective. We draw people to the space and to an idea and to dance." This happens not only through performances but rehearsals as well, as people on the ground going about their daily business stop to watch dancers and choreographer work. The spectators "get drawn into the process of rehearsal. They see me directing, making changes, giving the dancers notes, and trying ideas. So they get drawn into the actual process of choreographing." 
As a form of public art, seeing dance at this scale combines the intimacy of human bodies in motion with vast natural or built environments. BANDALOOP's work draws people to a public place and can transform their relationship to that place, as they see it not as a building or site but as an artistic canvas.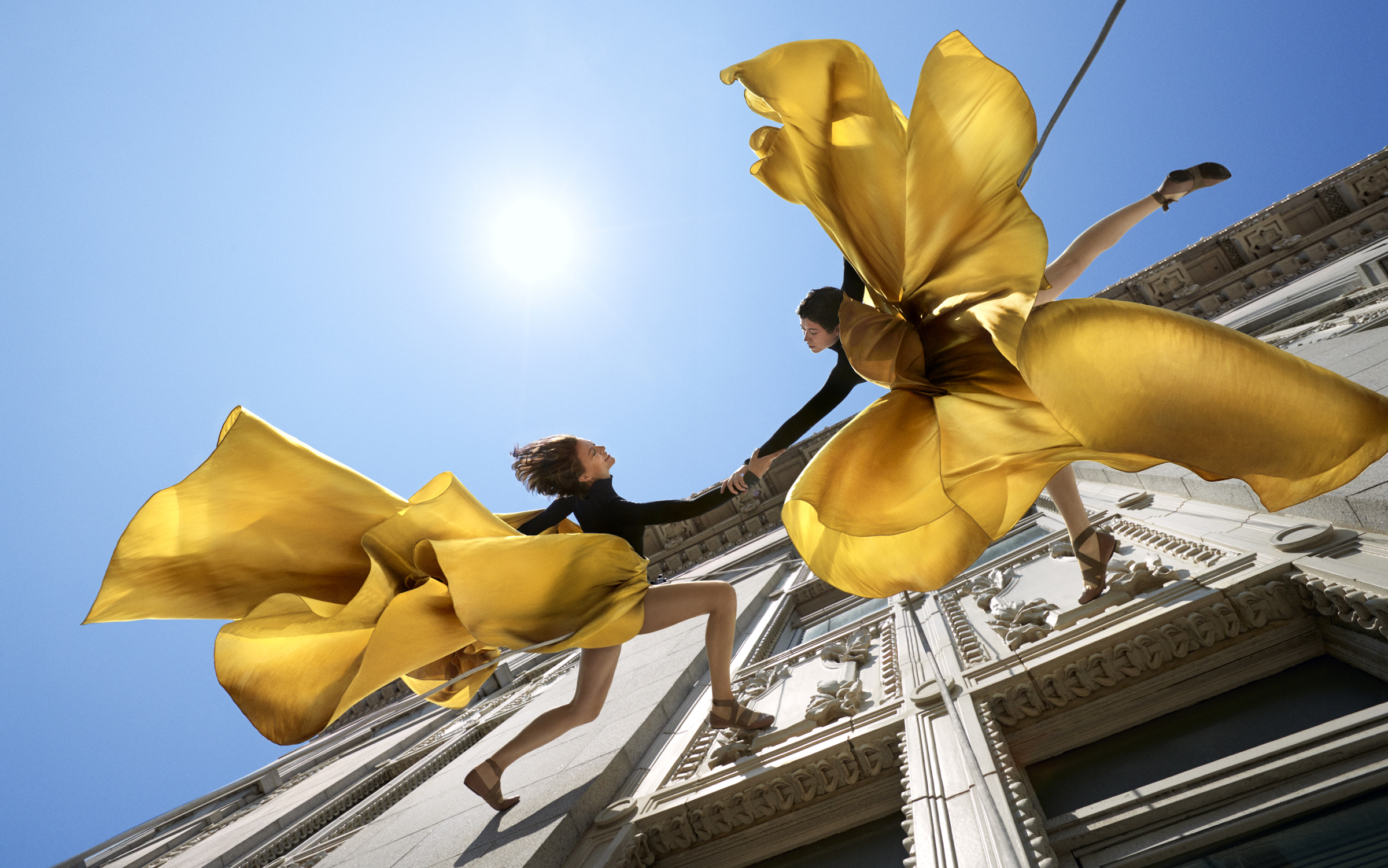 But vertical dance in grand spaces places dancers and audience members at a great physical distance from one another. If public art means easy access or proximity to the art, then does dance taking place on a seven-story building diminish its power to connect on a human level? Rudolph suggested that even though far away, the movements and relationships among the dancers translate to spectators below. "A lot of the choreography is very interaction-based, and intimate. You can feel the relationship. And even in the group pieces you're feeling the relationships, and that's very human. Honestly, I don't think it's as different as people think it is to dance on a building or to dance in front of a big house [auditorium] where you can't see the people in the balcony. But it is important that whatever we do from the building expresses our humanity." 
In June 2018, BANDALOOP will return to the Utah Arts Festival in Salt Lake City. Lisa Sewell, the festival's executive director, said, "BANDALOOP is clearly above and beyond what anyone else can do with regards to accessing and using public space." The festival is held downtown at Library Square, where BANDALOOP will use the library's gently curved glass and steel surface for its stage. Sewell added, "I think what is really cool is the architecture and the public space around it is very open. That the entire plaza can watch them perform is such a unique and different experience for our community and for festival patrons." 
Even when BANDALOOP performs in remote, natural environments such as cliff faces, the company engages the public by filming these dances and sharing them as short films and as visual elements integrated into their performances in urban environments. 
For example, in 2001 BANDALOOP performed Crossing in the landscape of the Sierra Nevada Mountains, starting at the Sawtooth Ridge in the east and ending at Hetch Hetchy in the west. The NEA provided funds to restage the work in 2013 and 2015, this time going from west to east, beginning in Yosemite Valley and ending near the Dana Plateau, with the almost 3,000-foot Mt. Watkins as the centerpiece "dance floor." The dance was filmed, becoming a short feature called Shift, which was shown as a section of the performance Dances from Thin Air in the company's home base of Oakland, California, and toured to film festivals worldwide. 
In addition to using natural, historic, or architectural sites as choreographic inspiration and performance venues, BANDALOOP is exploring the social and cultural landscapes of communities in an initiative called #PublicCanvas. This socially grounded melding of dance, music, spoken word, and visual art tells the story of a community through the people who live and work there. The company does a deep dive into each place, going to schools, churches, community centers, arts organizations, and other venues. At each stop, they ask the question: "What change do you want to see?" The stories gleaned from these conversations inspire a work by BANDALOOP that amplifies the voices of the community.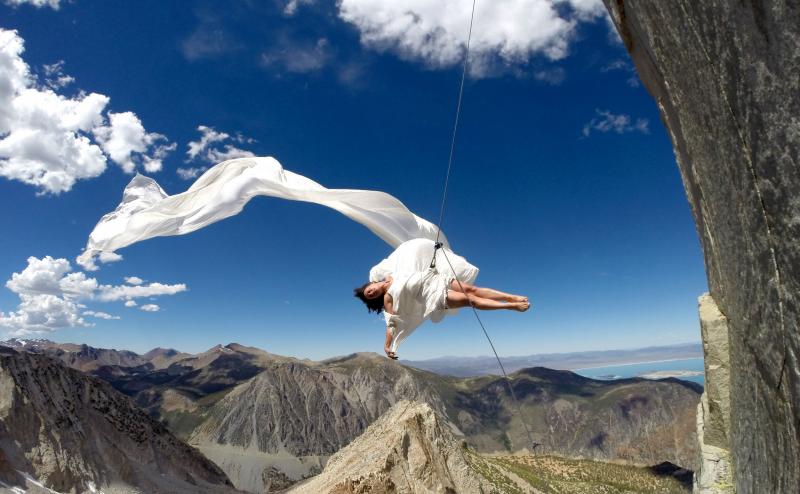 The first #PublicCanvas event took place in San Francisco's Tenderloin District in 2016 using the exterior of the University of California, Hastings College of Law building as the stage. Media artist Jonathan Rowe of the Village Impacts and his producing partner Illuminate joined with BANDALOOP to produce a piece that featured composers Ben Juodvalkis and Gideon Freudmann, singer/spoken word artist Tassiana Willis, and poets and singers from Youth Speaks and Campo Santo. 
Conversations with the community inspired both the choreography and video projections. The latter involved a canvas of shifting images reflecting the history of the neighborhood and the people who live and work there. Dancers performed on this kaleidoscopic backdrop, while singer/spoken word artist Benjamin Turner walked down the wall reciting his work as musicians sang from the ground. 
BANDALOOP's 2018 NEA grant will support the development and presentation of #OaklandPublicCanvas, which will include some of the artists involved in the San Francisco performance as well as Oakland-based collaborators. Using materials gathered from Oakland community members to create the work, which will include spoken word, music, and video projections, #OaklandPublicCanvas will focus on identity and displacement. A largely working-class, African-American city, Oakland is changing dramatically as technology companies like Pandora and Uber move in, driving up housing costs. 
The #PublicCanvas events do what all BANDALOOP performances do: offer a new vision for the public in a shared space. "It's this lovely, elegant, simple fact of redefining what a stage is, what a building is, what performance is, what dance can be," Rudolph said. "All of those things are doing the transformative piece of what public art does in public space." 
In our latest issue of NEA Arts, read about other projects and organizations empowering their communities through public art.