With the Joyful Chorus, Every Voice is Heard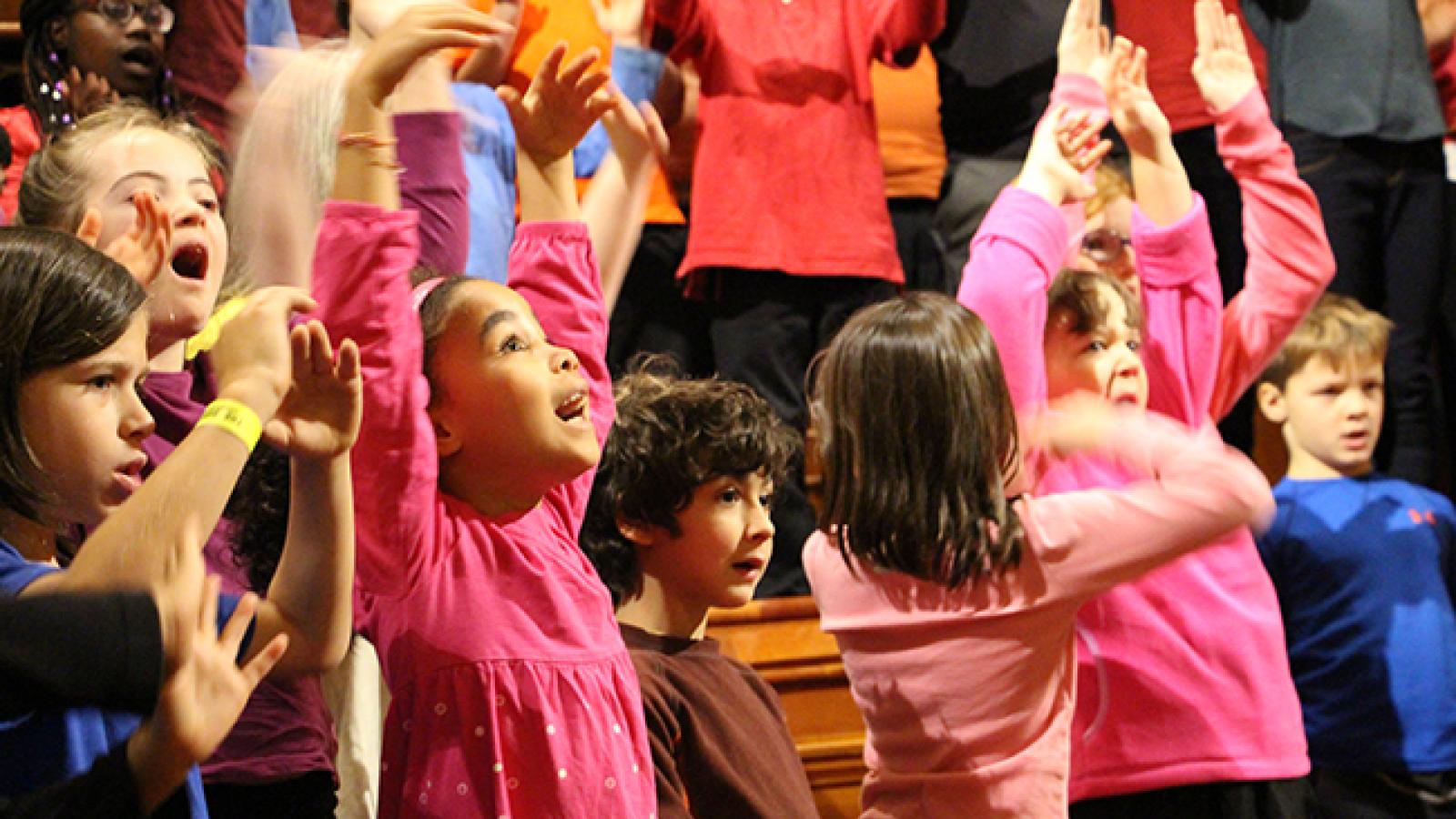 Not long ago after a Joyful Chorus performance, one audience member was dumbfounded. She was the occupational therapist of one of the choir members, and even though she had worked closely with the child, she was struck by the performance. "She said, 'I have never seen this student be so attentive and stay in one place,'" recalled Maggie Rice, director of Whole Children, the Hadley, Massachusetts, organization that organizes the chorus. "I would have never thought that he could do this. To see him up onstage lets me know just how much he's able to do.'"

It's a frequent reaction to seeing the Joyful Chorus perform. As a program of Whole Children, a social and recreation center for children and teens with special needs, the Joyful Chorus is open to all ages and all abilities; current choir members range from ten to 60 years old. No one, said Rice, has ever been turned away. If someone is non-verbal, they can play an instrument, deliver a solo through a communication device, or simply move to the music. If someone is sensitive to sound, they can wear headphones. "Whatever is going to help them be in the chorus, and participate fully to the best of their ability, is what we'll do," she said.

Joyful Chorus grew from a 2010 NEA grant, which supported a choral performance by Whole Children participants in collaboration with musician Dan Zanes. The concert was such a success that the chorus became a permanent fixture, and remains one of Whole Children's most popular programs. The organization received a second NEA grant to support Joyful Chorus in 2016.

Since its inception, the chorus has been led by longtime music teacher Nancy Janoson, who says that even after eight years, she is moved by every weekly rehearsal. "I've seen music work miracles," said Janoson. "When people come in, they're afraid to sing by themselves. By the end, everybody wants a solo." This confidence comes in part from the incredibly supportive environment of the chorus; Janoson said there is a level of mutual care and enthusiasm among choir members that is hard to find elsewhere. For example, when someone finishes singing in rehearsal, Janoson said that, "Whether it's perfect or not, everybody cheers, and it's beautiful! Their faces are beaming and glowing. We just appreciate everything that everybody does. Everybody's doing the best they can, and so it's a lovefest."

This love and joy "go right out from our hearts to the audience, and everybody just loves it," said Janoson. The chorus is accustomed to standing ovations, and receives regular invitations to perform across the region. Over the years, they have sung at fundraisers for Autism Speaks at the University of Massachusetts, Amherst, community events such as the Northampton Christmas tree lighting, and as part of the Florence Community Band's annual holiday concert.

These invitations allow members of the chorus "to see that they're a valuable part of the community, and that people want to hear them, and people want to see them," Rice said. Equally important, "It gives them a lot of self-confidence to know that they can sing in front of a crowd."

But these performances can have just as much impact on audiences as they do on participants. Rice said the Joyful Chorus opens audience members' eyes to the abilities and potential of chorus members, and "makes them understand just what they have to contribute." It's also incredibly moving to witness a group of people—who individually might feel unseen by society—come together to shine through music. "I've been watching them at all of their performances since 2010," said Rice. "I have yet to not cry."