NEA Grant Spotlight on St. Louis Classical Guitar Society's Guitar Horizons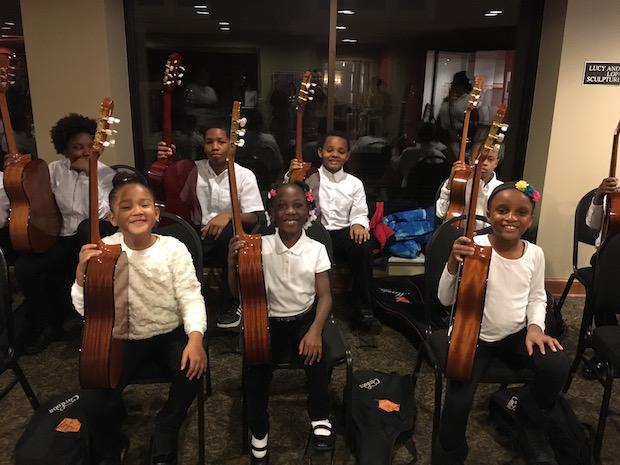 Since 1963, St. Louis Classical Guitar Society—originally known as the George C. Krick Classical Guitar Guild (SLCG)—has brought the sound of music to its community with a range of programs including concerts and master classes. Seeking to use its expertise as an arts organization to help residents deal with community anger in the wake of the 2014 shooting of Michael Brown in Ferguson, Missouri, SLCGS formered a partnership with the Ferguson-Florrisant Schools District to offer in-school guitar lessons. Now known as Guitar Horizons, the project, which recently received an FY18 NEA grant, has since grown to include multiple sites, professional development for music teachers, and public performance opportunities for students. We spoke with St. Louis Classical Guitar Society Executive Director Kevin Ginty via e-mail to learn more about the organization's commitment to arts education in their community.
NEA: What's the elevator pitch version of the mission of St. Louis Classical Guitar Society, and how does arts education fit into your mission?
KEVIN GINTY: Our mission is to strengthen communities through shared experience in classical guitar performance and education. As you can see, arts education fits directly into our mission! We are in a unique position as an arts non-profit centered around guitar because guitar in schools has not been established in the way that band, orchestra, and choir has been for many years. This provides an opportunity to collaborate with school districts in our area to help shape what guitar education looks like, and that has become a central part of our mission.
NEA: What was the need that sparked the Guitar Horizons Educational Initiative?
GINTY: Guitar Horizons grew out of the unrest following the 2014 shooting of Michael Brown in Ferguson, Missouri, a suburb in north St. Louis County. Many organizations were searching for creative answers to respond to the anger and violence that erupted at that time. William Ash, our former executive director and current education director, reached out to the Fine Arts Content Leader for Ferguson schools with an offer to send an experienced teaching artist to teach classroom guitar. The Ferguson-Florissant School District agreed to pilot the program in two elementary schools and it has continued to grow ever since.
NEA: Tell me a little about the day to day structure of the program.
GINTY: The program sends an experienced teaching artist to a school twice weekly to co-teach a performance-based curriculum with the classroom music teacher. Students learn ensemble music in three parts. Each part is simple enough for a complete beginner to learn on the first day. When these lines are combined, however, they create fun and enjoyable music. Students can make music from the very first day, and the curriculum we employ at [Austin Classical Guitar's] guitarcurriculum.com progresses through nine levels to continually challenge and improve their playing. Currently, we employ five part-time teaching artists to support twenty programs like this in the St. Louis area.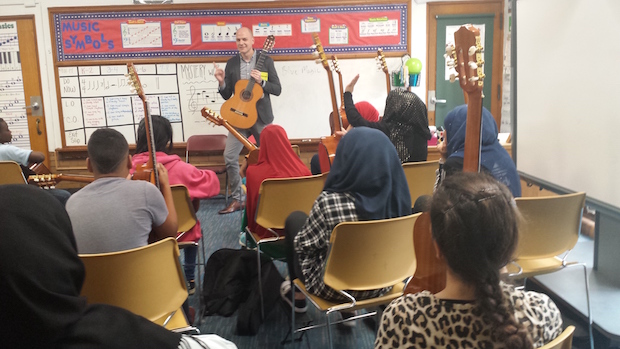 NEA: How does this kind of arts ed project benefit both students and the community at large?
GINTY: Students benefit from learning music in a multitude of ways. Many of these ways are intangible, like the feeling of accomplishment from playing music that originally felt impossible, or the ability to work in a team that is so critical to ensemble playing. Some of the benefits are more easily measured, and our early data shows that students in our programs have better attendance, better grades, and fewer behavior problems when compared to the schools' average.
The community at large benefits as well. Parents become more engaged with their child's education because they love to come to school to see their children perform. Schools become stronger through increased engagement from their students. We also have an annual All Metro Guitar Day where all our supported schools send their students to perform with those from other schools in joint ensembles, culminating in a large guitar orchestra. Guitar Horizons strengthens communities through shared experience in classical guitar education.
NEA: What's the most important thing you want the Guitar Horizons students to take away from their involvement in the program?
GINTY: The two most important things for Guitar Horizons students to take away from their involvement in the program are increased confidence and creative problem-solving skills that can transfer into all areas of their lives. I couldn't pick just one!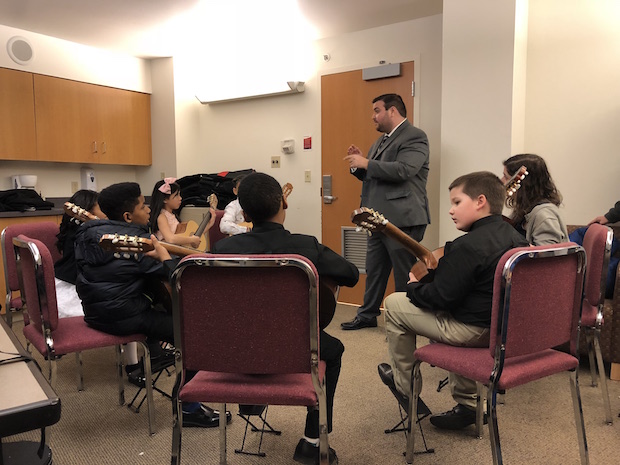 NEA: With so many other priorities in poverty-stricken areas like the one this project serves, why make time and a place for the arts?
GINTY: Making a time and place for the arts in poverty-stricken areas has a variety of economic, cultural, social, and individual benefits. Participating in a program like Guitar Horizons increases self-esteem, creates a sense of belonging to a community, and improves human skills and creative abilities. Guitar Horizons also builds social capital by bringing people together who may not otherwise have done so. Additionally, Guitar Horizons provides a creative outlet for youth so that they can channel their energy into something beautiful and productive.
NEA: What's the most important thing you want people to know about Guitar Horizons?
GINTY: Guitar Horizons provides an opportunity for students who would not otherwise participate in the arts to experience a high-quality music class and the opportunity to share their music skills in public performances. We plan to continue expanding vertically so that the elementary students being exposed to guitar today can continue throughout their public-school tenure, and that expansion relies primarily on increased funding. Many thanks to the NEA for increasing their support of this program!
NEA funding is so important for this project. Not only does it provide a direct source of income for school expansion, but it also provides a "seal of approval" that we can point to when approaching other grant makers and individual donors to show that this project is recognized nationally.
NEA: What question do you wish I had asked, and what would you say?
GINTY: The question I wish you had asked is, "What are students who participate in Guitar Horizons saying about the program?"
To which I would share a quote from Jeremiah Brown who, when asked if he felt that he gained a new skill replied, "No, it had always been in me. I have many talents that I don't know about."