Water Town: Rockland, Maine Paints a Mural with Alexis Iammarino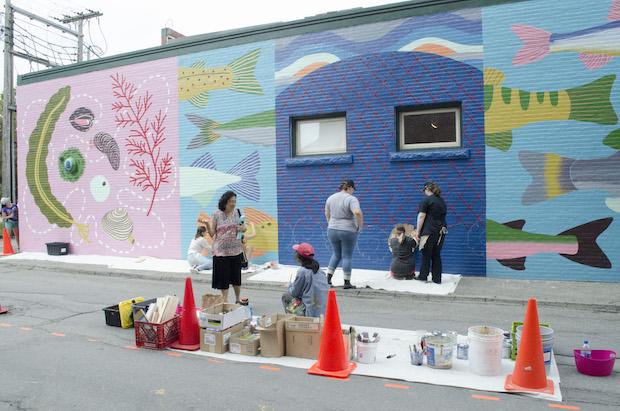 For over six years, community artist Alexis Iammarino has made engaging art in the small coastal town of Rockland, Maine. From vibrant murals all the way to a curatorial public history project about the origins of the American-style donut, her multidisciplinary artwork stands out because it's community-based, meaning it's made with participation from the community. Rather than working alone in a studio, Iammarino prefers to be out and about choreographing (she's a dancer at heart) large and small scale projects in collaboration with fellow Rockland citizens, other artists, and institutions, which brings us to the heart of this story—a community-painted mural called Water Town. After receiving a Challenge America grant from the National Endowment for the Arts, the Farnsworth Art Museum hired Iammarino to oversee the mural, which she designed with Canadian artist Melissa Luk. Under their artistic eye, the mural was carefully crafted by more than 40 volunteers, ranging in age from 4 to 80. "The mural's theme was conceived by the Grasshopper Shop, with input from the Farnsworth education staff," added Iammarino. "Water Town celebrates the marine life of the Penobscot Bay and Rockland's location on the water—expressing joy, playfulness, and a youthful spirit."
Haven't had your Water Town fill? Check out this gorgeous video produced by Scott Sell and Alexis Iammarino to watch how a blank canvas transformed into an electric, aquatic wall painting. 
WATER TOWN
Alexis Iammarino: When I set up a community mural studio on the street it feels like in many ways like a stage. So there's having the paints and the tools accessible. It's the same things you do for your dancers. Before they show up, you make sure the studio is clean, you make sure the lights are on…whatever you need. and the studio is warm if it's a wintry day. All that stuff you're sort of accommodating for the people that are going to come and participate in the artmaking with you.
Music up, under
Alexis Iammarino: My name is Alexis Iammarino. And I am a community artist based here in Rockland, Maine. And I have an interdisciplinary practice in painting, photography, and dance.
Adam Kampe: FOR OVER SIX YEARS, ALEXIS IAMMARINO HAS MADE ENGAGING ART IN THE SMALL COASTAL TOWN OF ROCKLAND, ME. FROM VIBRANT MURALS ALL THE WAY TO A PUBLIC HISTORY PROJECT ABOUT THE ORIGINS OF THE AMERICAN-STYLE DONUT, HER MULTIDISCIPLINARY ARTWORK STANDS OUT BECAUSE IT'S COMMUNITY-BASED, MEANING IT'S MADE WITH PARTICIPATION FROM THE COMMUNITY. RATHER THAN WORKING ALONE IN A STUDIO, IAMMARINO PREFERS TO CHOREOGRAPH LARGE AND SMALL SCALE PROJECTS IN COLLABORATION WITH FELLOW ROCKLAND CITIZENS, OTHER ARTISTS, AND INSTITUTIONS, WHICH BRINGS US TO THE HEART OF THIS STORY—A COMMUNITY-PAINTED MURAL CALLED "WATER TOWN." AFTER RECEIVING A CHALLENGE AMERICA GRANT FROM THE NATIONAL ENDOWMENT FOR THE ARTS, THE FARNSWORTH MUSEUM HIRED IAMMARINO TO OVERSEE THE MURAL, WHICH SHE DESIGNED WITH CANADIAN ARTIST MELISSA LUK.
Alexis Iammarino: The elevation of the Water Town mural covers two walls. So there's one long wall which is about 74 feet and then the mural itself wraps around the back of the building for like another 20 feet or so. So it's like a 1400 square foot mural or something like that. The building itself is I think about 17, 18 feet tall.
The volunteers that worked on the mural range in age from 4 to 81. And Winter Adams is an eighth grader who I work with year-round. She's an incredible, very active artist. So she's really one of the younger participating artists but she is one of the most committed. And so that's why it's so nice to have her here to share her ideas
Winter Adams: Well, I really feel like this represents Rockland in the sense that the buoys, the fish, the lobster netting, that's part of what we're known for—our sea life. And I think it's a good visual. I have to say my favorite is the sandpipers. They're just adorable.
Vas Prabhu: Why the education department wanted to work with a community-based artist to create a work of art that children, adults, seniors, could all participate in and create something that reflects Rockland's values. I'm Vas Prabhu. I'm the director of education here at the Farnsworth. Alexis Iammarino was the perfect person for us to work with because she's a people person. And she knows how to create a work of art that children, adults, seniors, could all participate in and create something that reflects Rockland's values.
Alexis Iammarino: This is the second community mural that I facilitated with the Farnsworth. So …
Vas Prabhu: The idea came from a business owner who is adjacent to the museum on Main Street.
Alexis Iammarino: All these collaborations really begin with, essentially, a stakeholder in the community like a business owner or a visitor seeing me doing work in the community. They might say, "Hey, we know you did a mural before. What would be the next steps for us to get involved?"
Vas Prabhu: The idea came from the community. It went to an artist, Alexis. It came to Kelly Finlay, our public programs manager. It went to the director of the museum and we decided to go for it.
So the Farnsworth Art Museum is in a rural location in Maine and what we realized is that we really needed some seminal funding. And we wanted a funder with the stature of the National Endowment for the Arts, a federally recognized agency, to help support this project because once we were successful with NEA it meant that we could go to any number of people in Maine and explain we have this fantastic funding but we have to match it. And we're counting on you to help to make Rockland the arts capital that it is of Maine.
Alexis Iammarino: So when the Farnsworth approaches me to do a project like this that we also work with a visiting collaborating artist. So we had Melissa Luk as the collaborating, visiting artist on this project.
Winter Adams: Melissa was really awesome. Every day I was working with her she always had the same level of energy and she was always like go go go, we need to get this done! She was really just excited about the whole thing.
Alexis Iammarino: Do you remember some part of what Melissa might have shared in terms of actually setting up or using a tool or … like when you guys would get lined up to work for a few hours.
Winter Adams: We had to get our colors into different groups and we had to make sure that nothing blew away which was always a problem for us.
Alexis Iammarino: Yeah, you're sort of battling the elements a little bit. You're checking the weather to see if the rain will come. You're also having to cover your paint with tinfoil or other things because we're working right on the street, if a big gust of wind comes around the corner …
Winter Adams: And then I would always sit there and peel the dry paint off the sides.
Alexis Iammarino: Everything is labeled and organized in such a way that anybody who stops in get pick up and get started. It's also inviting them into the creative process at the point where they're opting in to the thing that's inspiring to them. And that is very much like dance. You don't put someone on a staccato kind of solo if they're someone who's a bit more inclined to do more adagio, or partnering work. So you take the assessment of what a person might like to do.
Winter Adams: Yeah, and I like having artwork for people to look at and admire and just have it as a part of their lives instead of keeping it all private. And I think it's good that we can share some of this beauty with the community. Growing up in Rockland, we like helping out each other a lot.
Alexis Iammarino: There's some connotation with Rockland that it could be kind of a smelly working city like fish packing and shipbuilding and a really strong industrial past. We're here at a time where there's certainly revitalization that is visible in town in terms of storefronts thriving, music in the bars at night, and things feeling really lively. A lot of the resources are so centralized because we're a county seat. So there's a certain energy to that, too. Like the rec center I work is catty corner to the courthouse is catty corner to the library is catty corner…everything is right in close proximity. The museums are also right in the fabric of all of that.
Vas Prabhu: The arts flourish here but everyone works extremely hard to make that happen.
Winter Adams: Why does public and community art matter?
Vas Prabhu: It's really about involving people and enhancing their creativity and creating something together that reflects the value of the community.
Alexis Iammarino: Already when you see a young person with a paintbrush in public space and they, you know, have been encouraged to do so, you're really showing people the capacity people have to make art.
Winter Adams: I think it adds color to peoples' lives, like if someone's going through tough times and they see this mural, I feel like it could give someone hope and just lift their spirits.
Adam Kampe: YOU'VE BEEN LISTENING TO A STORY ABOUT THE CREATION OF THE WATER TOWN MURAL IN ROCKLAND, MAINE WITH COMMUNITY ARTIST ALEXIS IAMMARINO, ALONG WITH ONE OF THE MANY MURAL PAINTERS, WINTER ADAMS, AND THE DIRECTOR OF EDUCATION AT THE FARNSWORTH ART MUSEUM, VAS PRABHU. YOU CAN FIND MANY OTHER STORIES ABOUT PUBLIC AND COMMUNITY ART AT ARTS.GOV, ESPECIALLY IN THE LATEST ISSUE OF OUR MAGAZINE, NEA ARTS.
SPECIAL THANKS TO SCOTT SELL FOR RECORDING THE INTERVIEW.
FOR THE NEA, I'M ADAM KAMPE.