Art Talk with Justin Favela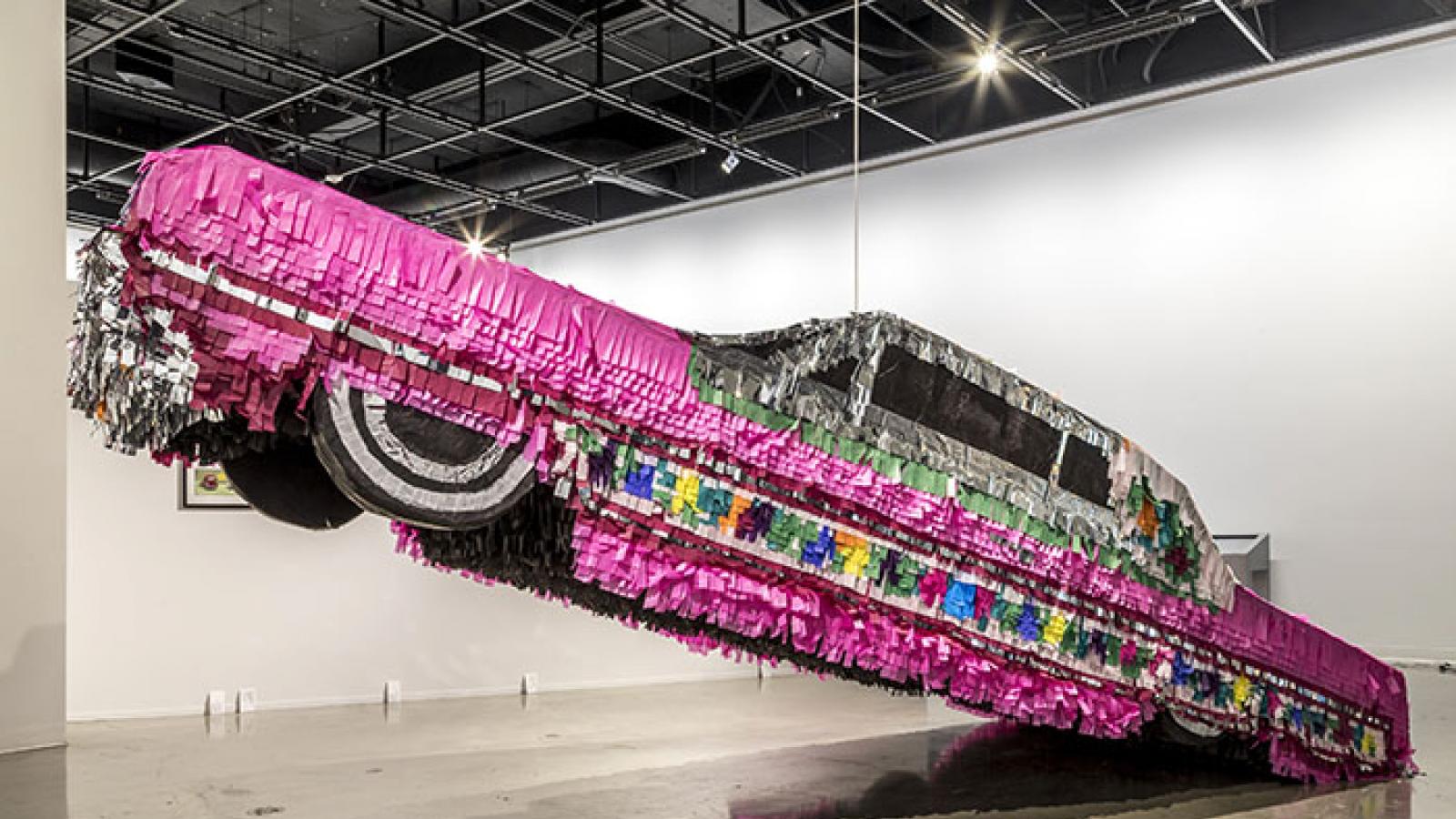 At first glance, Justin Favela's large-scale installations are joyous and exuberant. Each one is formed from hundreds of pieces of cut paper, transforming life-size sculptures and murals of lowriders, desert landscapes, and recreations of well-known artworks into what look like colossal piñatas.

But beyond the festive paper fringe, Favela tells a different story, one that explores cultural appropriation and exploitation, and what it means to have one's heritage reduced to a party decoration. In doing so, he is making space in museums and galleries for the complicated story of what it means to be Latinx in the United States, and carving out his own unique place in art history.

With support from the Arts Endowment, his show Saludos Amigos opens on October 4th at the Capital City Arts Initiative in Carson City, Nevada, and depicts imagery from animated films set in Latin America, such as Coco (2017), The Three Caballeros (1944), and Saludos Amigos (1942). Based in Las Vegas, Favela recently spoke with us by phone about his upcoming show, his creative practice, and why having joyful work in museums can feel like a radical act.

NEA: How did your signature piñata style develop?

JUSTIN FAVELA: It kind of naturally happened. I was in art school, and I was trying to make some work about my identity. The piñata was the perfect symbol to express it. As a Latino living in the Southwest with Guatemalan and Mexican heritage, I was looking for a symbol that encapsulated that kind of Americanized Latinidad. The piñata was the perfect thing because a lot of Mexican culture and symbols and traditions have been appropriated by people in the United States. The piñata was the perfect shortcut to say so many things in a fast gesture.

NEA: Can you elaborate more on how your identity has shaped your work? I was also wondering whether your creative process has in turn made you rethink your identity in any way?

FAVELA: When I first started making art, it was a response to what people thought my identity was. Growing up with my Guatemalan family, the default Latino in the Southwest is Mexican, so a lot of my identity was erased. Everybody just assumed that I was just Mexican or a Mexican American or a Chicano, which I didn't identify as for years. So I was making work about that, but the message really wasn't coming through. I realized I was making art for art people instead of for myself. That's when I kind of honed in on kind of expressing my own Latinease through the work and making bolder statements about critiquing the erasure of so many different types of Latinos.

NEA: How do you hope your upcoming exhibit at Capital City Arts Initiative will deconstruct stereotypes of Latin America even as it explores how that imagery is exploited?

FAVELA: Making things in a piñata style definitely highlights the ridiculous and exoticized notions of Latin America, of Mexico. So you could look at one of my murals and just think, "Oh, that's a beautiful mural made out of paper, and it's very celebratory because of the colors and because the material." It's very accessible also. And that's fine. Then you can also look past that. I think making a piñata mural from Walt Disney's images from the 1940s of this very exotic, kind of whitewashed Mexico really makes a statement on the ridiculousness of it all.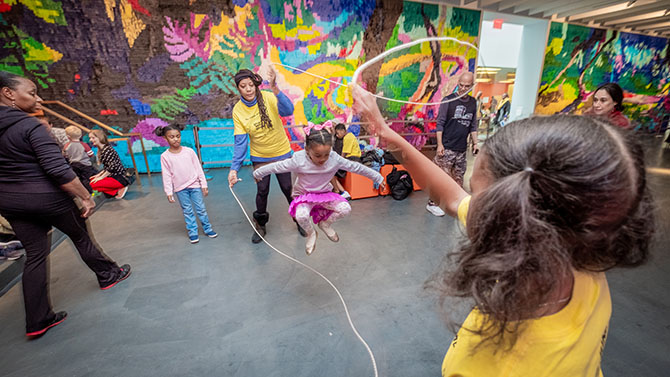 NEA: What do you hope people will take away from this exhibit, both those who come from Latinx backgrounds and those who don't?

FAVELA: I hope that Latinx people see themselves represented, and I hope that others and Latinx people also see the work and feel not only joy—I like my work to be happy—but [that it] raises questions [for them] to make further investigation. That's always something that I'm interested in nowadays.

NEA: You've spoken before about the concept of bringing joy to museums. Why does that feel like such a radical act?

FAVELA: When it comes to the art world, a lot of times people of color—specifically black people and Latinos—are only given space to express ourselves when it's about trauma or it's about our biography. So making work that's about joy is radical.

NEA: What do you think needs to happen that would prompt spaces to accommodate every aspect of every person?

FAVELA: What needs to happen is that Latinos and people of color in the United States need to be looked at as multidimensional humans and not animals. We feel like we're savages, as we're portrayed a lot in films. We need to keep having conversations. We need to be able to tell our stories and share our joy.

The term Latinidad, Latino, Latinx are helpful identifiers for a lot of people because they feel like they are part of a group, part of a movement. But they're also dangerous because they lump us all together into one big group of people where Latino can mean anything. Because of cultural erasure, it's tough even within our community as Latinos to recognize that Afro-Latinidad is real, black Latinos exist. We just need to keep talking about it so that it'll reprogram us to be more inclusive and less exclusive.

NEA: Can you talk more about the challenges and the benefits of being labeled a Latino artist?

FAVELA: I've always been a proud Latino, so that is something that has never been a problem. I never really identified as a Chicano because I'm also Guatemalan and I'm first generation American. So that label really never was part of my identity. But the more art shows I do, the more I'm grouped in with Chicanos. I think I was more worried about the Chicano community thinking that I was stepping past my boundaries or falsely identifying as a Chicano. But I think the more work I do, the more people realize that I really respect the history of Chicano art and that I'm paying homage to it and not exploiting it like some folks do. So the label Latino or Latinx artist [is one] I hold really proudly.

But it's not the only thing that I am. I am also Chicano, I am also American, I am also Guatemalan, I am also Mexican, I'm all the things. The thing that irks me the most about some artists is they really romanticize this binary or even a hybridity of "I'm not from there or from here. I'm lost, I'm just floating in space." When no, you can be from there and there and there. You can be from all those places and just claim it. I think that's more powerful than being torn between two identities.

NEA: You also host two different podcasts. What sort of outlet do they provide for you that may be different from your other artwork?

FAVELA: Podcasting has really given me the language to speak openly now about what I've been feeling. Before I started Latinos Who Lunch for example, I didn't really know how to talk about or express some of my frustrations or [talk about] some of the nuances within Latinx identity. The more people we talk to on the show, the more I'm able to communicate exactly what I'm feeling. I think that's really important.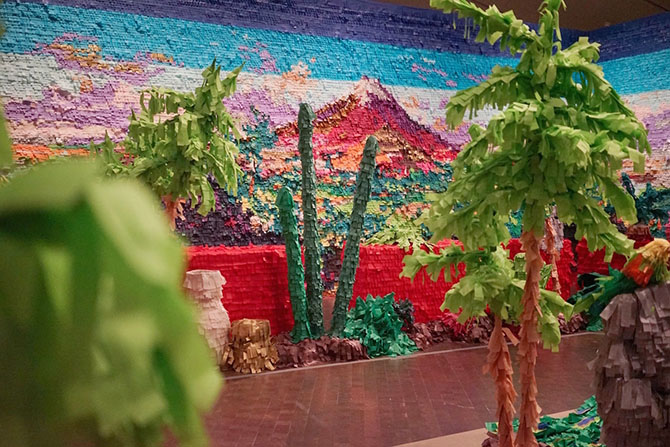 NEA: Has that influenced your artwork at all?

FAVELA: Oh definitely. I think that just having conversations with different artists has shifted my work and maybe the context behind the work.

NEA: Can you walk me through your creative process?

FAVELA: My creative process is not that complicated. I just get an idea and then I do it. I'm full of ideas that I want to complete and anytime that I'm invited to do an art show, I try to realize them. A lot of times though I understand that in institutions, it's a privilege to be in those places, so I try to make a comment on that. That could be done by referencing the museum's collection or the history of the location to make it more site-specific. I like doing that kind of work.

NEA: Where do you look for inspiration?

FAVELA: My biggest influences are my family and my friends. And I love pop culture, so I get a lot of influences from there. Also, things that I've been reprimanded for, or felt bad about before, like, "Oh, you take up too much space. You're too loud." Or a lot of times within the art world, there's a certain reverence for certain artists. For example, this last exhibition I did in Fort Worth, Texas, I did a replica of an Alexander Calder. He's so revered, and his work is so elegant and untouchable. So I proposed the idea of making it look like nachos, because the Alexander Calder was made out of triangles so it looked like chips to me. Doing this tongue-in-cheek piece called Nacho Calder it really turned the focus back on the viewer and showed them that this work is actually really fun, and I'm claiming it as my own by making my own version of it. I think that's really what drives me.

NEA: I know that for some of your installations you receive community input and sometimes assistance. Why does that feel important?

FAVELA: These works take a lot of labor. A lot of times it's a community effort by necessity because there's so much paper that needs to be cut. I work with a lot of nonprofit spaces, and a lot of times they don't have the budget to hire people to help. So it becomes this community thing. I really love it, because a lot of my work now is about the process and the journey instead of the actual finished project. I try to enjoy that as much as I can, because I don't get to experience the piece the whole time [it's at] the museum. The experience for me is making it. And for people to be at, for example, the Denver Art Museum and make something that exists within that space—there's a lot of pride. People have a lot of pride for the work they've done to help me, which is really cool.

NEA: Is there anything else you wish I had asked, or that you'd like me to know?

FAVELA: The other podcast I have is the Art People Podcast. That one I started because I show in all these amazing places, but I don't feel like I'm really equipped when it comes to talking about artwork or the art world with art people. A lot of times I go to these dinners with curators, and I have no idea what they're talking about, and I'm nodding along like, "Yeah, sure, I know this person and that person and this art fair and that whatever." So I started the Art People Podcast to gain more knowledge and help me stay on top of what's going on, but also to demystify the art world.