Breaking Barriers with Mariachi Arcoiris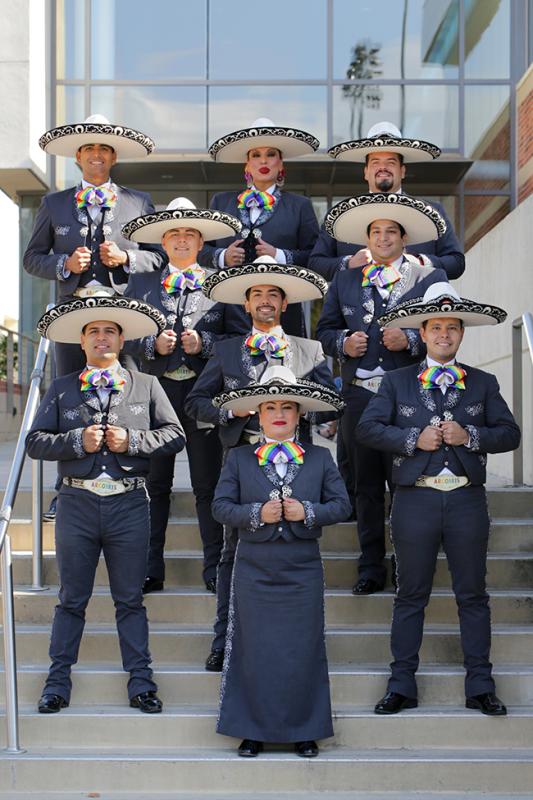 There was not one seismic incident that prompted Carlos Samaniego to resurrect Mariachi Arcoiris de Los Angeles in 2014, an organization he briefly formed in 2000 while attending Cal State LA. Rather, it was the result of years of mockery and harassment he endured as an openly gay musician in the traditionally machista world of mariachi, a distinctive folk music from Mexico.
"I felt like I needed to create a safe place for other queer mariachi musicians so that we can come together and rehearse and perform our music free of bullying and mocking and harassment and negativity—where we can be our authentic selves, and don't have to hide what we are and who we are," said Samaniego, a first-generation Mexican-American who learned mariachi from his parents.
Today, Mariachi Arcoiris bills itself as the world's first LGBTQ mariachi group, and has gained international recognition for breaking new ground in a traditional art form. The group has performed around the globe for LGBTQ events like Pride and cultural holidays like the Day of the Virgin of Guadeloupe. It has also inspired the formation of other LGBTQ mariachi bands as far away as Colombia.
Mariachi Arcoiris has also gained recognition for one of its violinists, Natalie Melendez, who is the world's first openly female transgender mariachi musician. Samaniego heralded her as a pioneer in her own right, noting that she's an inspiration for any transgender woman working in a male-dominated industry, whether that be mariachi or construction or architecture. "There could be someone who's passionate about what they do, and wants to continue doing what they do, but they want to be true to who they are as well," said Samaniego. "[Natalia] gets to be the role model that she wished she had when she was young."
Despite the barriers that Mariachi Arcoiris have broken, Samaniego said he never set out to be a trailblazer. As a singer and violinist with a degree in music, he simply wanted to be treated exactly as what he is: a talented, professional musician. He demands the highest level of musicianship from Arcoiris's 11 band members, knowing that because of their LGBTQ identities, they will have to prove themselves twice as often as other mariachi. "The music is our shield; it's our armor," said Samaniego. "That's how we're able to defend ourselves and represent, and say, 'We are a badass mariachi.' It doesn't matter how we identify at all because the music is on a different level."
By playing as well as they do, and by breaking traditional mariachi roles as they do so—a man might sing a love song to a man, for example, instead of to a woman—Samaniego is hopeful that perhaps non-LGBTQ audiences will see them in a new light. "When you close your eyes, you don't know who's playing it," he said. "That's the point. I think that it's important that [people] get to see that we're talented human beings, we're vulnerable human beings."
Of course, misconceptions about the LGBTQ community are not the only ones Mariachi Arcoiris encounter. The group frequently performs at LGBTQ events that might not otherwise have considered hiring a mariachi band, introducing audiences to a musical tradition that dates back to 19th-century Mexico. "[Audiences] get a better understanding of what the music is and what the culture is as well," Samaniego said. "It's not 'La Cucaracha' or 'The Mexican Hat Dance,' and all these stereotypical things that Americans think mariachi is.
"We get to be cultural ambassadors to different communities," continued Samaniego. "We represent the LGBTQ community to the mariachi world, but to the LGBTQ community, we're representing the Mexican community."