#FlashbackFriday: First Person with Actress and Playwright Heather Raffo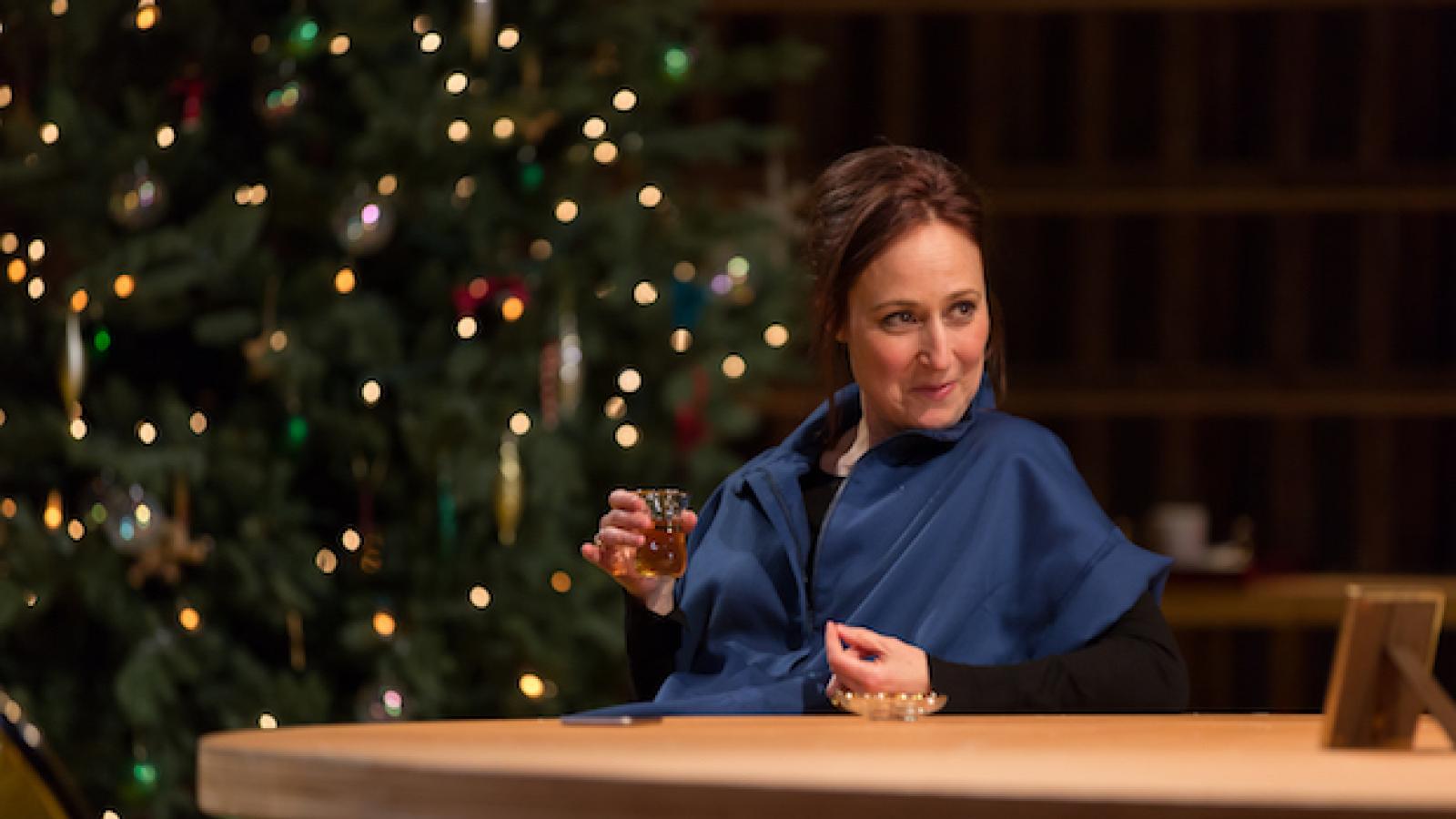 Despite a dearth of ways to engage in the arts in the small Michigan community in which she grew up, Heather Raffo knew from the time she was able to talk that she wanted to be an actress. Later, as a graduate student pursuing an acting degree, she realized that she couldn't find plays that represented her experience as the daughter of Iraqi Christian immigrant parents. It wasn't that the plays were hard to find; they simply didn't exist. Raffo realized it wasn't enough just to be in plays, if she wanted to see the lives of people like her onstage, she'd have to write them, too. Her first play Nine Parts of Desire, which started as a graduate school project, went on to be produced at theaters around the world, winning the Lucille Lortel Award for Best Solo Show. Her next play came by way of a grant from the Doris Duke Foundation, through which Raffo became immersed in the lives of women in New York City's Arab communities. Their stories of flight and exile coupled with conversations around Henrik Ibsen's A Doll's House sparked Noura.

Featured as part of Washington, DC's 2018 Women's Voices Theater Festival in a world premiere at the Shakespeare Theatre, Noura explores the life of the title character, a happily married Iraqi Christian immigrant who grapples with ideas of home and exile, secrets and truth over the course of the Christmas holiday. Playing the title role, Raffo gives voice to universal questions: What does "home" mean? How much of the past can we hold onto, and how much must we relinquish in order to have a future? How do we set the best example for our children? We spoke with Raffo in the green room of the Lansburgh Theater as she juggled caring for her own children—who were on Spring break—with this interview and preparing for the night's performance. In her own words, here she is on her artist's journey, what success looks like for her, and how motherhood informs her theater career.

On Becoming an Artist

I could tell I wanted to act from [the time I was] four. My mom says I was saying things at two, from talking age, about things I was going to create. I certainly can remember being four and trying to create plays. In second grade we did a play that I was absolutely absorbed in. It was my whole life, right? My upbringing was very academic and quite sports-oriented because that's Michigan culture. I thrived in those but… it really wasn't until [I got involved in] high school plays and musicals that I got to escape to [the arts]. I went to the University of Michigan and then started having exposure to plays that genuinely excited me and were plays that that complimented this academic up bringing I had.

Then the First Gulf War happened, so I was 20 and thinking I want a life in theater and here's this war. I think it would have been affecting even if I hadn't been Iraqi-American, for sure, like I would have woken up to it. But it was truly deeply affecting given that the perception of what Iraq was was so misguided. The way the stories were being fed to Americans I thought was very misleading. I had a lot of family members in Baghdad, and I was worried for their lives and I walked out of that experience [of the U.S. being at war] feeling disenchanted.

It was like, now what? What about my country? What about my humanity? What about my artistry? What do I do? I think that was the first building block of who I would become as an artist. I didn't have the tools yet to say, "Let's make art about it or let's do it." All I knew how to do was be a communicator in my personal life between Iraqis and Americans, because this is what I've been bridging since I was born. That began a journey that was probably eight or ten years of being that person always in those conversations, always bridging those cultures.

On Becoming a Playwright

When I was in graduate school getting my MFA, we had to write a solo show. I started writing what was early versions of Nine Parts of Desire. That happened because there wasn't an Iraqi female protagonist in the English language in the theater. It was literally just looking around for a genre that didn't exist and realizing that I had to create it if it was going to exist. That's a weird place to find oneself in. You'd think by the late '90s, early 2000s there wouldn't be a genre that didn't exist. You'd think we'd have been in pursuit of every genre but literally who Middle Eastern people were, and who Middle Eastern women were in the English language, wasn't on our stages.

I found from that that I actually really loved writing, perhaps prefer it. I think after [creating] Nine Parts is when I really got to start excavating other avenues of my own writing. Since then I've felt like I've gotten to really explore myself as a writer, which has been fun. I'm very research driven, and I need to sit with things for quite awhile. I'm an anthropologist of sorts. I need to go excavate in a community and really be with them, even if it's a community that I claim that I'm from somehow. I have to go and park myself, embed myself in [that community] for quite awhile until I feel like I can understand issues from all sides. Understand it from opposing sides, really. And then I go away and—quite like an actor with actor muscles—just let it go in and come out.

On Writing Noura

[I had] a Doris Duke grant that was very specific [support] to build a demand for theater in the Arab-American community of New York…. One of the groups I ended up working with was 50 and 60-year-old women and the [other group] was 20-year-old women at Queens College. This grant [supported] working on and off with them over the course of three-four years. I started with my Places of Pilgrimage workshop, which is a narrative writing workshop, where they basically find a story within themselves they want to tell that's about them; and have the experience of seeing that go from first idea to stage.

I took them A Doll's House [to read because] most of these women had harrowing stories of leaving home…. We discussed a lot how these women were carrying two ways of moving through the world and felt like two different people. American culture is rugged individualist… versus Middle Eastern culture which is you've got to take your whole family with you [as you achieve success].

[As I worked with them, I thought] about how that play does or doesn't have relevance for modern married women; and wanted a play that had a lot of relevance for modern married women with kids. I didn't know where those works were, so I felt I had to write it. Even though [Noura is] not a play about my marriage, there's an undercurrent to the need that [the character] "Noura" has and the need that the male characters have that I think is true to most marriages I see.

On Knowing When a Work is Finished

I'm never finished but there is a point where I'm mostly finished. So the never finished is like any time I hear this or see it in another life, in somebody else's production, I'll be going, "Oh, I should tweak that line. That's not quite right," you know. But there's always a time where it's mostly finished where you really feel like it's 90 percent there, and that's true right now. We're not radically re-envisioning scenes. It's just every once in awhile we land on the better line or the line that can really nail it. I'm still looking at the ending in this, so those are the kinds of things that will still play out but we're mostly there.

The Definition of Success

Success for me is almost a hundred percent measured by the journey I see the audience take. I'm quite connected to their vocalizations and what I can sense as their emotional journey. And the way they'll want to engage with me after [the show] and what they want to ask. Success is very related to the way their hearts are quite cracked open, the way they're crying but they can't say why. The way they'll say they went home and talked about it for two days with their partner, their husband, their wife, and that it brought up a bunch of stuff. [At a reading of Noura] in Dearborn, which has the biggest Middle Eastern population in America, the first three people to speak at the talkback were Muslim men, all saying, "It''s about me." I thought, "Well, that's good, given it's about a Christian Arab family." They felt this is absolutely my immigrant Middle Eastern experience, so I thought that was super. And then the Christian Iraqi women were going, "Yes, me too. Me too." Then I was in Kansas City and I had the blonde Midwestern women and Latino immigrant women saying the same thing, That's when I go, "Okay, that's success." We've nailed some story that feels profoundly personal to different people from different walks of life that maybe in other contexts see themselves as incommensurable with each other.

How Being a Woman Informs Her Work

I've always been in pursuit of women that felt strong and complex because that's what I think we are. There's lots of talk in the #MeToo movement that women are being brave and that's true, but I think we've always been brave…. I think probably the biggest influence on my work is motherhood because it informs my being a woman in a way that I could never have imagined before being a mother, and that I find is not often represented in the theater. And when it is, it's not often represented in a way that I recognize. For sure it's an archetype, and I don't disagree with the archetype. I'm just saying that how I move through the world as a woman and what's on my plate now isn't on stage in this way. We don't support mothers to work. We just don't do it. So how are we supposed to get modern realistic stories about women that go beyond some mother archetype if we're not actually letting the moms tell the story?