Grant Spotlight: Adams State University Social Practice Residency
Originally founded as a teacher's college, Adams State University (ASU) is located in Alamosa, Colorado, a rural area that is also the third-poorest county in Colorado. Despite a dearth of resources, Adams State boasts a thriving art department, including the ASU Rare A.I.R. visiting artist program. With the help of Challenge America funding from the National Endowment for the Arts, the university is expanding that program to include social practice artists working in theater, music, or the visual arts.

According to ASU Assistant Professor of Art Leslie Macklin, who manages the project, one of the goals of the expansion is that the artists selected for the social practice residency will help create safe places for the community to have difficult conversations around local issues such as water conservation, homelessness, and opioid abuse. "I truly feel that it's in the ability of artists to make connections between communities and to create a space for dialogue that is not as formal or maybe politically charged," she opined. "Bringing people together to physically make something is a great way to start conversations and connect people that wouldn't talk to one another in another format."

Macklin also thinks that having an outsider's point-of-view can help foster creative problem-solving around community issues. "[The artists] are coming in without bias. They're coming in with fresh eyes, and I think sometimes it takes those fresh eyes to really understand and approach problems in a new way," she said.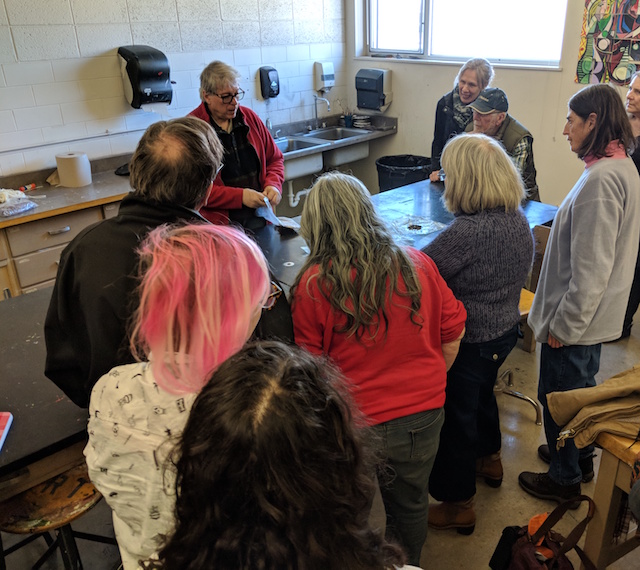 As part of the social practice residency, Macklin is also hopeful that the participating artists will be able to make deep, long-lasting connections with the community. She explained, "There are a lot of social issues that the community struggles with and they're used to people coming, interviewing, understanding, and then disappearing. Our hope is to combat some of that and create some sort of lasting vein of engagement…. We want [the artist] to come here, experience our unique community, this unique place, and then respond… to realize how they can creatively meet the needs of the community."

Each social practice residency is expected to last roughly the length of an academic semester, which Macklin noted would not be possible without Arts Endowment funding. "Right now we're only able to support artists that can afford to bring themselves here," she said. "Without this funding [from the National Endowment for the Arts] this social practice element would not at all be possible." The financial cushion provided by the grant will allow artists to spend a longer stretch of time embedded in Alamosa County, hopefully leading to projects that more directly respond to the community's needs.

While Macklin hopes that the artists connect both with the campus and regional communities, she also hopes that, in particular, engaging with the artists will help the Adams State student body to strengthen their bonds to the community by allowing them to see the area with new eyes. "We get a lot of students who come to Alamosa, and they [think], 'There's nothing here to do. There's nothing here for me to see,' because it's a very small rural mountain town. But there actually are so many interesting, cool things about where we are, both historically and culturally, and so I'm hoping that our students are able to see their place in a new way and become more connected to it."