NEA Big Read Author David Tomas Martinez on Basketball, Power, and the Joy of Meeting New Readers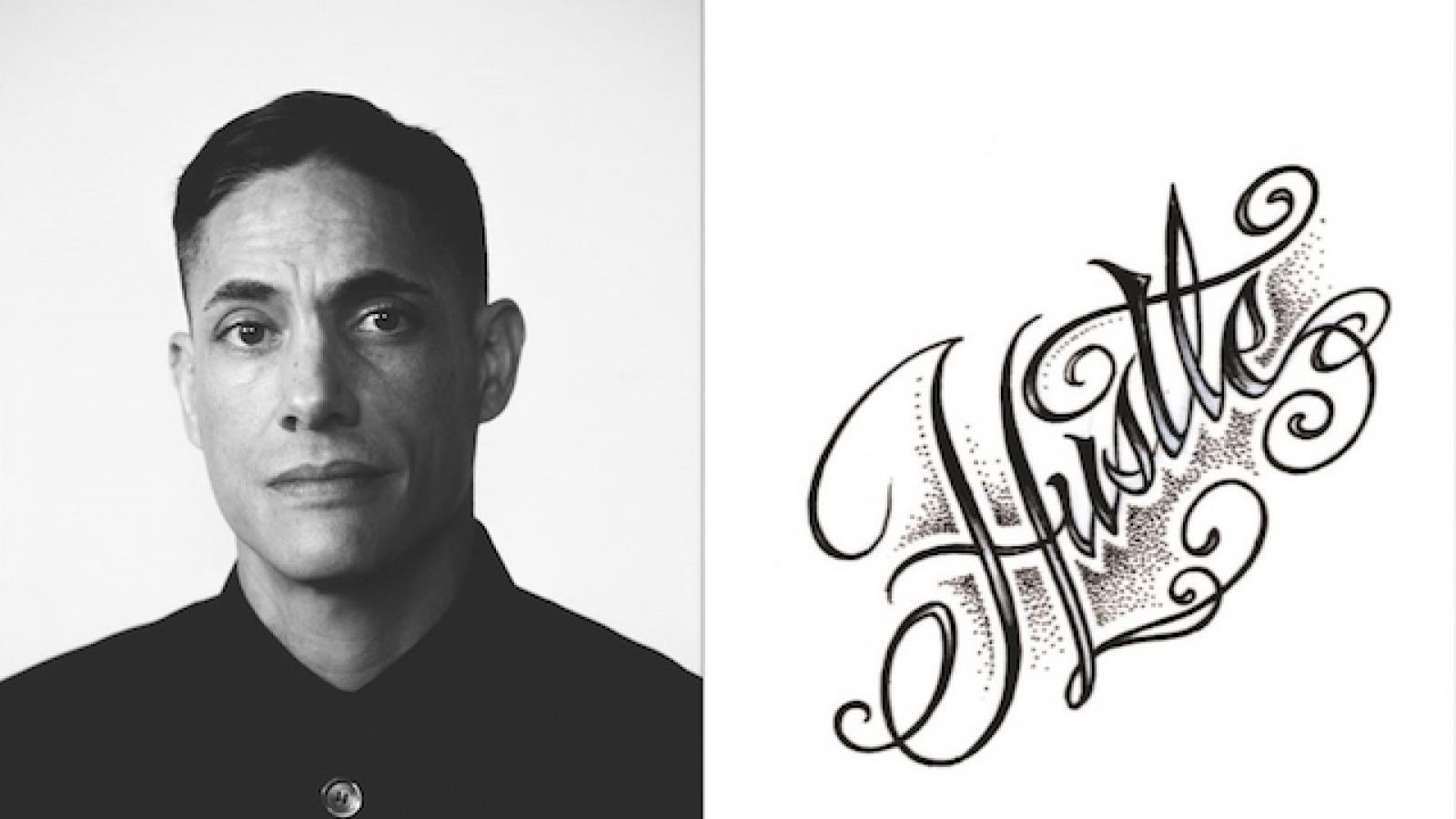 Conversations with NEA Creative Writing Fellow and new NEA Big Read author David Tomas Martinez often find him in the midst of some joyous activity, like perusing the aisles of the Century 21 department store (where some of the cashiers know him by name), in his kitchen whipping up some delicious recipe for his family to enjoy, or working on a new poetry collection. Martinez's book Hustle, which is part of the NEA Big Read Library, reflects on an earlier part of his life in an often violent and chaotic Southeast San Diego youth. The collection gives voice to boys on the brink of masculinity growing up in a rough part of town. Chuck Taylors, stolen cars, tattoos, shootings, dilapidated concrete landscapes—these are some of the things you'll find in the collection, which speaks to a range of themes from masculinity to identity, from power to love. We asked Martinez to reflect on his love of art and writing, and what it means to be part of the NEA Big Read.

NEA: What's something we'd be surprised to know about you and/or your writing?

MARTINEZ: I was in an anti-drug commercial in middle school featuring James Brown, not the iconic singer but the sportscaster affectionately known as JB, for CBS in the late eighties.

It was the era of D.A.R.E. and Nancy Reagan was head-stepping a pushback against drug culture through conservatism. The commercial aired originally during the NCAA basketball tournament.

If anyone has this commercial, please send it to me or the NEA. Appreciate you.

As far as something about my writing, I reread Gabriel García Márquez's One Hundred Years of Solitude every few years because I want to stay intimate with its beauty, scope, and technical prowess.

As far as a writing process, I've grown increasingly routine-oriented, and my writing of poetry has mirrored this regularity. Hustle was written primarily to Miles Davis' Kind of Blue, and Post Traumatic Hood Disorder had a heavy rotation of trap music and Drake. This third collection I've begun has developed its own routine.

NEA: Are there themes that you keep returning to in your writing? Why do you think you keep returning to them? 

MARTINEZ: While a tiger can't tell you why it's striped, it can, probably, explain how those stripes best hide, hunt, and identify cubs.

I'm very interested in power, and that can be exhibited in my work with meditations on masculinity, socio-economic issues, sexuality, and others. Which also means that I'm always considering my own position to power and control.

For me, humanity's continual struggle with power, accessing power and placement near or adjacent to it, encapsulates a particular aspect of reality. Reality, or our construction of what we consider to be real or true, seems inextricable from our relationship, intimate or distant, to power. In this way, perception is a power.

NEA: What are some other artistic endeavors that you enjoy doing and/or experiencing?

MARTINEZ: I enjoy cooking and fashion, which I have spoken about in multiple NEA interviews, which I'm always keen to talk about, but I also play basketball. I originally went to college to play basketball at a local community college as a 21-year-old freshman. Currently, as I'm typing this, I'm recovering from a ruptured Achilles tendon. I'm in a decent amount of pain, but it's something that I'm oddly enjoying. Not the pain per se but the ability to overcome an obstacle, overcome the pain. I've had a hurdled route to poetry, and this injury, and my hopeful return to playing ball consistently, is something I look forward to accomplishing. Plus, I've gotten some new ideas for poems from this injury that meld with my next, the third, collection of poetry that I've been writing. The hardest part about this injury is the extra burden it has placed on my partner, who has so gracefully and with such fortitude, taken a larger role in our home, despite being nine months pregnant and us having a two-year old as well, while I've been down and/or bed ridden. So admiring my partner is another of my artistic endeavors.

NEA: As a new NEA Big Read author, which aspect(s) of the program are you most excited about?

MARTINEZ: Hustle is a collection of poetry that has found its way into the hands of a wide array of readers. I've spoken to various types of readers from all across the country, from gun violence victims to at-risk teens, and it makes me happy that Hustle has had the dexterity to attract such seemingly different types of people. I'm most excited about the ability to meet new readers, hear from their experiences, and hopefully affect them in some small way, either through my poems or in person. That really is one of the most enjoyable aspects of being a writer: meeting readers and other writers.

NEA: Are there any other NEA Big Read books that you recommend?

MARTINEZ: Julia Alvarez's In The Time of the Butterflies because it's historical fiction focused on Dominican women snared in political machinations that is written lushly.

Rudolfo Anaya's Bless Me, Ultima because Ultima is one of my favorite characters in all of literature and the book masterfully displays classic Mexican cultural tropes within New Mexican landscape.

Albert Rios's A Small Story About The Sky because this poetry collection is mythic and personal, as if the reader were watching a great figure grow into their ability. The metaphors are also a can't-miss.

Luis Alberto Urrea's Into the Beautiful North because no contemporary writer can as effortlessly incorporate the mundane tasks of living so beautifully as this writer. Also, Urrea is a magnificent reader, and I'm positive he could make even the phone book an appealing listen.

Claudia Rankine's Citizen because it's great for anyone seeking language to better understand power within a United States context via a fascinating amalgamation of intimate and distant perspectives. And because I can't categorize this book in any one genre, which fascinates and excites me.

Adrian Matejka's The Big Smoke because this is one of the premier persona books in poetry, utilizing Matejka's keen eye for detail in language and action.

Stephanie Burt's Advice From The Lights because there may be no one in poetry with as much brains and heart as Burt, who balances them so adroitly in this collection.

Louise Erdrich's The Round House, which chronicles Indigenous America with style and literary tension that makes aesthetes like myself endlessly eager to read what's next. Honestly, you could have chosen at least half a dozen of Erdrich's books for this program.

Kevin Young's Book of Hours because with a seductively elaborate terseness Young writes important poems that are engaging and edifying.

NEA: Can you share an anecdote about an inspiring or meaningful experience you've had at a reading you've either given or attended?

MARTINEZ: In Louisville, my publisher, Sarabande Books, runs a writing lab that engages in valuable community outreach. As part of this service, I read at Hotel Louisville, a program that gives shelter and vocational training to women in need. The most impactful part of the evening was hearing many of the forty-one writing lab participants read their poems, some of which was based on my own work. It was humbling and inspiring to hear their stories and dreams, to speak about addiction together, and for them to share their struggles with being abused. They showed such strength and beauty. I was deeply shifted. The room was packed with quite a large audience, with inspiring women from the Louisville area that worked at Hotel Louisville as a means of improving their life, and together we swayed with hope and joy in overcoming for a few hours. After the reading, I spoke to so many people and it was uplifting. That was five years ago and I still think about it and rank it as one of my favorite readings.

Hear more from David Tomas Martinez in this episode of the Art Works podcast.