American Artscape Notable Quotable: Artist Tasha Lewis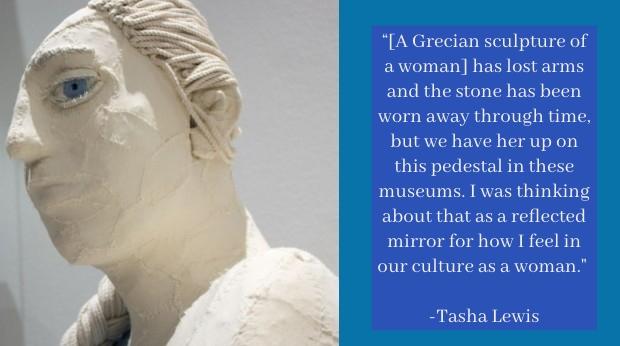 "[A Grecian sculpture of a woman] who has lost arms and the stone has been worn away through time, but we have her up on this pedestal in these museums. I was thinking about that as a reflected mirror for how I feel in our culture as a woman." —Tasha Lewis
Stepping into the east gallery of Nashville's Parthenon museum in Centennial Park, you might think you have been transported to an abstract Grecian bathhouse. Surrounded by pedestals and fixtures imitating the architecture of ancient Greece, the deconstructed bathers and overflowing vessels resemble relics dragged up from the depths of the sea. Gradients of pink and blue cover their soft organic forms, reminders of where the water has touched. Inspired by classical literary masterpieces, Grecian design motifs, and coastal living, Flood Lines explores the female experience, both past and present, and the challenges of confronting and conforming to gender expectations. 
Featuring the sculptures of artist Tasha Lewis, the exhibition opened on January 24, 2020, and was funded in part by an Art Works grant from the National Endowment for the Arts. The award was part of an agency initiative to support projects honoring the women's suffrage centennial. We spoke with Lewis and Parthenon Director Wesley Paine about the exhibition, and how it sheds light on the role of women in society across millennia.
Read the full story, "Ebbs and Flows," in the new issue of American Artscape, Celebrating the Centennial of Women's Suffrage.
Did you know that the arts played a crucial role in the women's suffrage movement? Learn more in the new National Endowment for the Arts publication, Creativity and Persistence: Art that Fueled the Fight for Women's Suffrage, available for download as a PDF or an audiobook.