Happy Birthday Mr. President... Lincoln, That Is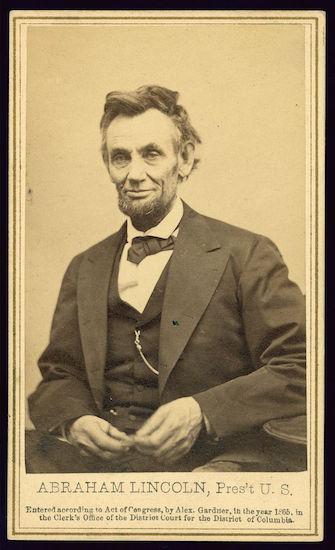 With help from the Library of Congress, here are seven art-full things to know about U.S. President—and poet—Abraham Lincoln, who was born 211 years ago today.
1. Abraham Lincoln's first exposure to poetry as a boy was through William Scott's Lessons in Elocution, which became part of the household library when Sarah Bush Johnston Lincoln joined the family as the future president's step-mother.
2. Lincoln's favorite poet was William Shakespeare. In a letter to an actor who had recently written a book on the Bard, Lincoln offered this commentary on Hamlet: "Unlike you gentlemen of the profession, I think the soliloquy in Hamlet commencing 'Oh my offense is rank' surpasses that commencing, 'To be or not to be.'"
3. Lincoln's second favorite poet was Robert Burns, who's still regarded today as the national poet of Scotland. Lincoln's love for Burns was so well known that he was often invited to speak at Burns Night dinners (a tradition that still persists to this day worldwide in celebration of the poet's birthday). Though he was an unabashed fanboy, Lincoln usually declined these offers, on one occasion noting, "I cannot frame a toast to Burns. I can say nothing worthy of his generous heart and transcendent genius. Thinking of what he has said, I cannot say anything worth saying."
4. Abraham Lincoln's favorite poem was William Knox's "Mortality," a poem he loved so much that many suspected him of actually being the poem's author. Lincoln himself bewailed the fact that he wasn't, in fact, the poem's author, saying, "I would give all I am worth, and go in debt, to be able to write so fine a piece as I think that is."
5. While the future president didn't write "Mortality," over the course of his life he did write several poems, including "My Childhood-Home I see Again," "Chronicles of Reuben," "The Bear Hunt," and "Verse on Lee's Invasion of the North." Honest Abe wasn't shy about sliding his poetry into his friends' DMs. As he wrote to Andrew Johnston in 1846, "By the way, would you like to see a piece of poetry of my own making? I have a piece that is almost done, but I find a deal of trouble to finish it."
6. Abraham Lincoln is one of 10 U.S. presidents documented as having written poetry. Others include Thomas Jefferson, Warren G. Harding, Jimmy Carter, and Barack Obama. (Learn more about poetry written by U.S. presidents here.)
7.  Lincoln's 1865 assassination inspired—and continues to inspire— many outpourings of grief and mourning in the form of poems. Walt Whitman alone wrote four poems honoring the fallen statesman, including "When Lilacs Last in the Dooryard Bloom'd" and "O Captain! My Captain!" (which you may remember from the film Dead Poets Society). Other poets who have written about Lincoln include Langston Hughes, Carl Sandburg, Vachel Lindsay, and Gwendolyn Brooks.
We're going to indulge in a bit of historical fiction and say that President Lincoln would have been a huge fan of Poetry Out Loud. What better way to honor him than by saving the date for the 2020 POL National Finals, which will take place in Washington DC, April 28-29. Stay tuned for more...