This is How You Do It: Poetry OUT LOUD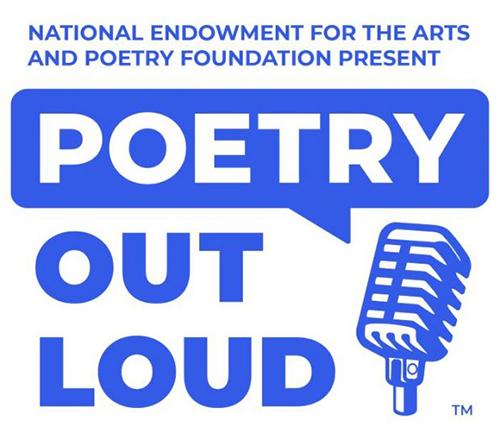 Life is full of big questions--What does it mean to love? How do we develop a sense of self worth? What happens when we die?-- and even bigger emotions. And the older we get, the more we start to understand just how much we don't actually know. Perhaps our first inkling of this aspect of the human experience starts in high school. No matter what an individual high school experience might look like, it's guaranteed that at least at some point, every high schooler is an overwhelmed kid just trying to figure things out.
As poet and Poetry Out Loud judge Adrian Matejka has noted of high school students:
"This is a dynamic age group. They're growing, they're changing, they're learning so much, and poetry helps to reframe things as you're trying to find language for your first love, or for your first major loss. Whatever that might be, there's poetry waiting to say, 'This is how you do it.'"
Since spring, we've been building a robust collection of recitations by students from across the U.S. who competed in Poetry Out Loud in the 2019-2020 school year. Below is just a sample of these video recitations. We encourage you to visit our YouTube page to listen to the entire playlist; take in the breadth of poets, poems, and poetic styles that have engaged and empowered these students; and hopefully find some answers to questions of your own. 
"I lov'd thee from the earliest dawn,/ When first I saw thy beauty's ray."
Hadia Choudhary (Arkansas) recites George Moses Horton's "Early Affection"
"Death, be not proud, though some have called thee/ Mighty and dreadful, for thou art not so;"
Grace Johanson (South Dakota) recites John Donne's "Holy Sonnets: Death, be not proud"
"If I owned an unimaginable quantity of wealth/ could I buy an iota of myself?"
Jay Mackbee (Minnesota) recites Marilyn Nelson's "Worth"
"Are you shaken, are you stirred/ By a whisper of love..."
Koraly Z. Roca Avilés (Puerto Rico) recites Robert Graves' "The Kiss"
"Don't try to understand what another/ Person means by love. Don't even bother."
Tristin Vanty Emmons (Connecticut) recites Ernest Hilbert's "Domestic Situation"
"...let this be the sign/ I'm getting a grip on the sacrifice."
Summer Vo (Tennessee) recites David Bottoms' "Sign for My Father Who Stressed the Bunt" 
"It would be neat if with the New Year/ I could leave my loneliness behind with the old year."
Santiago Max Vasquez Luque (Kansas) recites Jimmy Santiago Baca's "It would be neat if with the New Year"
"Angels don't come to the reservation./ Bats, maybe, or owls, boxy mottled things."
Sylvia Dale (Arizona) recites Natalie Diaz's "Abecedarian Requiring Further Examination of Anglikan Seraphym Subjugation of a Wild Indian Rezervation"
Poetry Out Loud is a national arts education program that encourages the study of great poetry by offering free educational materials and a dynamic recitation competition to high schools across the country. This program helps students master public speaking skills, build self-confidence, and learn about literary history and contemporary life. Poetry Out Loud is a partnership of the National Endowment for the Arts, Poetry Foundation, and the state and jurisdictional arts agencies.