Just Have Fun! An Art Talk with Jazz Musician Matthew Whitaker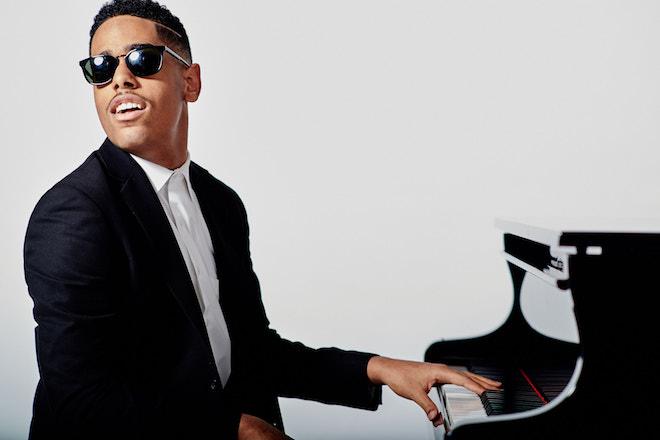 I first met Matthew Whitaker on his 16th birthday, when he performed in front of a large audience at the 2017 NEA Jazz Masters Tribute Concert at the John F. Kennedy Center for the Performing Arts. He appeared that evening in honor of Dr. Lonnie Smith, who was being inducted into that class of NEA Jazz Masters. Whitaker—who was born prematurely and later diagnosed with retinopathy of prematurity, which caused permanent blindness—brought the house down playing Jimmy Smith's composition "Mellow Mood" on the Hammond B3. Fast forward three years and today the nineteen-year-old jazz multi-instrumentalist and composer/arranger has already accomplished more than many musicians could hope for in a lifetime. I caught up with him again last week by phone, soon after he did a livestream benefit performance to raise funds for jazz musicians with COVID-19 through the Jazz Foundation of America, a National Endowment for the Arts grantee. At the end of our conversation he told me that I did an "amazing job" with the interview, which was quintessential Matthew Whitaker: unfailingly positive. And, oh yeah, unbelievably talented.
NEA: Do you remember what your "ignition point" was that led you to become a musician?
MATTHEW WHITAKER: Well I'm the only one in the family who is musical, although my dad listens to music and knows what sounds good. My grandfather is the one who started my musical journey when he gave me a keyboard at age three, and I started by playing nursery rhymes. I began piano lessons at five, at six I learned the drums, at seven I got into jazz, and at nine I taught myself the organ.
NEA: What led you to want to play the organ?
WHITAKER: I think I started playing at church, at the end of church services. My parents didn't really want me to play it, probably because they thought it would be too loud. But my church pastor told them to let me play, and then friends gave me a small organ. After that I got a Hammond A100, then finally a portable Hammond B3, and a few others as well.
NEA: Just how portable is a portable Hammond B3?
WHITAKER: [Laughter.] Well it's still pretty heavy but it's definitely lighter than others.
NEA: People marvel at your amazing ability to play music by ear. But I understand that you read Braille music as well. Which method do you use to learn music?
WHITAKER: I learned to read Braille music at the Filomen M. D'Agostino Greenberg Music School (FMDG) for the blind and visually impaired in New York City. I learned the basics of that for playing classical music, because there's not much Braille music available for other styles of music. I do learn music by ear, but if the music is really challenging I check it by the Braille to be sure.
NEA: Along your musical path so far, have to run into road blocks and, if so, how did you manage them?
WHITAKER: Well I guess the biggest road block was in the beginning, when we were looking for a piano teacher and everyone said I was either too young or they didn't know how to accommodate my disability. Finally, when I was five years old, one teacher made an exception—Dalia Sakas at FMDG. She is the one who started all this. We have a really good relationship, and I still have lessons with her today.
NEA: You are a great role model for all young musicians, but perhaps especially for those with differing abilities. Do you have any advice to share?
WHITAKER: Don't let your disability stop you and just have fun. I do other things than music like rock climbing, skiing, and other activities. Just have fun!
NEA: Who would you name as your musical role models?
WHITAKER: Oh my, EVERYBODY! Dr. Lonnie Smith, Jimmy Smith, Joey DeFrancesco, Charles Earland, Tony Monaco, Herbie Hancock, Chick Corea, Oscar Peterson, to name a few. And I listen to literally anything. I could be listening to a jazz piece, gospel, or just playing along with different songs, like music playing on shuffle mode. I really like a band called Dream Theater, which is "metal" but not all fast like people think of metal. I really like their keyboard player, Jordan Rudess, who is very versatile.
NEA: How do you create space for your own creative growth?
WHITAKER: I take a day off and relax with family. And I'm always in the basement recording and arranging music as well. I'm grateful to have all the equipment I need to experiment with different sounds. That's what I love about jazz—it allows you to be you.
Like hearing directly from artists about their work? Check out the Art Talk category on the blog!