Our Music Cannot Escape Our Lives: An Art Talk with Composer Huang Ruo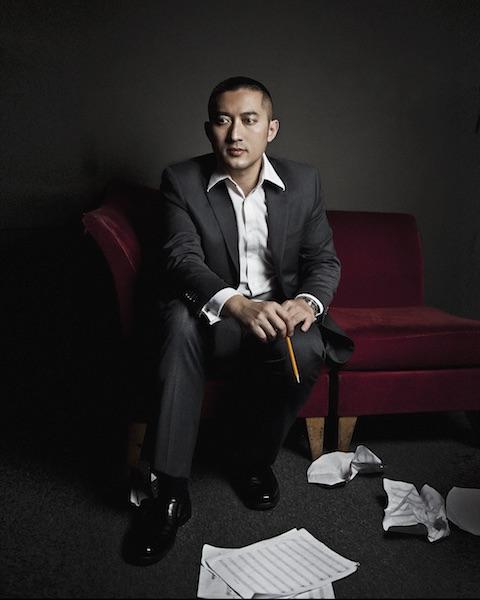 Staying abreast of new works is one of my job responsibilities—and joys. In 2018, I had the privilege of hearing the premiere of Huang Ruo's opera, An American Soldier, at Opera Theatre of Saint Louis, which was an incredibly moving evening of opera based on the true story of the suicide of Danny Chen, a Chinese-American U.S. Army soldier who had been subjected to racial harassment and beatings by his fellow soldiers. The National Endowment for the Arts helped to fund the creation of that opera, as well as Ruo's new opera, M. Butterfly. I'd been looking forward to seeing Ruo's new opera this summer, but like so many performances, the premiere of M. Butterfly has been postponed due to COVID-19. Still I was excited to catch up with Ruo in North Carolina where he and his family are staying with his in-laws during this time of social distancing.
NEA: Your father is a composer. Is that what inspired you to have a career in music?
HUANG RUO: My father is a composer and a composition professor in China, but he could not teach me because it's hard for a child to listen to a parent. He did have me taking piano lessons when I was six or seven years old. At the end of the year we had a recital and I was supposed to play a piece I'd memorized by J. S. Bach. I had terrible stage fright and my teacher said, "Just don't stop. Keep playing!" So when I had a memory lapse at the recital, I just improvised Bach-style for a few measures until I found my way back. My piano teacher told my father that she didn't think his son was going to be a pianist, but he might be able to write music. So he sent me to Shanghai when I was 12 years old to study in a more disciplined way.
NEA: When your compositions are performed today do get nervous like you did when you were performing?
RUO: It's very different. It's more a feeling of excitement than freaking out. I feel humble and grateful for my music to be performed live. Sometimes it surprises me—sometimes good surprises and sometimes bad surprises. But it's like a child that you love unconditionally, no matter what.
NEA: Does your Asian-American heritage influence your work?
RUO: Obviously [as a composer] we are the worst people to judge or describe our own music. But other people say that they hear elements of both the East and the West in my work. I like to think of it more like an integration than as a collage. Our music cannot escape our lives, or the environment we live in. I'm just writing as who I am in the life I'm living. I never feel like I need to intentionally embrace or intentionally deny my heritage. We are who we are.
NEA: You compose music for orchestras, chamber music ensembles, dance, film, opera, and more. Do you have a favorite medium?
RUO: When I turned 30, I decided I was ready to try to write an opera, and I found my call.
NEA: What makes a story seem operatic to you?
RUO: There are so many stories, good topics and subjects, but I also feel as an Asian-American I have a duty to write about stories that are more relevant to my background, to my culture, and to the issues Asian-Americans are facing as well.
NEA: The librettist for both An American Soldier and M. Butterfly is David Henry Hwang. When you two work together, where do you start?
RUO: David Henry Hwang has become a good friend, and he has taught me many things. I always find it helpful to be very hands-on about the construction of the story. We go back and forth…and I also give him musical cues, such as, "Here we could have a chorus number for the party scene" and "There we could have a duet." This process is very helpful so we don't have to go back and fix things so much.
NEA: An American Soldier started as a one-act, one-hour opera, and then you were commissioned to expand it into a two-act evening-long work. Is reworking an existing piece difficult?
RUO: It's exciting but challenging. The easy way is to write extra music before or after what we already had, but David and I both decided our story should flesh out more from the inside, rather than adding an attic and a basement to it.
NEA: You are on the composition faculty at Mannes College of Music. How do you like teaching?
RUO: I learned a great deal from several teachers of mine and, being a composer, I feel I should also teach. It's part of my passion. I find that teaching the young composers sometimes reminds me of what music is all about. I can share a hard lesson that I learned along the way that can help them get where they want to go.
NEA: Is there one thing you think is most important to convey in your teaching?
RUO: I never want to teach my students to write in my style. Quite the opposite. I tell them that I am like the earth and they are the seeds. If they are an apple seed, I don't want to grow them into a tomato plant or a cherry tree. I can provide the tools, but they have to be the ones to struggle and to find their voice. All of my students write differently from each other and none write like me.
Ann Meier Baker is the National Endowment for the Arts Director of Music and Opera.