Taking Note: Benefits for U.S. Artists Participating in International Experiences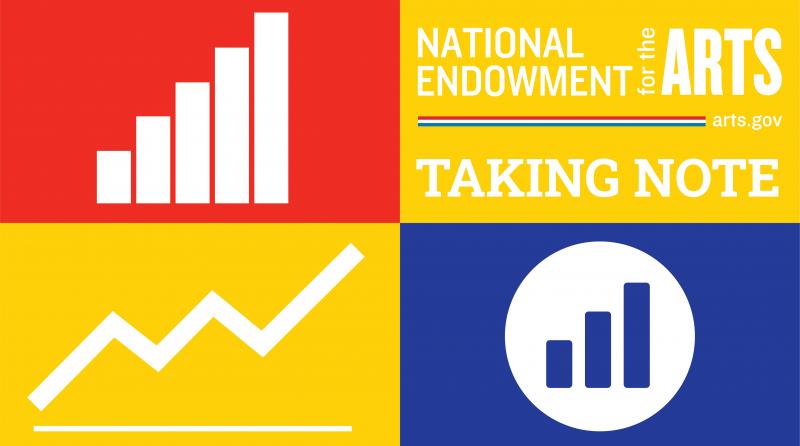 Through partnerships with other funders, the National Endowment for the Arts brings the benefits of international exchange to arts organizations, artists, and audiences nationwide, as well as around the globe. While some agency programs help bring international artists to the U.S., the Arts Endowment's international activities also allow the excellence of U.S. arts to be displayed around the world, while enriching the skills and experiences of American artists. For example, the Arts Endowment's partnership with U.S. regional arts organization Mid Atlantic Arts Foundation on USArtists International (USAI) provides support for exemplary U.S. solo artists and ensembles across all performing arts disciplines to participate at international festivals and performing arts marketplaces.
Recently, the Arts Endowment's Office of Research & Analysis contracted 2M Research to develop a survey instrument to regularly assess the benefits that U.S. artists accrue through participation in international experiences. First, researchers scanned research literature on the impacts that participation in international festivals, exchange programs, and other experiences abroad can have on artists. Regarding those impacts, three themes emerged: artists' professional growth, such as expanded professional networks and professional opportunities; development of an artist's artistic practice, e.g., bringing new ideas and innovative ways of thinking into one's artistic practice; and personal growth, including development of one's identity as an artist.
For example, an evaluation of the U.S. State Department's Jazz Ambassadors program found that U.S. jazz musicians established musical bonds or artistic dialogues with artists and students in the countries they visited, and that they established or planned to continue collaborations stemming from their experiences in the program. A majority of participating musicians reported that the Jazz Ambassadors program made personal impacts; had some impact on their musical visions and on how they performed and engaged with audiences; and had some impact on their professional careers. The musicians also reported greater name recognition and publicity, gain of professional contacts for pursuing future opportunities, and increased performance opportunities and collaboration with their ensembles.
The Arts Endowment and 2M Research explored similar themes in a series of virtual focus groups, involving artists who had participated in USAI. Select findings from these focus group discussions are shared below.
Expanded Professional Networks: Artists extended and strengthened professional networks by participating in the USAI program, which often facilitated future funding and artistic collaborations. Benefits included:
Networking with industry stakeholders (e.g., producers)

Networking with regional arts organizations and governmental organizations

Establishing and strengthening relationships with other artists

Collaborating with artists on future work

Hosting international artists in the United States

Continuing exchange with other international artists
Enhanced Reputation: Artists improved their reputation among peers and the public after taking part in USAI. Benefits included:
Gaining trust of festival producers and presenters

Increasing legitimacy within international arts communities

Increasing collaborator interest

Increasing domestic and international media coverage
Expanded Professional Opportunities: Artists experienced exponential increases in professional opportunities available to them. Benefits included:
Extending tours and life of USAI-supported performances domestically and internationally

Attracting collaborator interest in partnerships

Increasing revenue from performances

Understanding the market for U.S.-dominated art forms (e.g., certain styles of dance and music)

Being hired as teachers or educators following performances
New Professional Skills and Learning: Artists discussed new and improved skills resulting from their participation in USAI-sponsored festivals. Benefits included:
Self-promotion

Technological and social media skills

Teaching skills

Communication practices

Presentation and performance techniques

Engagement with new audiences

Experience with grant and festival applications

Logistical experience of traveling abroad

Expansion of repertoire
Increased Creativity: Artists reported that international festivals contributed to their overall levels of creativity. Benefits included:
Being exposed to new art forms

Incorporating new elements into their performances

Reflecting on and refining their artistic process

Identifying underlying cultural commonalities with host country

Using creativity to engage audiences
Cultural Reflection: Artists closely related cultural reflection to their greater creativity, as they felt inspired to incorporate new elements into their artworks or performances. Benefits included:
Understanding and experiencing new and diverse cultures

Incorporating culturally informed arts into their artistic practices

Understanding how performances translate across cultures

Initiating exchanges with artists from different cultures
Improved Identity as an Artist: Artists discussed positive changes to their identities as artists, resulting from their participation in USAI-sponsored festivals, including the following:
Establishing and validating their identity as international artists

Understanding how their art fits into the field, outside of the United States

Understanding how their art contributes to the larger field
Based on the literature review and focus group results, the Arts Endowment and 2M Research piloted a survey instrument in March 2020 with artists who had received funding from USAI. The survey included questions about artists' professional opportunities, professional networks, professional skills and learning, visibility as artists, and creativity. In collaboration with USAI, the Arts Endowment will launch an expanded version of the pilot survey in the new year.