Taking Note: New Arts Research Summit Report—and Data on Arts Field Trips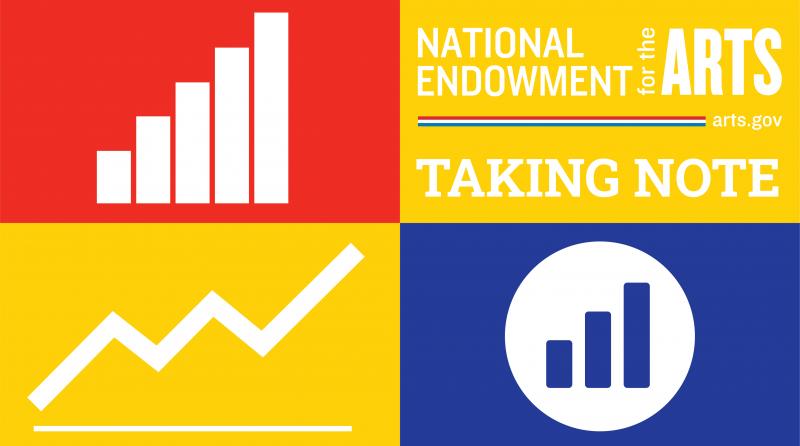 The National Endowment for the Arts has posted a report summarizing results from a two-day research meeting in June 2019—a decent-sized gathering in a time that was, blissfully, COVID-naïve. Titled Arts and Research Partnerships in Practice, the report explores mechanisms and challenges for academic researchers and arts professionals seeking to partner on long-term studies of the arts' impacts.
Held at the Arts Endowment's offices in Washington, DC, the 2019 event brought together research investigators and partnering arts organizations from 12 NEA Research Labs. The Research Labs program supports transdisciplinary teams, grounded in the social and behavioral sciences, as they examine the arts' value and impact in one of three domains: health and social and emotional well-being; creativity, cognition, and learning; and civic and corporate entrepreneurship and innovation. New application guidelines for these awards will be posted to the agency's website in January 2021.
During the two-day event, researchers and arts professionals reflected on their experiences with the Labs program so far. They addressed cross-cutting themes and shared insights on their multiyear research agendas and on individual studies. Topics for discussion included: study design and recruitment issues; the role of community partners in research and communications; and the scalability of research and R&D in the arts. Lab teams also discussed strengths and limitations of the current program. A public component of the meeting has been archived for viewing here.
One participant shared: "The idea [was] that we could really dream big with this Lab, and that it was an opportunity to try to conduct research and look for projects or look for partners that we had all been dreaming about, but maybe there hadn't been other funding mechanisms to support."
Another comment reveals how elusive a coherent research agenda can be, given the variety of interests at the table. "We come from many different disciplinary backgrounds," a participant said. "We publish in different journals, and so it's hard to accumulate a body of knowledge, train new people in the field or place them in the field, if we don't have a field." For the Arts Endowment, three overarching action items emerged from this consultation. Though more details are given in the report, they are:
1) Promote Cross-Labs Collaboration and Technical Assistance
2) Align Deliverables with a Longer-Term Trajectory
3) Invite Novel and Various Techniques for Distributing Research Results
In response to these needs, as Chairman Mary Anne Carter notes in her preface to the report, "the Arts Endowment will engage with a technical assistance services provider who will convene the Labs on a regular basis, facilitate sharing of resources across the Labs, conduct periodic webinars to bring the Labs' work to a wider public, and co-develop communications and outreach strategies tailored to individual Labs."
The Chairman adds: "Such capacity-building measures are similar to those used in other evidence-guided initiatives at the Arts Endowment, such as the Creative Forces: NEA Military Healing Arts Network, the Our Town creative placemaking program, and the new Sound Health Network." The latter initiative, which stems from a partnership with the Kennedy Center and the National Institutes of Health, will launch in early 2021.
A guiding assumption for the NEA Research Labs program is that it will foster discoveries that can be shared on a regular basis with other researchers, arts practitioners, and the broader public. This week, the NEA Research Lab at the University of Arkansas posted on its website a downloadable brochure that describes results from the "first longitudinal multi-visit field trip experiment on the academic and social-emotional effects" of arts field trips on students.
The Lab's arts partner was The Woodruff Arts Center in Atlanta, where fourth- and fifth-grade students from 15 elementary schools were randomly assigned either to receive three arts-based field trips—one to a museum, another to a theater, and a third to an orchestra—or to serve as a control group. The students lived in a large urban school district, with 90 percent of them identifying as Black or African American. At baseline, 78 percent of the students performed below average on state standardized tests.
In the brochure, authors Laura Florick and Jay Greene observe that "students who attended multiple arts-based field trips exhibited higher levels of school engagement as well as increased tolerance for people with different opinions, and higher conscientiousness." Students who attended multiple arts field trips also "performed significantly better on standardized tests and received higher course grades" than students who did not attend multiple arts field trips in the course of a school year. In addition, students who attended these trips "demonstrated greater desire to consume art in the future."
Another guiding assumption of the Research Labs program is, as with any empirical undertaking, that it is important to report negative or null findings when they occur. In a separate study by the Lab, third-graders at 17 elementary schools in small or rural communities around Northwest Arkansas either participated in two field trips to Crystal Bridges Museum of American Art (in Bentonville, Arkansas) and "three-weeklong arts integration experiences in their classrooms," or they served in a control group. Inexplicably for now, the results run counter from those obtained by the Woodruff Arts Center study.
Although more research is needed to establish cause, the brochure's authors do stress the possibility that some practices, if effected, could improve the likelihood of success for arts field trip interventions in the future. They include: greater collaboration and ongoing communication between arts organizations and participating schools; "effective and relevant professional development for classroom teachers"; an "ongoing dedication to improving and evaluating"; and "clear programmatic goals and ongoing communications between schools and arts partners."