What I'm Watching: Theater edition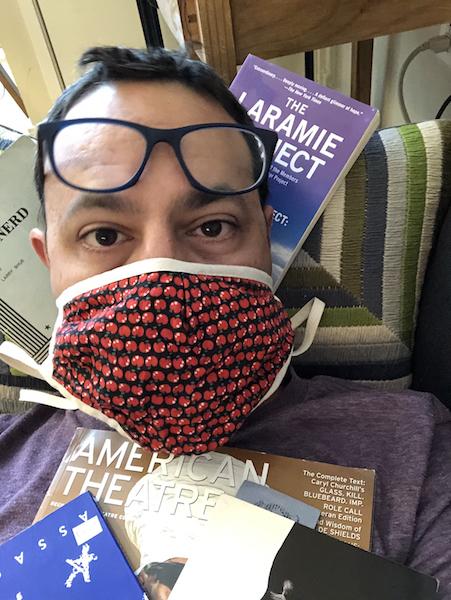 As I check in with my National Endowment for the Arts colleagues for great books to read or music to listen to during social isolation, I can't help but feel a bit left out. After all, while one can read a book in solitude (it's one of my favorite things to do!) or listen to music in your personal headphones, theater is by its nature an act of community, a celebration of a shared experience. I know that the question for many of us who love the theater is how, when, and even if we will ever return to that experience of an art form again that demands we breathe the same air as our fellow audience members.
In thinking over this question, my mind couldn't help but wander back to the touring production of 1984 that we took to Athens when I was the managing director of The Actors' Gang. The morning before we opened, our local hosts took us on a private tour of the Theater of Dionysus at the base of the Acropolis, which our guides pointed out that the theater was built in the year 580 BC. For me in this time, it's a comfort to remember that this art form has persisted for over 2,000 years, through many plagues and the rise and fall of empires. And so I have faith that it will continue to exist as a source of comfort, community, strength on the other side of this pandemic.  (Here's Joe Haj's stirring testimonial to the power of theater, in which he references his own trip to the Theatre of Dionysus. It would seem that this ancient place of theater resonates for many of us.)
So what am I watching to feed my theater habit while we're social isolating? I'm blown away though not surprised by the innovation and adaptation from theaters all over the world, and I have found great comfort and even community in the offerings I've seen thus far.
The first moment I felt of real togetherness I felt with theater colleagues from around the country was the Sondheim 90th Birthday Tribute concert. First we all bonded on social media about the delayed start, as the delay turned from five, to 10, to 30 minutes, and then had a false start when we couldn't hear Raul Esparza. Then as it finally got underway, all technical start-up hiccups were forgotten, and we lost ourselves in not only the beauty of Sondheim's words and music, but in the shared experience that we look to the theater for. Highlights for me were Brian Stokes Mitchell singing a song that was cut from Assassins; the great Ann Harada, Thom Sesma, Kelvin Moon Loh, and Austin Ku using the zoom medium to perfect effect with "Someone in a Tree" from Pacific Overtures, and of course the fabulous surprise of not one, not two, but three divas—Christine Baranski, Audra McDonald, and Meryl Streep—in their bathrobes, drinks in hand, performing the showstopping "Ladies Who Lunch" from Company. One quiet moment that has haunted me was Mandy Patinkin rendering a perfect a capella version of "Lesson #8" from Sunday in the Park with George, which has lyrics that seem eerily tailor made for this moment:
George is afraid. George sees the park. George sees it dying. George, too, may fade, leaving no mark, just passing through, just like the people out strolling on Sunday. George looks around. George is alone. No use denying George is aground. George has outgrown what he can do. George would have liked to see people out strolling on Sunday.
I've also been appreciating the innovation of the theaters focused on young audiences (TYA), especially in light of knowing that my friends with children at home are always looking for activities for the kiddos. It's especially gratifying because so much of the TYA content online is providing more than just entertainment value; it's enriching and educating. The service organization TYA/USA has a great weekly newsletter that I go to for highlights for my own viewing and to send to my three- and five-year old nephews. One of my favorite regular features is the Honolulu Theatre for Youth series The Hi Way. (They're an Arts Endowment grantee by the way.)
I would be remiss not to take this opportunity to share the report that the Arts Endowment has just released, in collaboration with TYA/USA and Theater Communications Group, Envisioning the Future of Theatre for Young Audiences. Written as a follow up to our jointly hosted convening in June of 2019, the report includes some fascinating new research that will be sure to illuminate and inform your thinking.
For my daily theater fix, I go to the indispensable Adam Feldman's roundup of the best live theater to stream, which he updates daily. There's invariably something amazing he's found that day that I would have otherwise missed. Seth Rudsetsky and his partner James Wesley stream two Stars in the House shows a day of and manage to get a continuously dazzling array of guests from the theater world for a mix of conversations and play readings. If you're looking to brush up your Shakespeare, the Oregon Shakespeare Festival and the American Shakespeare Center (both Arts Endowment grantees) have both launched online portals with great content. This is a great resource especially if you have high school students at home; I remember when I was in high school, the only way that Shakespeare became penetrable for me was in watching performance, rather than reading on a page.
It's not just streaming theater that's getting me through this; it's also a great comfort to listen to original cast recordings. One that I currently have on repeat is 2020 Pulitzer Prize for Drama winner A Strange Loop, from the original Off Broadway production, which was supported by the Arts Endowment. It's the first musical to win the award without already having been on Broadway, and the show's announced stop in D.C. at Woolly Mammoth Theater is one of the many things I am anxiously looking forward to when theaters reopen.
Writing this has made me even more keenly restless for the day when we can all return to the shared space of theater, whenever and in whatever form it takes. There are so many unanswered questions still about how we will get back, but the idea I keep coming back to is what the character of Kay, a stage manager, says at the conclusion of Alan Bennet's play The Habit of Art. She's talking about what finally made the National Theatre a success, after the disastrous initial opening of the building, but I think it pertains to the ultimate re-opening of our theaters too:
…what's knocked the corners off the place, taken the shine off it and made it dingy and unintimidating—are plays. Plays plump, plays paltry, plays preposterous, plays purgatorial, plays radiant, plays rotten—but plays persistent. Plays, plays, plays. The habit of art.
It's my fondest hope that we all continue our own habit of art, for these times and for the future. Plays, plays, plays.