Celebrate Native American Heritage Month with Poetry  
Today we're honoring Native American Heritage Month with a collection of seven poems by Native American poets, including a few of our NEA Literature Fellows and Big Read author and U.S. Poet Laureate Joy Harjo! If you're interested in exploring more poetry by and conversations with Native American poets, check out our Poetry Out Loud partner Poetry Foundation's Native American Poetry and Culture Collection.
(Click on the name of the poem to read it in its entirety.)
"America, I sing back. Sing back what sung you in./ Sing back the moment you cherished breath./ Sing you home into yourself and back to reason."
"America, I Sing Back" by Allison Adelle Hedge Coke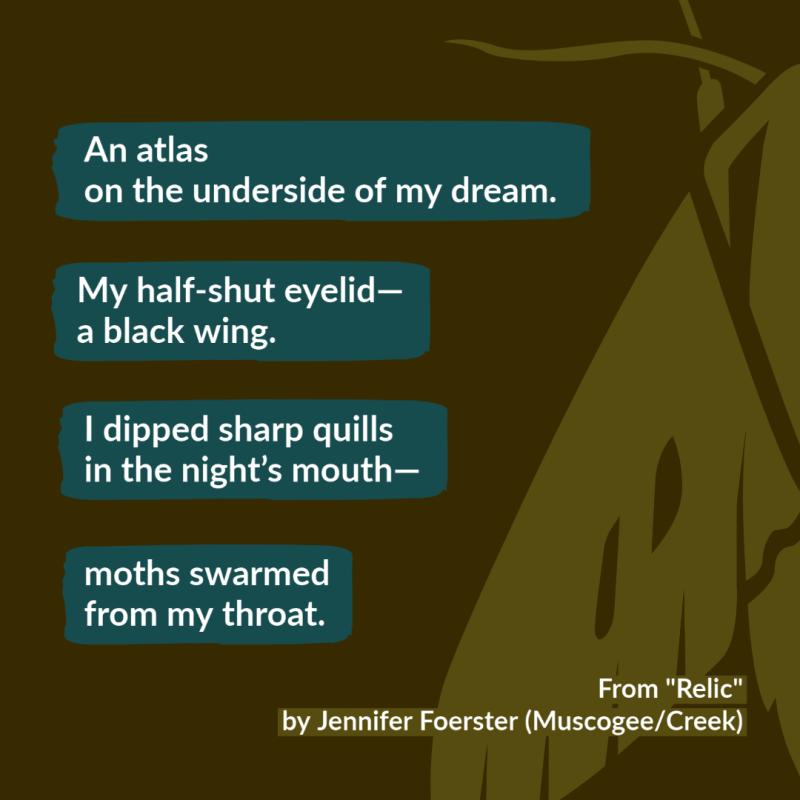 "An atlas/ on the underside of my dream.// My half-shut eyelid—/ a black wing.// I dipped sharp quills/ in the night's mouth—// moths swarmed/ from my throat."
"Relic" by Jennifer Foerster (Muscogee/Creek)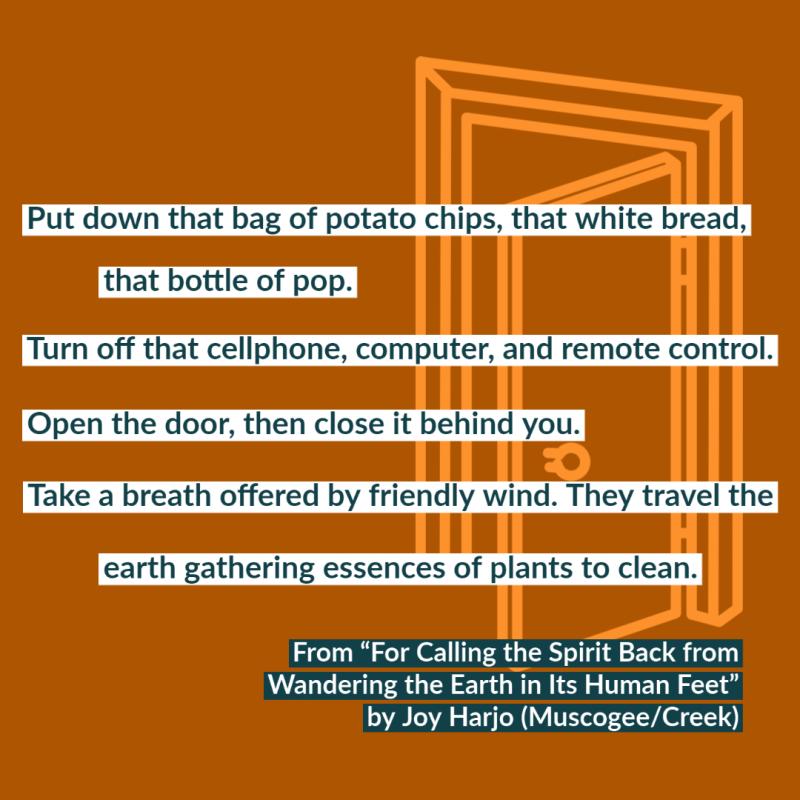 "Put down that bag of potato chips, that white bread, that bottle of pop./ Turn off that cellphone, computer, and remote control./ Open the door, then close it behind you./ Take a breath offered by friendly winds./ They travel the earth gathering/ essences of plants to clean."
"For Calling the Spirit Back from Wandering the Earth in Its Human Feet" by Joy Harjo (Muscogee/Creek)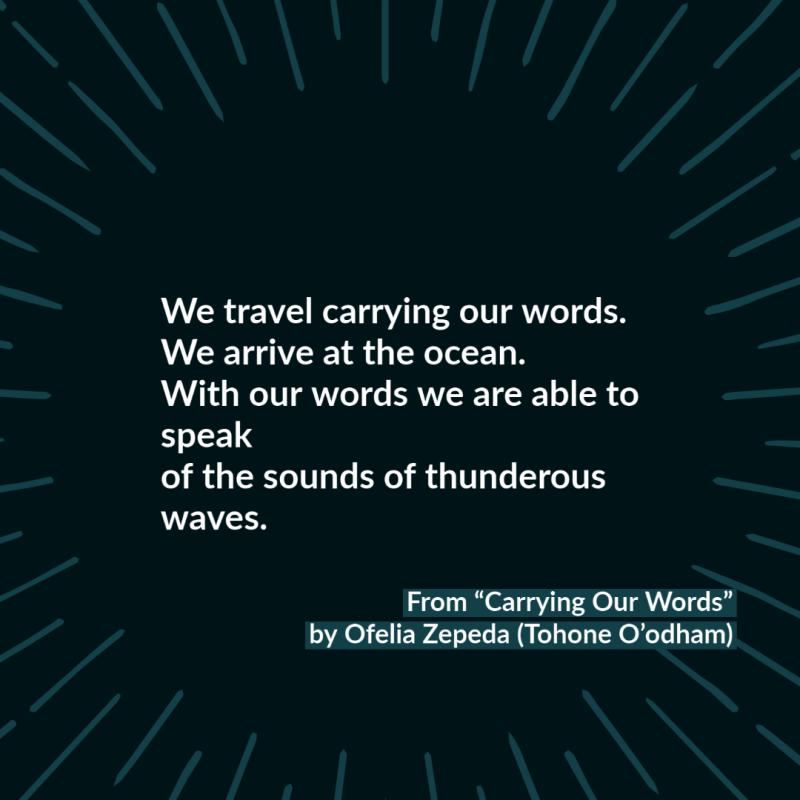 "We travel carrying our words./ We arrive at the ocean./ With our words we are able to speak/ of the sounds of thunderous waves."
"Carrying Our Words" by Ofelia Zepeda (Tohone O'odham)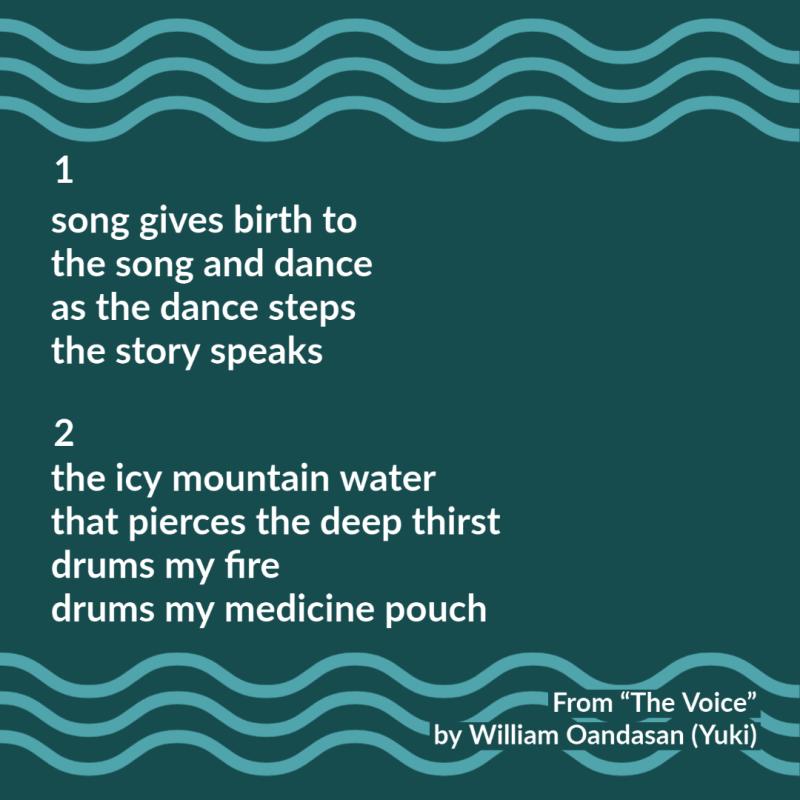 "1/ song gives birth to/ the song and dance/ as the dance steps/ the story speaks// 2/ the icy mountain water/ that pierces the deep thirst/ drums my fire/ drums my medicine pouch."
"The Voice" by William Oandasan (Yuki)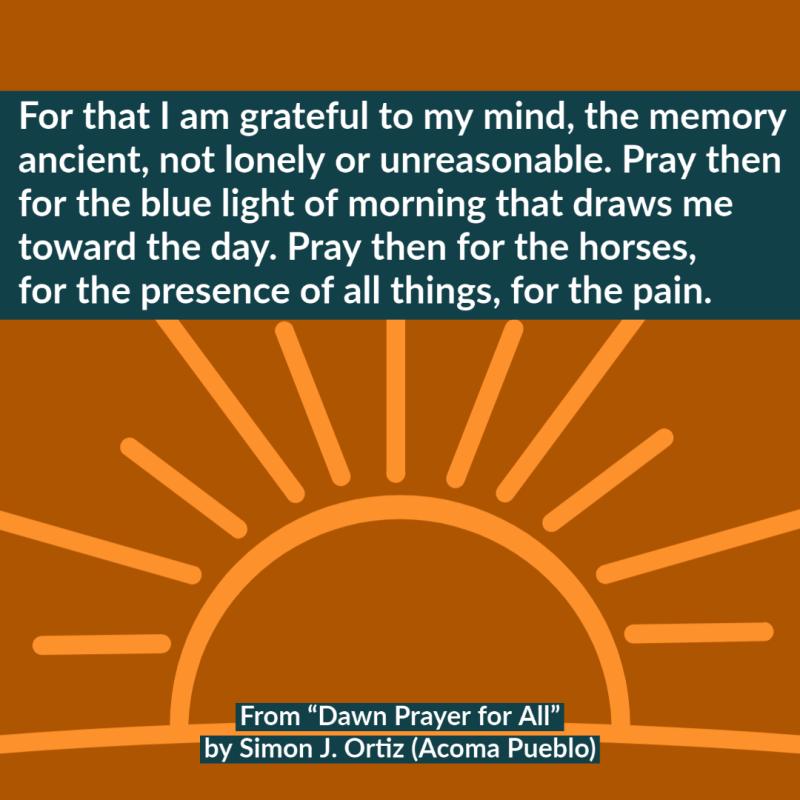 "For that I am grateful to my mind, the memory/ ancient, not lonely or unreasonable. Pray then/ for the blue light of morning that draws me/ toward the day. Pray then for the horses,/ for the presence of all things, for the pain."
"Dawn Prayer for All" by Simon J. Ortiz (Acoma Pueblo)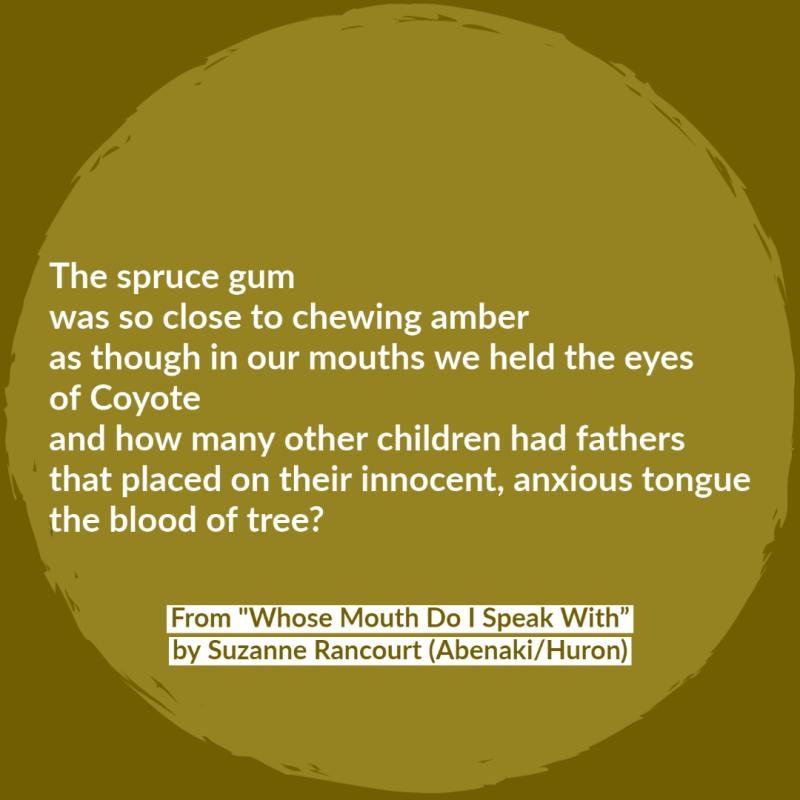 "The spruce gum/ was so close to chewing amber/ as though in our mouths we held the eyes of Coyote/ and how many other children had fathers/ that placed on their innocent, anxious tongue/ the blood of tree?" 
"Whose Mouth Do I Speak With" by Suzanne Rancourt (Abenaki/Huron)