First Person: Zephaniah Galloway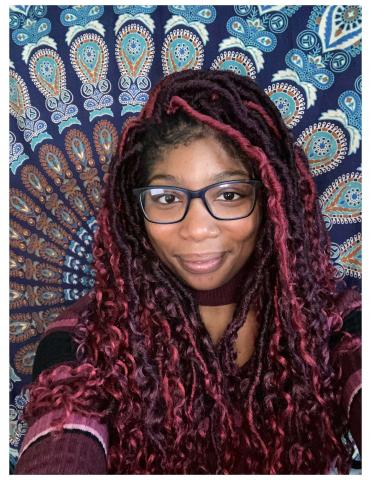 When Zephaniah Galloway was touring colleges and universities, she knew Howard University was the right fit for her. "I came to Howard on a rainy day and I was like, 'This is not going to be fun.' But there was a band, there were people singing, and there were girls with batons—it was so much culture in one place. I was like, 'Wow, if Howard is this nice on a rainy day, then imagine what it would be like the rest of the days!' And that's what really solidified why I love HBCUs."
A 2021 graduate from Howard with degrees in political science and African American studies, Galloway is currently the National Endowment for the Arts' Historically Black Colleges and Universities (HBCUs) Pathways Intern. In this role, Galloway supports the agency's efforts to build awareness of NEA grant opportunities among HBCUs, sharing resources and information about the arts, and providing technical assistance to HBCUs on developing competitive grant applications. Galloway and others from the NEA will be participating in the HBCU week conference September 7–10, 2021, including a session on September 10 at 9:30 a.m.ET on best practices for applying for federal arts, humanities, and culture grants.
Below, Galloway discusses her experiences with the arts growing up and at Howard University, and how her internship at the NEA has expanded her view of HBCUs.
I was born and raised on the east side of Cleveland, Ohio. I went to majority Black public schools, and we didn't really have a lot of the resources to do a lot of the arts programming that you hear about at other schools. But when I was younger, me and my cousins would listen to music and make up our own dances. I also really liked to write; I was a fan fiction writer. I loved knowing a story and then putting my own spin on it. I really like going to museums, seeing visual art, and also hearing a lot of different types of music from across the world. I was in band in high school. I played the clarinet and then after I "mastered" the clarinet I wanted something cool and big, so I got the bass clarinet which was taller than me!
It goes to show that the arts will always find a way into your life, no matter what. People don't think that the arts are everywhere, but if you look around they really are. Everything you do, even if you're not officially a painter, or officially doing different types of dance classes—all of that, it's creativity, it's expressing yourself.
Howard University is really where I got to see all of these different types of arts programming; Howard has a really long and rich history with the arts that extends beyond the classroom. At Howard, you'll students on the yard just playing their instruments on a random Tuesday. It is really cool for not just the visual arts but also producing, the behind-the-scenes things that people don't really think about but that come together to make a production. Even the bands at HBCUs—the bands are really important. And go-go music. There was a song by the singer Amerie called "1 Thing," and when I was younger I loved that song because the drums and the instrumentals sounded different but good. Then I came to Howard and I was like, "This is go-go music!"
I took a lot of art history classes [at Howard] because I knew I liked to write. I liked learning about the people and how they viewed the world and used their art to show messages and do different types of activism. I liked the art and cultural intersection more as opposed to doing art. My art history classes are what got me into the idea that art is more than just doing it; you can also connect art works to the greater world.
I grew up in a predominantly Black neighborhood, and I went to a Black public schools all my life. I come to Howard and I'm like, "Wow, there's still more to learn about my people." Attending an HBCU really opens your eyes to the different ways that people come together and the different things that we can do.
I love HBCUs. I love schools and I love art and I never could figure a way to put them together. The HBCU Pathways Internship at the Arts Endowment brings my interests in art and Black education in schools together. And it also gives me the chance to use my political science degree.
I feel like this internship has definitely given me more of an opportunity to interact with HBCUs. I went to an HBCU and I had the experience, but now that I'm working for the NEA I realize there's still so much more to learn, even within my own HBCU community. It's given me the opportunity to grow in that aspect and also to get these personal connections with other HBCU people in the community.
I've really liked going to the White House Initiative on HBCU's Interagency Working Group meetings, even though they are super, super long. But they are only super, super long because it's literally all of the federal agencies coming together to show the work that they are doing for HBCUs.
There is some really cool stuff being done in the HBCU arts community that a lot of people don't really think of. A lot of the focus is on STEM and the sciences, but a lot of stuff is going on with the arts too. And a lot of it is happening with way less funding and way less support than other schools. What if they had the funding? What if they had the support? I just really want to help bridge that gap between great projects and funding support.
Through this internship, I see the full picture now of how the arts are around us, in our lives and in our schools. A lot of people in the world use art more than they think they do, and it's way more important than people initially give it. Art is everywhere. The arts are a big, big world; don't just limit yourself to what you think the arts are or what other people tell you the arts are. You don't have to directly be creating arts to work in the arts sector and to assist the arts. Expand your view—expand it as much as you can to what art is and what you can do to contribute to it.
Visit the HBCU section of the NEA's website to learn more about the agency's work with the White House Initiative on Historically Black Colleges and Universities.