Grant Spotlight: City of Asylum's Jazz Poetry Festival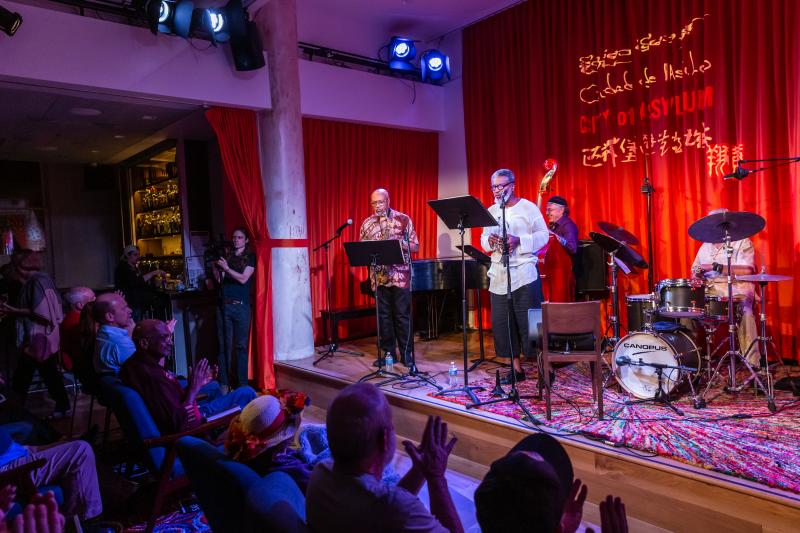 Language, rhythm, and emotion are essential elements to both jazz and poetry. While poets use words to communicate and jazz musicians their instruments, both embody their message through performance.
The expressive nature of jazz and poetry is what led City of Asylum to pair the two together in its annual Jazz Poetry Festival. City of Asylum, a Pittsburgh-based nonprofit, offers sanctuary to exiled writers from around the world and cultural programming for the local community. The Jazz Poetry Festival, which began in 2005, grew out of a one-day event that paired exiled Chinese poet Huang Xiang with saxophonist Oliver Lake. From that concert, City of Asylum's Jazz Poetry Festival has grown into a month-long celebration and has received 13 grants from the Arts Endowment.
The Arts Endowment spoke with City of Asylum's Director of Programs Abby Lembersky about the origins of the festival, the collaboration between jazz musicians and poets, and how the festival was adapted during the COVID-19 pandemic.
NEA: I wanted to start by asking, what are the origins of the Jazz Poetry Festival?
Abby Lembersky: We were founded as a writer sanctuary program. We provide sanctuary to writers who have been exiled from their home country under threat of persecution. Our very first writer arrived in 2004. He was a Chinese poet named Huang Xiang, and really, the festival was born as a way to showcase his work. We found he was an incredibly gregarious figure, really a physical, engaging performer of his poetry, but he spoke no English. The audience was really interested in his work but found it hard to connect to, and we realized that by pairing his words with music, it allowed our Pittsburgh audience to better understand his words and to better connect with his words. We paired Huang Xiang with really accomplished, renowned saxophonist Oliver Lake, and they did live improvisations together on the stage. Even though Huang Xiang was performing in his language and Oliver Lake, in theory, was performing in his own language, the language of music, that collaboration transcended differences in language and allowed Huang Xiang to express himself freely. That's the origin of the festival. It's just about musicians and poets coming together to share their talents with one another, to share their languages with one another, and then create these unique collaborations that allow them to share those gifts with Pittsburgh, as well.
NEA: You mentioned working across language barriers. How do you see that play out in the collaborations between poets and musicians if they may not speak the same language or they may not have worked with a musician or a poet before?
Lembersky: Language is a huge part of poetry, but there are other elements. Rhythm is a huge part of it. Pacing and performance style are huge elements of poetry, as it is for jazz. And jazz musicians are actually really talented at working at collaborating with poets because it's all about sensing style and rhythm and pacing. Groups [of musicians] come together all the time and they just learn how to work with another, learn how to collaborate, learn how to match rhythms. It's sort of the same thing that they're doing with poets even if they don't speak the same language.
We provide translation of text so that the musicians can understand what's being spoken – but often, they choose to hear the piece first even in a different language…to see if the text compliments the feeling that is coming from the collaboration. It's more about the rhythm and the performance style than it is about the words.
NEA: How do you pair the musicians and poets?
Lembersky: We don't, really. We curate poets and musicians independently. In a normal year, we would book a musician for, say, a weekend and let them know that these collaborations are the central part of the festival. The morning of the concert, [the artists] get together, they meet each other, they listen to each other work, and then they just start to collaborate.
NEA: I know the festival was virtual in 2020 because of the pandemic. How did that change the collaboration between artists and the presentation of the festival?
Lembersky: Jazz Poetry 2020 took place completely virtually, but it was still all about collaboration. We did four international commissions in which we invited international jazz musicians to perform concerts in unique locations in their home country, to prerecord them, and then to do collaborations with a poet of their choice. So, for example, we had an Estonian jazz group who performed a set and then did a live collaboration [with an Estonian poet]. There were a couple of international jazz venues selected, and there were a couple of other really unique performance venues that these artists selected for their prerecorded concerts.
We [also] thought about collaboration in vastly different ways for the other subset of concerts in 2020. For example, one concert we really wanted to focus on [involved] racial justice, and so I worked with a poet by the name of Douglas Kearney to select one of his poems entitled "Tallahatchie LullaBye, Baby." It was all about racial injustice in America, specifically, [the murder of] Emmett Till. Kearney recorded it, and then I approached four different jazz musicians to write a new composition based on that poem. They were about eight-minute pieces. [We recorded and] edited all four together, in addition to the reading by Douglas Kearney, and we aired that as an evening event.
NEA: How have you maintained a sense of community while also expanding your audience and expanding your reach through going virtual this year?
Lembersky: One of City of Asylum's driving values is to connect Pittsburgh to the world and the world to Pittsburgh, and so we've always emphasized bringing artists from around the world to our venue to perform and then to interact with the community. That mission was as relevant as ever in the virtual world. It was all about asking these musicians to prerecord something completely unique that was just for our audience. Anybody could tune in, but it was really created with the City of Asylum Pittsburgh audience in mind. All of these concerts that I mentioned premiered exclusively for our virtual programming channel. People did tune in from around the world along with Pittsburgh, our core base of folks that come to all of our concerts. It became this audience experience that you could be watching from your living room in Pittsburgh alongside someone in Poland, for example, and you could chat with them in real time.
NEA: Is this something that you think you're going to adopt in the future, having more virtual events?
Lembersky: This festival's in September, so we're waiting to see what September 2021 will bring, unfortunately. But definitely we want to be a hybrid [festival] moving forward; that's a really exciting opportunity. We've already commissioned a few international musicians to record a concert at home that will premiere on our virtual channels. They won't come to Pittsburgh physically this year, but we're also in talks with some of the venues to see if we can really elevate the exchange between Pittsburgh and another city and audience members. So, the idea is that we would air a concert [that would be performed] in Hungary and stream to the audience in Hungary and the audience in Pittsburgh live at the same time. And vice versa.
NEA: How do you feel these collaborations and the Jazz Poetry Festival as a whole impact Pittsburgh?
Lembersky: I think it's a unique thing that our community can be a part of. Not only does it bring in renowned poets and jazz musicians from around the U.S. to Pittsburgh for weekends of performances, it also brings in poets and musicians from around the world. We always have a weekend that is all about international musicians. A month-long festival will allow someone to hear a group or a poet that is totally new to them, and it will allow them to experience the music of someone acclaimed [who] doesn't come to Pittsburgh every day, right? I think it bridges that divide of the new experience and the celebrity experience.
NEA: How has the Arts Endowment's support made City of Asylum's Jazz Poetry Festival possible?
Lembersky: The NEA's support has been really crucial in allowing this festival to happen. Not only does it allow for artists to come from overseas, which is no small feat, but it also allows us to bring in really top-tier talent, both in poetry and music, which is not something that our organization has the ability to do every day.
As this festival has grown, the NEA's support has grown along with us. [The festival] started as one night only. Then it went to one weekend only. Now it's a month-long festival, and that has allowed us to expand the opportunities for even more artists. It has allowed us to create more exciting experiences for Pittsburgh audience members, and the NEA has been crucial to that growth and to the expanding of opportunities. Even in this past year, I think Jazz Poetry 2020 was really exciting. We entered into it feeling enthusiastic about the opportunities that rethinking collaborations could bring, and we walked away from it just really proud of what we had accomplished. A large part of that was because the NEA was really flexible in our approach to the festival and really supportive of us experimenting with different mediums and different ways of allowing artists to collaborate. The success of 2020 was made possible through NEA's support but also flexibility, adaptability, excitement, and enthusiasm for the new, as well.