How Art is Helping Military Communities Process Trauma
Did you know that more than 400,000 men and women of our armed services have been diagnosed with traumatic brain injuries (TBI) since 2000 and 11-20 percent of all veterans who served in Iraq and Afghanistan have post-traumatic stress disorder (PTSD) in a given year? Participation in creative arts therapies or in community arts programs can help individuals process the "invisible wounds" of war, and help them heal.
Since 2011, the National Endowment for the Arts has been bringing creative arts therapies to veterans and military communities through their Creative Forces: NEA Military Healing Arts Network. Arts Midwest spoke to the NEA's Bill O'Brien about just why these creative arts therapies are so effective, what the differences are between community and clinical approaches, and how organizations can get involved in this work through new Community Engagement Grants available via Mid-America Arts Alliance.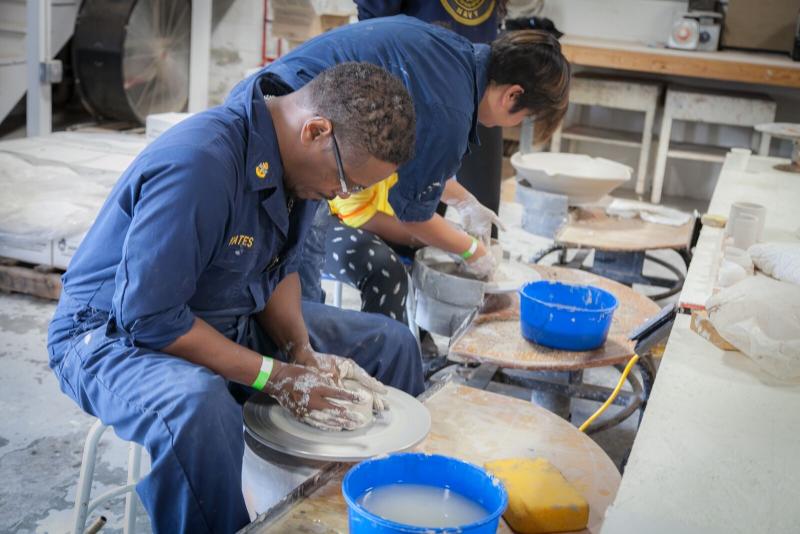 Arts Midwest: Why focus on creative arts therapies for military and veteran populations?
Bill O'Brien: Traumatic brain injury and associated psychological health issues like PTSD are vexing problem for the military. More than 400,000 men and women of our Armed Forces have been diagnosed with a traumatic brain injury since 2000. 11% to 20% of all veterans who served in Iraq and Afghanistan have PTSD in any given year.
The Department of Defense (DoD) and the National Endowment for the Arts (NEA) were both eager to respond to these challenges and interested in advancing our understanding of the role the arts could play to confront these "invisible wounds." In 2011, the National Intrepid Center of Excellence (NICoE) Walter Reed Bethesda invited the Arts Endowment to help build out its creative arts therapy program and to collaborate on advancing treatment, research and evaluation for patients with traumatic brain injuries and associated psychological health issues. That effort grew into the Creative Forces: NEA Military Healing Arts Network, a partnership with the US Departments of Defense and Veterans Affairs that seeks to improve the health, well-being, and quality of life for military and veteran populations exposed to trauma, as well as their families and caregivers.
Through our Creative Forces Network, we are building a national network of care and support for trauma-exposed service members, veterans, and their families and caregivers.
AM: What exactly does the Creative Forces Network do?
O'Brien: There are three primary components of Creative Forces. The first is clinical, which is focused on placing creative arts therapists in military medical and Veterans Health Administration facilities across the country, including telehealth. Right now, we have art therapists, music therapists and dance movement therapists, as well as therapeutic writing instruction.
The second component is community. Since 2017, we've invested in community arts engagement activities to try to learn what benefits and impacts they can provide for military and veteran populations exposed to trauma. These activities are intended to promote health, well-being and quality of life for military and veteran families through the arts, are not clinical in nature, and can take place in community or healthcare settings.
The third component is capacity. We conduct research and evaluation on all the activities we do, whether it's in community or clinical settings. The learnings from our research and evaluation efforts are shared on our National Resource Center and through scholarly publications. We've been able to help the Department of Defense create "connective tissue" across clinics, so our creative arts therapists are in conversation with each other constantly. Right now, we're working hard to develop a set of training and curriculum materials for our therapists to ensure that we're giving everybody what they need to be able to deliver consistent, high-quality care across the network.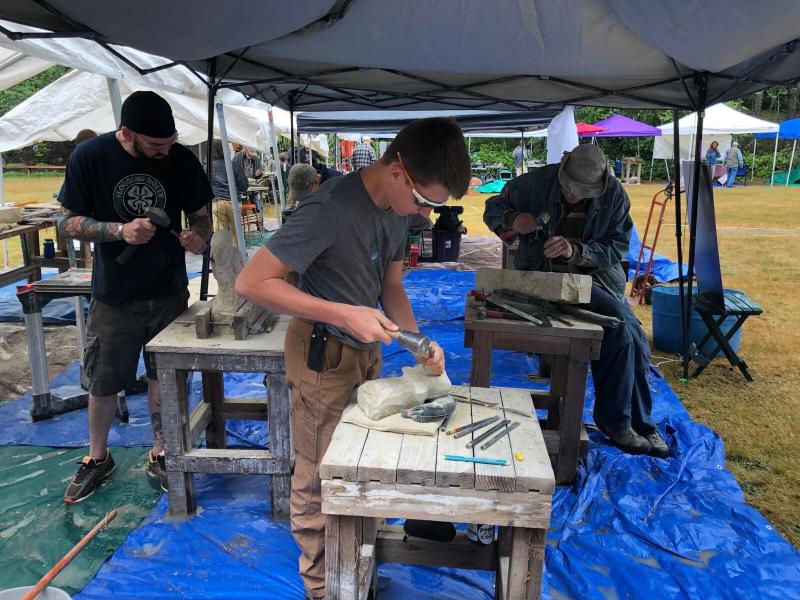 AM: What kind of difference can art make for people working through trauma?
O'Brien: When complex psychological issues are hard to pin down and chaotic, the arts can help clarify meaning and improve communication. When you participate in creative art therapies, you are using your senses to try to make sense of things, whether it's coming in through your eyes for visual art or ears through music, or through your sense of body and movement in dance movement therapy. You perceive things and try to make sense of them. This can improve communication between the patient and their care providers because they have an art object to explore and discuss that can help communicate things that have been hard to put into words.
Key findings that we've observed so far in the 20+ research papers we've published include improved awareness and tolerance of PTSD symptoms like hyper-vigilance, pain and stress, a reduction of isolation and stigma through meaningful interaction with others, and improved communication with family, peers, but also with themselves.
AM: The Arts Endowment recently launched an online interactive exhibit called Creative Forces: Healing the Invisible Wounds of War. Can you tell us more about this exhibit?
O'Brien: Creative Forces: Healing the Invisible Wounds of War was originally developed to be an in-person exhibit, but due to COVID-19, we created a virtual exhibition which is now available for all Americans to experience. There are about 40 pieces, and nine video pieces. We had artwork loaned from Walter Reed, Fort Belvoir, Camp Lejeune, our two VA hospitals in Florida, in Gainesville and Tampa, and then some other veterans who've been through the program also loaned their personal artwork.
When you go into the main gallery, you can click on any of the art pieces and hear from the service member or veteran themselves, or their clinician, describing what the piece is and what it meant to the healing efforts of the person who made it. It's very clear that art was a significant contributor to the healing for these specific service members and veterans. It's moving to see.
AM: Why did Creative Forces expand into community arts programming?
O'Brien: In a clinic or in a health care facility, you have trained clinicians to assist people through the process of healing. But there are strengths in the community side that we're really interested in exploring and measuring as well. Social connection, for example, has been identified as a need for military and veteran families, and community-based programs are naturally positioned to provide this type of support.
Service members tend to be moved around a lot, and military families often live away from their extended family and lack connection to their civilian communities and neighbors. Families may also experience separation due to deployments, trainings, or schooling. This creates a kind of need that a community-based program could effectively address. The new Creative Forces Community Engagement grants will support emerging and established arts engagement projects out in communities.
One outcome we're focusing on in these community programs is creative expression, particularly in ways that enhances a participant's understanding of themselves and others. The second outcome is social connectedness, and the ability to establish supportive relationships that help develop a sense of belonging in a place or a community. The next is resilience, and that has to do with the ability to rebound from stress or unexpected events or challenges. And then the last one is independence and successful adaptation to civilian life.
If we build a connection to community and sense of belonging for military and veteran folks, we're achieving things that we know are associated with healthy outcomes.
AM: What kinds of organizations should consider applying for a Creative Forces community engagement grant?
O'Brien: I think that organizations located in a geographic place that have a high population of military and veteran folks, and are interested in working with these local military-connected populations, should consider applying for this grant.
There are two tiers of the grant program: one is for emerging projects, and one is for advanced projects. Organizations are eligible to apply for an emerging grant project even if they have not done work in their local military-connected community before. The emerging grant is really meant to help organizations build capacity and understanding of their local military and veterans' community, and set up an arts engagement project that will effectively serve these groups.
One of the statements that we've heard from arts organizations is, "We want to be better at serving our local military populations, but we seem to have a real challenging time in trying to reach out and connect to them." The grant is set up to require partnerships and to encourage the types of partnerships that can help with that kind of outreach. This can provide a reason for people to pick up the phone and call a veteran service organization down the street and say, "Hey, we have this funding stream. You have people that you're serving in this community that we may be able to bring something to the table for."
I encourage anyone interested in these grants to check out the full grant guidelines. Applications are due on Wednesday, December 15, 2021.
AM: What do you wish people better understood about military populations?
O'Brien: I think people outside of the military often think of the military as a monoculture. People leave their backgrounds behind; they leave their clothes choices behind; they leave their haircut styles behind; and they enter this uniformed culture, or so it appears from the outside. In truth, it is one of the most diverse populations that we have anywhere. Over and over, we've heard that one of the things that was striking for people taking part in Creative Forces is that they were being seen and looked at as a human being rather than as a cog in the wheel.
AM: How has this work affected you, and what are your hopes for the future?
O'Brien: I was very young during Vietnam, but I remember the Gulf War. My Dad fought in Korea. The way we are really paying attention to the military now, after these longest wars that we've ever endured, is at a level I've not seen before. This whole program has forced me to rethink about the role of the arts plays in society, who is an artist, and why we pursue it. What do human beings go through when their experience has been very traumatic? How do these art-making platforms provide an opportunity to really unpack complicated emotional issues and bring them to a sense of clarity?
This program is unique in that we really are thinking about art as a tool that can be applied to support trauma processing. Maybe this work can provide an example of how to help communities that are recovering from disaster, or the opioid epidemic. I hope in the future, we see the arts as being one of the tools in our bag that can be applied to help solve wicked problems. I find this idea to be endlessly inspiring.
This interview originally appeared on the Arts Midwest blog. Arts Midwest is one of six U.S. Regional Arts Organizations.