The National Native American Veterans Memorial: A Place for Honor and for Healing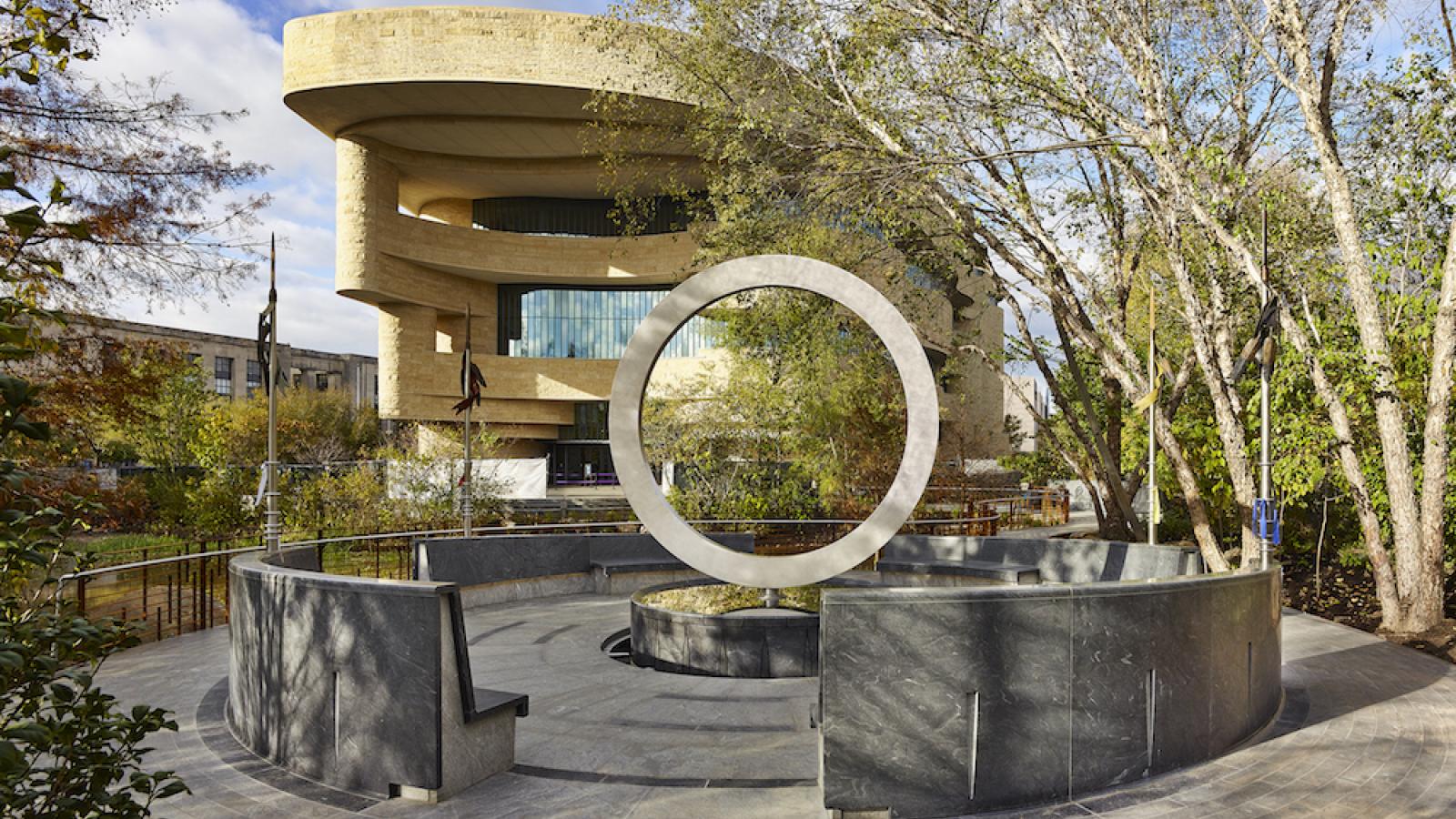 Sited on the grounds of the Smithsonian National Museum of the American Indian (NMAI), the National Native American Veterans Memorial is, as described by the museum, "an interactive yet intimate space for gathering, remembrance, reflection, and healing." Designed by Oklahoma-born artist Harvey Pratt (Cheyenne and Arapaho Tribes of Oklahoma), the memorial comprises an elevated stainless-steel circle balanced on an intricately carved stone drum and also includes, per the NMAI website, "water for sacred ceremonies, benches for gathering and reflection, and four lances where veterans, family members, tribal leaders, and others can tie cloths for prayers."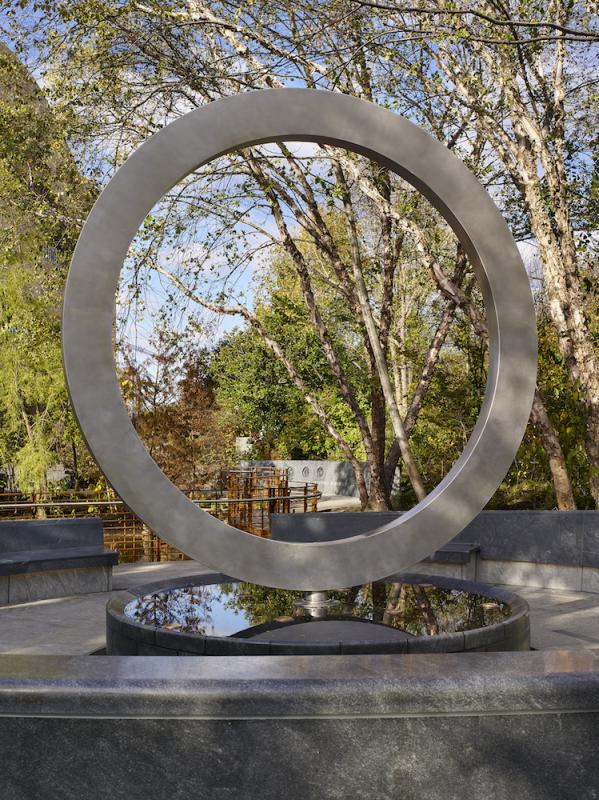 Though Pratt's design was ultimately unanimously selected through a jury process, Pratt almost didn't submit a design for the project at all. As he explained in a telephone interview, "I said, 'There's going to be thousands of people and companies competing for that.' So, I kind of blew it off.'" Encouraged by a Native friend who worked with veterans, however, to apply in honor of his tribal community, Pratt agreed to at least think about drafting a proposal. "I said, 'Let me dream on it,'" he remembered.
Primarily self-taught, Pratt has been an artist for as long as he can remember. Raised by his mother, who was widowed when Pratt was not yet in kindergarten, Pratt remembers he and his siblings making their own toys from modeling clay provided by their grandfather. Encouraged to develop his talent for visual arts by supportive teachers, Pratt initially made artwork primarily as a way to make money. He continued making art through college, where he majored in psychology, and also while he was in the Marine Corps. A career turning point came after he joined the Oklahoma City Police Department. Knowing that Pratt was an artist, the chief of detectives asked Pratt to take a survivor's witness statement as part of a homicide investigation. As Pratt remembered, "I had no idea how to do that. I just [went] over and started talking her and made the drawing. And we caught the guy based on that drawing." What followed was a decades-long career as a forensic artist for both the police department and the Oklahoma State Bureau of Investigations. As Pratt described, "I've probably done over 5,000 witness description drawings. I've probably done 2,000 soft tissue reconstructions, cranial facial reconstructions, age progressions, photo alterations, and clean ups."
As with his forensic work, Pratt developed his idea for the memorial—which was and continues to be funded by donations primarily from Native communities—by asking questions, which then helped him sketch the look of the memorial. The primary conundrum was how to develop a common design language to represent hundreds of tribes, all with their own customs and traditions. "How do you reach 574 different [federally recognized] tribes plus state-recognized tribes?" he recalled wondering. He decided to start with the idea of ceremony.
Pratt noted that Native tribes have a long tradition of using ceremonies to combat PTSD in their warriors. "They recognized that people came in from battle, and they were still carrying that around in their hearts. So they had these ceremonies that they used to take care of their veterans," he said. Pratt had experienced that healing for himself. "When I came home from Vietnam, my family did a purification ceremony and they prayed for me. They invited people to come and dance. My family fed everybody there, and my mother and stepfather gave away a lot of belongings in my honor," he said.
He added that while the memorial was going to be dedicated to Native veterans, he envisioned it as a site where any and all veterans could experience healing. "Anybody can go there and if they're a veteran, they can sit there and maybe somebody'll come along and bless them. They'll smoke them off, and they'll pray for them and help them heal," he said.
The circles that make up the design are directly influenced both by Pratt's own experience of ceremonies and the widely held regard for the circle as a sacred shape. "I'm a Southern Cheyenne chief, and I've been through a lot of ceremonies. We always have a place to go to," he said. It was important that the memorial not just be an object to look at, but a place with its own atmosphere that would envelop visitors, and so Pratt planned the memorial as an interactive space. "We wanted people to come there, and we wanted them to make their offerings and say their prayers, make their pledges and feed the spirit, and use the water and the fire so they will have a blessing and heal," he said.
Pratt further refined his vision for the memorial by adding features that would be universally recognized by Native people, including the natural elements of water, fire, earth, and air; cardinal points; and lances, eagle feathers, and sacred colors and directions.
 
The memorial also incorporates military elements not only to honor that Native people have served in all of the country's armed forces but also to acknowledge the special reverence accorded to veterans in tribal communities. "I incorporated the military seals because Native people have served in all of those armed services. We're also going to educate non-Native people on who we are, what we do, and how we feel about our veterans," he said.
The memorial will be formally dedicated in November 2022, though since it's sited outdoors, it has been open to the public since last November. Pratt and his wife Gina visited the memorial last fall, and were able to watch first-hand as visitors experienced  for themselves the harmony and timelessness of the site, an experience that made Pratt emotional. "A lot of memorials are dated. The Vietnam Memorial has a date," Pratt reflected. "The National Native American Veterans Memorial is not dated. It reaches back into the past and it reaches into the future."