New Grant Spotlight: Josephine Sculpture Park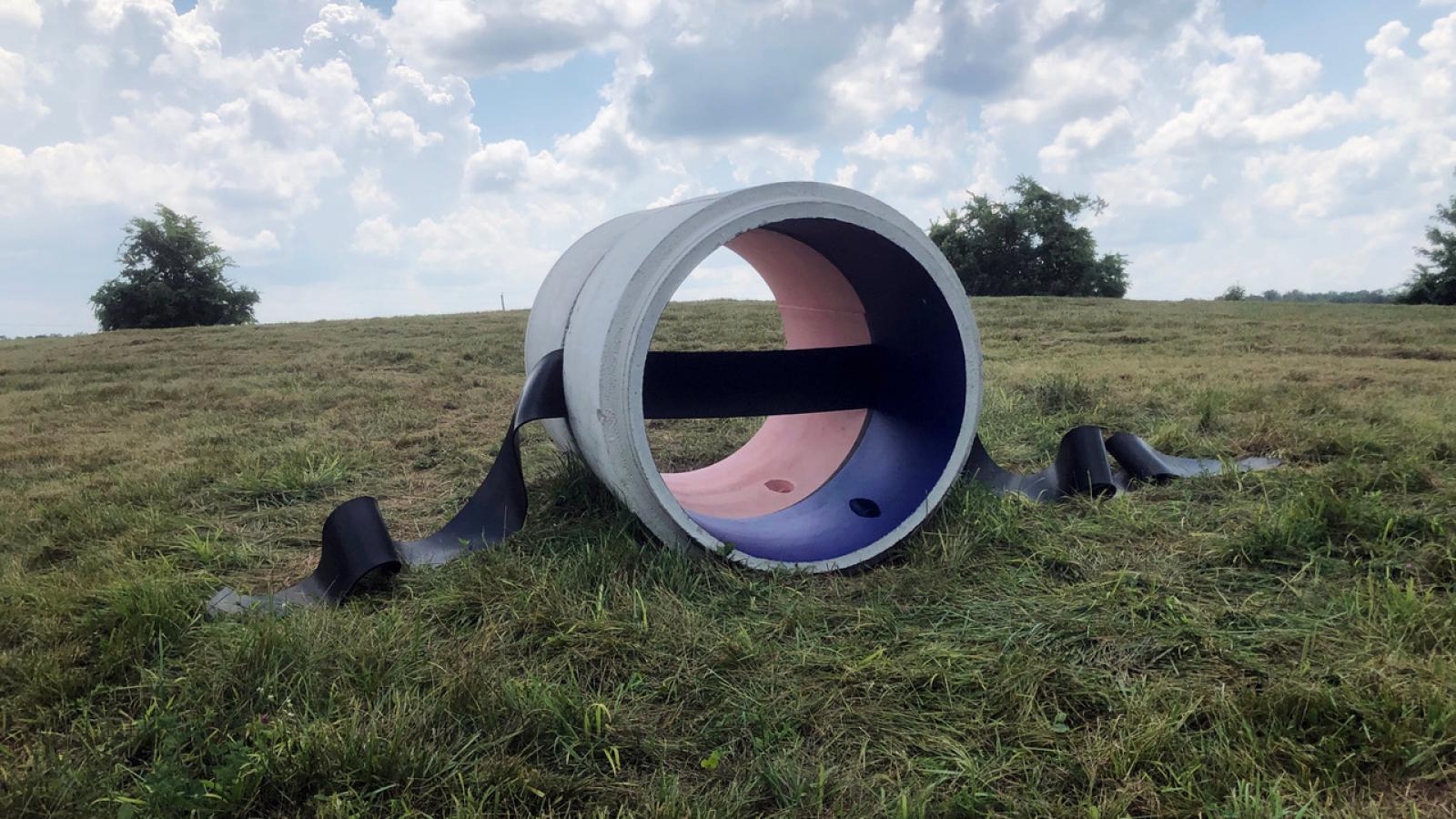 Even as a child, sculptor Melanie VanHouten knew that her grandparents' 100-acre tobacco farm was a magical place. Located in Frankfort, Kentucky, the farm was ripe for childhood exploration, and VanHouten had free rein to roam the farm's rolling hills, wooded glades, and open grasslands, making magical discoveries about the natural world along the way.
So when VanHouten hatched the idea to create a sculpture park, there was only one site on her radar. In 2009, she opened the Josephine Sculpture Park, named in honor of her grandmother on 30 acres of what was once the family farm. "The park for me was a way to combine the things I loved most in my life, which were art-making, my community, and the natural environment," she said. "Even though it's not a working farm anymore, we can still provide people with those experiences that are transformative and that will connect them to the land."
The park, which recently received its fifth Arts Endowment grant in our latest cycle of awards, has featured some 100 sculptures in its rotating exhibition, many of which were created by artists-in-residence. Free and open to the public, the park aims to create the kind of welcoming, accessible arts experiences that in hindsight, VanHouten realizes she was missing from her own childhood. 
"As a kid growing up in a smaller community in Kentucky, it never occurred to me that I could be an artist, and that I could support myself in that way," she said. "My heart goes out to all of those creative kids in our community who are probably not feeling supported, either through their art classes getting cut at school, or maybe their families just aren't really sure what to do with that kind of gift. It was important to us to provide a place for those families in our community to feel supported and to connect with kids in our community."
To accomplish that, the park places a strong emphasis on family programming, including classes and workshops, and family-friendly events and festivals. At the start of the pandemic, the park also launched a virtual Sculpture Saturday program, which focused on a different sculpture every week and introduced the artwork's basic design principles. When park staff discovered that a child had left a homemade sculpture in the park, complete with a title card sealed in a plastic baggie to protect it from the elements, Sculpture Saturday featured the piece on its program, elevating its maker from kid to celebrated artist.
"If this is the thing that [children] love, here's a place you can learn more about it," said VanHouten. "You can make art here. You can talk to artists. You can figure out how to make this your path if that's what you want to do."
Having this type of creative haven has perhaps been even more critical during the pandemic—and not just for children. Despite the park's closure for two months and the cancellation of its annual Fall Arts Festival, which typically draws several thousand visitors, attendance was actually higher in 2020 than in 2019. It's indicative not only of the global community's need for safe outdoor activities, but of the desire for a glimpse of beauty during a particularly bleak year. 
"It's a really nice escape for people," said VanHouten, who noted that the natural landscape works in tandem with the sculptures "to create an experience for people that's I think most often very uplifting and inspiring and quiet. And I think in today's world, we can all use a little bit of quiet to feel a little more grounded."
During this pandemic year, the appreciation for a quieter atmosphere also extended to the park's artist residency, which was supported by the Arts Endowment with its most recent grant. In a normal year, Josephine Sculpture Park hosts four or five artists with overlapping residencies. But to accommodate social distancing, the park hosted just two artists with no overlap, both of whom were from Kentucky so that travel restrictions could be observed. The result, said VanHouten, was more breathing room for staff and a greater ability to focus on the needs of each artist. 
"The relationships that developed between our staff and the artists were so much deeper than what we've been able to do in the past," said VanHouten. The forced redesign of the residency ultimately proved so successful that the park has plans to pursue a similar model in the future, one where each artist-in-residence will continue to enjoy the same level of one-on-one attention. "We want to be able provide that level of support to the artists and to build those kind of relationships that will sustain them far into the future, and propel them in their careers."
Even before the pandemic, artists could count on an exceptional level of support from the residency. Over the course of two to four weeks, visiting artists receive intensive, hands-on technical assistance from VanHouten and other staff members, as well as full access to large studio spaces that might typically be inaccessible to artists, particularly those that live in urban areas where space is at a premium. VanHouten's prior experience teaching sculpture is frequently put to good use as she helps artists develop their practice and expand their portfolio. For example, one of this year's artists-in-residence had never created sculpture on such a large scale before; the other was an installation artist who had been having trouble finding an organization willing to sponsor her first freestanding sculptural work. 
"A huge part of what we want to offer the artists is the opportunity to grow, and to try things that maybe they've never tried before," said VanHouten. "We want this to be an opportunity that will take them to another place in their artistic career, and that leads to more opportunities." 
This is especially important for women artists-in-residence. The park, which itself is led by women, places a high priority on recruiting women artists, offering them the type of recognition and support that VanHouten felt was frequently lacking in their own career. She noted that most of the sculptors she studied at the university level were men, as were most of her professors and colleagues.
"I knew I wasn't the only [woman sculptor], but we just weren't as visible and as celebrated as the guys," she said. "So that has been a commitment I've had since we opened the park, and it's one of the reasons we named it after my grandmother. We have always tried very hard to connect with women artists who are doing excellent work, and who maybe just haven't been given the opportunity to do the thing they really envision."
During residencies, artists conduct workshops and talks with the community, and visitors are able to come by and engage in one-on-one conversations and watch artists as they work. It's the type of intimate experience that VanHouten hopes will resonate with visitors, and will further connect them with the arts, whether that means helping them envision a future career for themselves or simply having a new appreciation for how "the arts can amplify the quality of their life," Van Houten said. 
At the very least, she hopes that Josephine Sculpture Park will "bring something to them that maybe they had never experienced before or thought was valuable. And now they see it and feel it."