Sampling Beats and Youth Research Participants – in Real Time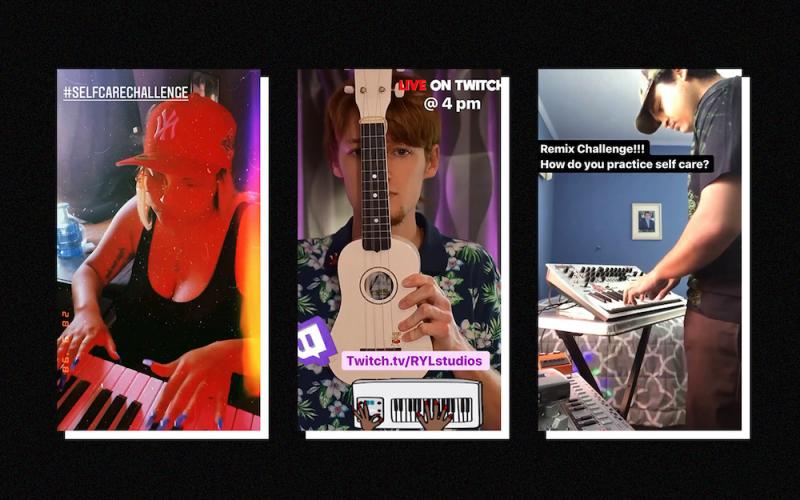 In research terms, a convenience sample is a group of folks who feature in a study because—well, they happened to be there. Convenience samples do not permit truly random assignments of individuals into the cohorts being studied. For this reason, it is impossible to apply the study results to the general population, or to make claims about statistical significance.
   
And yet, under the right conditions—especially in program design and development—access to study subjects "in the right place at the right time" can prove extraordinarily helpful. Also, let's face it: COVID-19 has upended our notions of "convenience" altogether. In the field of education, researchers no less than teachers have had to make the most of remote learning—and the strengths and limitations of virtual learning platforms—to get the job done.
 
Amid these challenges, YR Media has made admirable progress. YR Media is a national network of approximately 300 teenagers and young adults who produce and distribute music and journalism with support from top media professionals. Formerly known as Youth Radio, the Oakland, California-based nonprofit has received NEA grants to support mentoring, training, and music production opportunities for youth participants from low-income or other "underserved" backgrounds.
The physical hub of the network is a building in downtown Oakland where the youth artists not only have access to professional producers and crew, but where, according to YR Media CEO Kyra Kyles, "young people really feel at home," and can "go into that building and connect with that energy."
In light of pandemic shutdowns, Kyles and her colleagues Maya Drexler and Oliver "Kuya" Rodriguez asked themselves, "What can we do that creates or at least captures in some way some of that collaboration—that ability to just turn to your neighbor or whomever you're working with [and ask,] 'How does this sound to you?' or 'What do you think we should put in this beat?'" she said.
The answer was the Type Beat Challenge, a cycle of music-based programs built around a DIY toolkit with information and resources. These goodies include a playlist for inspiration, a "sound pack" of free digital sounds, and a community of peers learning and collaborating on virtual platforms. From a research angle, Type Beat provided "the kind of immediate, rapid-response operation that needed to kick into gear once the pandemic hit," Lissa Soep, YR Media's Special Projects Producer, recounted.
The Type Beat Challenge became a natural case-study experiment at the center of a larger research strategy supported by the Wallace Foundation, which is designing a new arts-education funding initiative to take effect sometime after next year. Commenting on the nascent initiative, Wallace Foundation Research Director Bronwyn Bevan said, "We're taking a strong equity frame in all of this."
For researchers and evaluators, equity can include empowering study participants to ask questions of their own. "We wanted to hear directly from young people about what matters in the arts, and what the arts could and should, and does, do for them," Bevan said. "We were [already] talking to YR Media about how their youth participants might investigate and report on these issues for us and other arts education stakeholders in the field."
 
When COVID-19 struck, the research focus became "not only what do young people want from the arts," but "when the chips are down, when choices are restricted, what do the arts mean to them in that context?" Bevan noted. Fortunately, as it transitioned to a fully virtual program, YR Media offered just the right forum to answer those questions.
During the Type Beat challenge case study, teenagers and young adults attested to the dual opportunity for self-expression and for the exploration of new music forms and styles—what one participant called the capacity to "'make something fresh every time,'" Soep said.
Participants also realized they had an integral role in developing Type Beat itself—they were "collaborating in the design of the program in real time," Soep reported. "Not only was it an opportunity to grow as artists; they were actually architects."
A third lesson from the case study is the program's "balancing of radical accessibility and aspiration." According to Soep, an early decision by Drexler and Rodriguez—to "embed" Type Beat on the digital and social media platforms "where young people are already spending time" (e.g., Instagram and Discord)—paid off handsomely. Exploring digital platforms like Twitch, where the Type Beat livestreams are hosted, was key to collaboration. In addition, the program leaders required a modicum of cultural and "technical competence and savvy" to guarantee that young people would feel safe in those environments.
These adults were "always side by side with them," contributing to a culture of aspiration, Soep noted. She credited a stable of prominent artists, designers, writers, engineers, and technical staff for setting the tone in their virtual collaborations with program participants.
 
Beyond the case study component, YR Media's research team contributor, Nimah Gobir, conducted focus groups with more than 40 young people (ages 14 to 24)—primarily Black, Indigenous, or people of color (BIPOC)—who had been associated with the organization. The interviews allowed YR Media to understand the mixed blessing of remote learning in the arts during the pandemic.
 
Despite the ability of such programs to extend more opportunities to more people—without the confines of a physical space---the young people missed the "side-by-side witnessing of process," Soep said. "What could sometimes happen is, there was more of a product orientation where you would see what everybody else had made—but you weren't there in the studio with them side by side, kind of laboring through it."
Another focus group finding related to the social context of remote arts-learning for youth. "Young people were very tuned into the relationship between arts practice and mental health and activism. It was, of course, because the pandemic happened at the same time as the racial equity reckoning led by Black Lives Matter," Soep observed. "The combination of these huge forces in young people's lives" underscored the arts' relationship to mental health and social justice, she claimed. As one focus group participant asked: "How do you establish vulnerability through a screen?"
The social context of remote arts-learning has raised a new set of norms for youth arts organizations. "We heard a lot about programs needing to produce novelty in the face of the kind of sameness that young people are experiencing day to day," Soep said. As she recalls, one of the focus group participants explained "it was like a music performance where people are trying to get a concert feel happening," where the performer says, "'Get up. Jump…be a part of this,'" and the response is, "'Do I? I don't know.'"
To Bronwyn Bevan at the Wallace Foundation, the themes around the arts and mental health and social justice, in the lives of young people, are especially resonant. She also expressed hope that the research will inform the design and scaling of youth arts programs in the future.
 
In June, YR Media will convene representatives from several other youth arts organizations to share lessons and experiences about "what was their digital [and] remote pivot like, and how are they defining success," Soep added. Any program design principles that emerge from these conversations may be communicated back to the larger field.
 
For YR Media itself, the research already has yielded ideas about how the organization can engage more Chicago- and Atlanta-based musicians "in a more formal and consistent way," CEO Kyra Kyles offered. But then, "research has always been baked into the DNA of YR Media, even in its 'Youth Radio' days." The enterprise hinges on "deep research and making sure that when we launch some of these experiments, they are fun—but they're also getting intrinsic knowledge and data about what's going on and how we can better serve young people," Kyles asserted.
Sunil Iyengar is the director of the National Endowment for the Arts Office of Research and Analysis.