She Had Some Books: An Interview with Poet and NEA Literary Arts Specialist Katy Day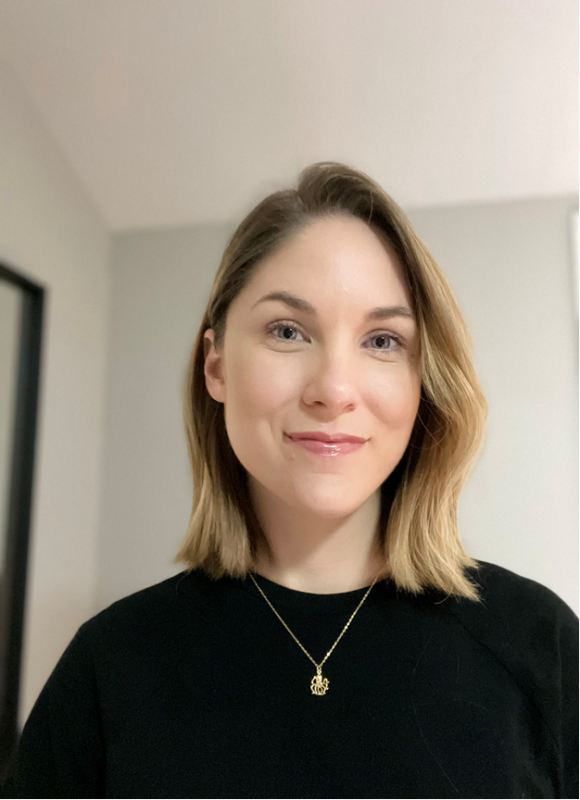 As you may already know, the National Endowment for the Arts has more than a few working artists on staff. Today we're turning the spotlight on Literary Arts Specialist Katy Day who manages the NEA's Literature Fellowships program. A published poet, Day's work has appeared in A Smartish Pace, Slice Magazine, The Rumpus, among many other outlets. She holds an MFA in Creative Writing from Sierra Nevada University where she received the Exceptional Manuscript Scholarship.
Before we dig deep into Day's book stash, here are a few more things you should know about her in her own words: 
I grew up just outside of Baltimore, Maryland, with my mom, stepfather, and two siblings. My grandmother is a ceramicist and I attribute my creativity to her—I'd spend time at her house every summer making things out of clay and going to craft stores and shows. I was on a swim team for most of my childhood, and have recently rediscovered it. I love donuts. I have a dog named Ziggy, and I recently bought a house! I have two kids and have been raising them myself while also putting myself through undergrad and graduate school and working. I haven't written anything in almost a year and I'm pretty OK with it.
And how, here's a look at her books...
NEA: What book turned you into a committed reader?
 
KATY DAY: I'm not sure I could pinpoint a particular book. My mom is an avid reader, and trips to the library were a regular occurrence in my childhood. Whenever I was nervous about something or asked her a question she didn't know how to answer, we'd look for a book on that topic the next time we were at the library.
 
My stepfather was an asylum seeker from Guatemala and collected an encyclopedia set to learn English. I have vivid memories of pulling out each volume, determined to read through the entire set. Maybe a precursor to my obsession with words?
 
NEA: What book made you want to become a poet?
 
DAY: Wow, I'm terrible at this! I don't think it was a specific book. I took an Intro to Creative Writing course at a community college as a young single mother. I thought I wanted to learn how to write fiction, but when we started our unit on poetry I was hooked immediately and found it the more compelling form to write. Some early favorites were Sharon Olds, Li-Young Lee, Sylvia Plath, and Lucille Clifton, who was a local celebrity where I lived at the time in Maryland.
 
NEA: Which books are sitting in your To Be Read pile at the moment?
 
DAY: So many! Obit by Victoria Chang, The Malevolent Volume by Justin Phillip Reed, DMZ Colony by Don Mee Choi, The Galleons: Poems by Rick Barot, Deluge by Leila Chatti, White Blood: A Lyric of Virginia by Kiki Petrosino, Catrachos: Poems by Roy G. Guzmán, A More Perfect Union by Teri Ellen Cross Davis.
 
NEA: How do you decide what to read?
 
DAY: I'm in a unique position in that I have access to so much incredible poetry through my job. The NEA awards grants each year to nonprofit presses to support the publication of some of the country's best poetry (and prose) books, and we keep a library of those books on our shelves in the office. I also read manuscript excerpts for the Creative Writing Fellowships and often fall in love with a writer's work that way. And I'm signed up for the Academy of American Poets' Poem-a-Day, where they send a poem every morning via email. Once I've found one or two poems by a poet that I'm really drawn to, I'm compelled to read more of their work to find more poems like the ones I love. 
 
NEA: Which books would you say taught you how to write? 
 
DAY: This is a very incomplete list, but some books in my personal poetry canon include Ariel by Sylvia Plath, Rose: Poems by Li-Young Lee, When My Brother Was an Aztec by Natalie Diaz, Life on Mars by Tracy K. Smith. Anything by Sharon Olds.
 
NEA: You've recently put together your own first collection. How did you think about ordering the poems, and what are some of the things you hope readers take from or pick up on in the collection?
 
DAY: I thought since I'd read so many poetry books I'd have a sense of how to order one, but wow, was I wrong. I knew nothing! The first iteration was in chronological order, starting with poems set in childhood, and it was lacking any kind of arc. Then I started categorizing. I'd write down the major and minor themes, reoccurring images or symbols or references, and reoccurring characters at the bottom of each poem. Within each major theme, I'd sort the poems in an arc driven by a sort of internal growth for the speaker and by deeper and deeper disclosure—a sort of peeling back of the onion. Then I wove the themes together, and, if I ever got stuck, I'd think about those subthemes and reoccurring characters and images and arrange them that way. After I could see the manuscript forming, it became a much more intuitive process.
 
The collection is centered around domestic violence, which can be an incredibly isolating experience. According to the National Coalition Against Domestic Violence, it's estimated that one in three women and one in four men have experienced some form of physical violence by an intimate partner. I hope this collection will help folks who have experienced domestic violence feel less alone, and will help those who haven't understand it a little more intimately.
 
NEA: If you could give one poetry collection to everyone you know, which one would you choose?
 
DAY: I've heard people say that poetry is like music—different people are drawn to different styles or genres, and if you think you don't like poetry it could be that you haven't found the poetry for you. I love gifting poems and books of poetry that I think would suit a specific person or occasion.
 
There's a book of Maya Angelou's poem "Life Doesn't Frighten Me" accompanied with paintings by Jean-Michel Basquiat. I could see myself gifting that to quite a few people!
 
NEA: Which book do you find yourself regularly rereading?
 
DAY: Recently. Prelude to Bruise by Saeed Jones.
 
NEA: If you owned a bookstore, which five books would be in your display window right now? (Or highlighted on your website?)
 
DAY: Thank you for allowing me to live in this daydream for a little while.
 
Postcolonial Love Poem by Natalie Diaz, Homie by Danez Smith, God of Nothingness by Mark Wunderlich, The Wild Fox of Yemen by Threa Almontaser, and Wound from the Mouth of a Wound by torrin a. greathouse.
 
What's a books-related question you wished I'd asked you, and how would you answer it?
 
Maybe: What book have you lost and repurchased the most? 
And I'd say, wow, great question. It would definitely be Emily Skaja's Brute, which I've lost and replaced three times in two years.