ARP Grant Spotlight: The Boise Hive (Boise, ID)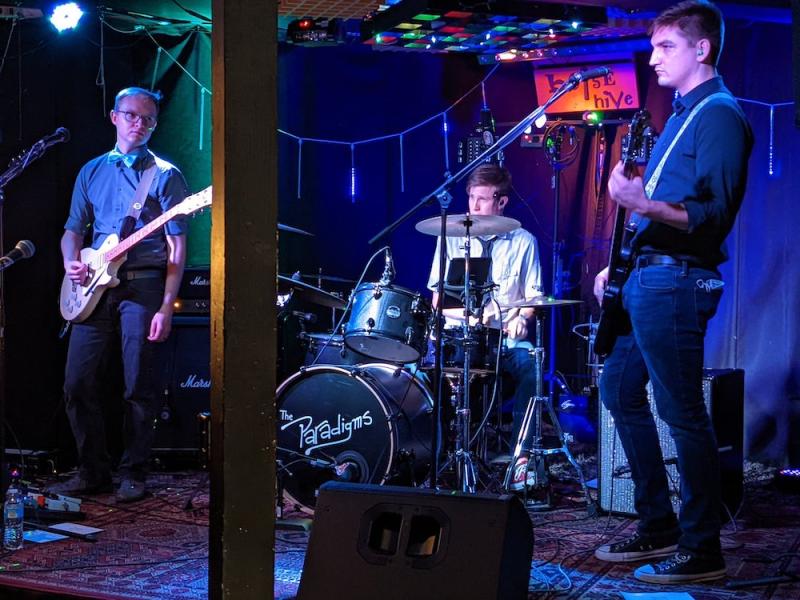 In the modern pop-culture tradition, being a musician comes with a series of default lifestyle expectations, ones of indulgence and recklessness, larger-than-life living, and altered forms of consciousness, but one organization in Boise, Idaho, is offering another option for musicians and their fans. The Boise Hive is a sober rehearsal studio space for musicians with in-house access to mental health counseling.
"I think having a communal space where musicians can collaborate without the negative influence is phenomenal and is key to growing. Drinking is interwoven into every facet of the music industry, and the Boise Hive is a family friendly place for people to come and connect, practice their craft or get support." said Tara Rosenberg, Operations Manager at the Hive.
For spaces starting at $4.00 per hour, musicians can rent a studio to play, record, or practice in. This revenue then helps support the organization's mental health resources, which include counseling, jam sessions, drum circles and, more recently, sober curious programming for those interested in sober living. In addition, the organization's food pantry offers a convenient place for those experiencing food insecurity, whether they are musicians or community residents.
During the pandemic, the local Boise music community faced a crisis; as performance opportunities decreased, so did the need for rehearsal space. Boise Hive lost more than 70 percent of its revenue during the first few months of the pandemic prompting the organization to close for three months and put out a call for community fundraising to stay afloat. Fortunately for the Hive, they were able to fundraise enough to reopen their doors.
"I feel like we give as much to our community as they give to us. It's a very symbiotic relationship. And if we put an idea out there, it's met. The community answers," said Rosenberg.
In addition to community support, the Hive received a $100,000 ARP grant, which allowed Rosenberg to be hired as the organization's sole staffer. Since its founding in 2013, the Hive has been run by a more than 30-person volunteer staff who donate an estimated 11,000 hours of service annually. Since hiring a dedicated staff member, the Hive and its volunteers have seen positive changes to the space, an upcoming website refresh, a more reliable online reservation system, and an increase in studio hours.
"Without the NEA ARP funding, we wouldn't have had an operations manager. We would not have expanded our hours. We wouldn't have had that those open doors to have people coming in and doing their music, and we wouldn't have been able to serve the mental health of this community at a time when they really needed support," said Greg Bowman, member of the Boise Hive board.
For many who utilize the Hive's resources, making music is a coping mechanism in itself, and the organization serves community members of all ages. One population that the Hive is working to engage is the military and veteran community. In March 2021, the organization was awarded a Grants for Arts Projects and used that funding to support musical workshops and outreach events for military veteran musicians. The team met veterans where they were, at Gowen Field and Mountain Home, two Air Force bases in Idaho, to host keyboard, vocal, guitar, and drum sessions.
"What we realized was that the Hive wasn't necessarily a convenient space for veterans to come in, especially if they had PTSD or other things that made it hard for them to feel comfortable coming into a space they weren't familiar with. It was really important for us to go to where the veterans are, and I think there was a positive impact," said James McQuoid, a veteran who helps coordinate veteran outreach.
Veterans also enjoy bi-weekly GI-Jam sessions, a program established by military veteran Boise Hive volunteers who experienced a mental health benefit simply from the process of learning and playing music together.
"There's a moment if you've been at The Hive long enough, where all the studios are booked and everyone playing different genres of music. You've got death metal in one room, country in another, and you've got classical and studio flow. But there's a moment where it all syncs up. It's like a mega song," said McQuoid.
While the Hive aims to provide a space for musicians to practice their art at an affordable rate, the organization's primary focus continues to be increasing access to mental health resources and suicide prevention among musicians. The Hive partners with Boise State University to work with social work interns and other mental health professionals to serve the community's increasing need for mental health resources.
"Our mental health team really struggled during the pandemic, and we learned it's really difficult to provide therapy via telehealth. It's been really nice to be able to witness the counselors… provide their services in person again. I think that that was probably one of the most notable shifts post-pandemic," said Rosenberg.
As the Hive team continues to look toward pandemic recovery, they are eager to continue providing resources to the community and deepening partnerships with the Boise area to make everyone's lives a little richer with music. 
"It really doesn't matter what type of music you play. If you've got a song in your heart and you want to sing it, come to the Boise Hive," said McQuoid.