ARP Grant Spotlight: Smart Growth America (Washington, DC)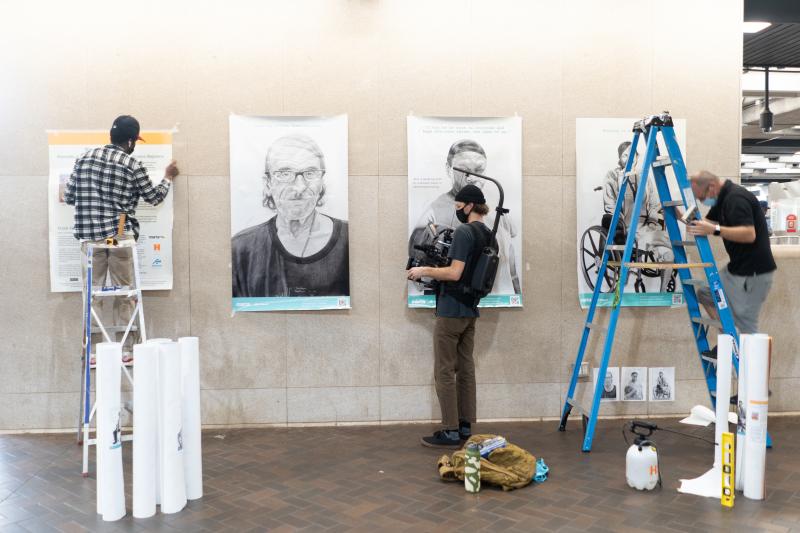 Neighborhoods across the country have faced a changing landscape of rules, regulations, and expectations during the COVID-19 pandemic. From using public transportation to sharing community spaces and shopping for groceries, safety guidelines were constantly in flux as more was learned about the coronavirus. For some, what used to be a mindless morning commute on public transit turned into an anxiety-inducing ride nearly overnight. Smart Growth America (SGA), a Washington, DC-based non-profit organization saw an opportunity to further their mission to help communities create environments that are healthy, prosperous, and resilient through creative placemaking.
Creative placemaking integrates arts, culture, and design into efforts that strengthen communities. This definition is intentionally open and broad because creative placemaking draws on all artistic disciplines, and can be deployed as a strategy to address a wide range of community issues or challenges from public health to safety, economic development to transportation. With funding from the Arts Endowment, SGA supports projects across the country, including community planning and designing transportation systems, so that they reflect and celebrate local culture, heritage, and values. Through this work, SGA convenes local transportation leaders, community members, artists, and public figures to design solutions to address their community's most pressing transportation challenges.
For SGA's arts and culture team, the tie between city improvement and the arts is natural. The team works with artists, arts administrators, planners, civil engineers, elected officials, community organizers, and transportation advocates to build relationships that produce programs that will benefit Americans suffering from transportation disinvestment, unsafe roads, and a lack of transportation options. These under-resourced communities are often made up of BIPOC (Black, Indigenous, People of Color) individuals and new immigrants, and are especially located in rural areas. The network has led the national conversation about the role of the arts in the Smart Growth movement , which reinvests in America's downtowns and main streets, the economic engines of big cities and rural towns alike. SGA is also a leader in transportation planning and design, launching innovative programs such as the Cultural Corridor Consortium, which partnered artists and arts organizations with transportation agencies and Metropolitan Planning Organizations (MPOs) to deliver more locally relevant projects, and the nation's first ever artists-in-residence at state agencies.
"Forming these partnerships is really the only way I know how to work," Ben Stone, director of Arts and Culture said. "I want to learn from people doing the work and facilitate their success. Changing national policy only makes sense if we can draw from actual, real world examples."
During the pandemic, SGA focused their expertise on addressing the challenges communities might face as work places and other public spaces re-opened. In a 2022 report entitled "Arts & Transportation Rapid Response," SGA outlines three artist-led projects to address COVID-19 transportation challenges. This second round of the Arts & Transportation Rapid Response initiative followed the successful first iteration.
One featured project in Atlanta, Georgia, addressed homeless ridership during the pandemic through a partnership between Atlanta's Metropolitan Atlanta Rapid Transit Authority (MARTA) and HOPE Atlanta, a local non-profit organization that provides housing, social services, substance abuse counseling, and employment to those who are experiencing homelessness. With assistance from Forecast Public Art, SGA selected and commissioned artist and social worker Franco Bejarano to design a piece that highlighted those experiencing homelessness, and increased awareness of MARTA HOPE resources. Through large-scale portraiture, the team sought to invoke feelings of compassion and raise the awareness of individuals who may not have been aware of people experiencing homelessness in their community. Bejarano designed ten large-scale pencil portraits entitled Street to Home, featuring MARTA HOPE clients who frequently use MARTA for both shelter and transportation. The drawings also portrayed individuals who have experienced homelessness in the past and are now securely housed.
The drawings spread visibility of Atlanta's unsheltered community in a way that instilled dignity and humanity while also creating awareness. Moreover, they served as resources to help support neighbors in need.
"Navigating the pandemic was a real opportunity to double down on what we've been saying for a long time; that artists have the opportunity to be crisis response people in many cases. They are connected on the ground with their communities and able to speak on their needs," said Stone.
As the nation continues to heal from the pandemic, Stone said that SGA's goal is to engage local artists to be a part of recovery efforts at every stage of the process, not just at the end.
"We have done a lot of pivoting, so access to flexible funding like the ARP grant is crucial. It's also allowed us to do things like work with our state [Department of Transportation] partners and run artist-in-residence programs because they're really hard programs to get funded for political reasons. People care about potholes on Main St., but if politicians are seen putting money into the arts, no matter how little, it can become the subject of a political attack in the state house," Stone said. 
"Culture work in America often does not look like a traditional work of art. We don't always have a photo of a mural or a sculpture or something that would sit in a logical way next to one of the other NEA projects. But it can look like a complete streets policy being adopted or working with an artist or a cultural organization. Artists can help show us the way," Stone said.