ARP Grant Spotlight: Spectrum Theatre Ensemble (Rhode Island)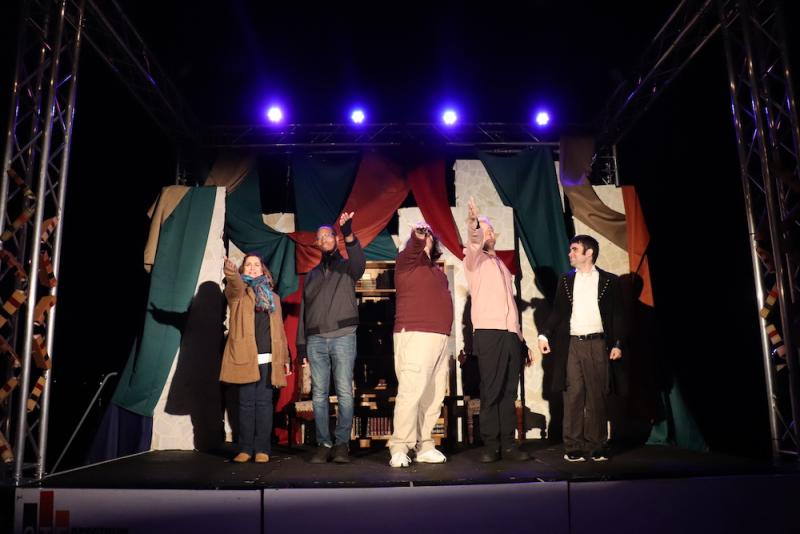 It is estimated that 1 in 7 people has a neurodivergent condition, meaning that their brain processes, learns, or behaves differently from what is considered "typical." Neurodivergence can take a myriad of forms, including autism, attention deficit disorder, and dyslexia, among many other conditions, the symptoms of which can sometimes make it challenging to engage with the arts. From collaborating with neurodivergent artists, playwrights, and staff to addressing sensory needs during performances, Rhode Island-based Spectrum Theatre Ensemble (STE) works to provide equitable opportunities for both neurodivergent and neurotypical people to engage with all that the company has to offer.
An important part of the ensemble's mission is to meet their community's needs while also serving as a model for other theater companies. "My goal is that by the time I leave STE, I don't leave a neurodiverse theater company, not because it won't be, but because it's not special anymore. Because every theater company is actually neurodiverse and I hope that they'll be proud of it," said Artistic Director Clay Martin.
The organization believes that theater provides a venue for the understanding and inclusion of as well as creative career opportunities for overlooked and underserved populations within Rhode Island. To that end, STE also focuses on addressing the lack of continued training and professional development available for neurodivergent adults. To further support this goal, STE is a recent awardee of a $100,000 American Rescue Plan Grant from the NEA, which will support staff salaries.
"When I joined the team, I really cared about STE not only from a professional standpoint of believing that we make really wonderful work but also as somebody who's neurodivergent and who believes that it's really important to include everyone regardless of how they process information," said Bay McCulloch, development director. "I find that environments with people who think in lots of different ways usually have the best ideas, as opposed to if you're in a homogenous environment where everybody's thinking and processing the same."
During the first year of the pandemic, STE moved its programming online and reached more than 6,000 people nationally through workshops, readings, and other programming. Throughout the pandemic, STE also leaned into a new program, Neurodiversity Everywhere, which features two full-length plays that will tour throughout Providence on an accessible mobile stage. The tour prioritizes communities with little to no access to live theater and BIPOC (Black, Indigenous, and People of Color) and LGBTQ+ communities as well as members of autism and mental health organizations.
The touring productions feature sensory friendly practices such as social stories, which map out exactly what to expect during the performance from ticket-taking to curtain call, and a sensory tent that provides a safe haven for audience members to take a break from the performance when they need it. These practices are part of the company's Neurodiverse Inclusive Certified Entertainment program (NICE), which seeks to standardize institutional sensory friendly practices to better serve neurodiverse audiences..
"Neurodiversity is everywhere and it exists in all parts of Rhode Island. We've only scratched the surface on what we are offering. In fact, Providence is 48 percent Latinx, and there is a massive underdiagnosed rate of autism on the spectrum in the Latinx community. That's half our city, and it has to be represented on our stage," Martin said. "If I'm not doing a play in Spanish in the next year, I'm not doing 'neurodiversity everywhere.' I'm doing neurodiversity if you speak English as your first language."
STE's Neurodiversity New Play Festival has also received NEA support through a Challenge America grant. The organization started developing 10-minute plays with neurodivergent artists in 2020 with the goal that this work would serve as a springboard for larger productions in the future.
"We had just connected with all these artists when the pandemic hit, and immediately shifted to online. But in that transition, we connected with so many playwrights around the country, we now have had over 70 submissions for the festival," Martin said.
"I want people to realize how prevalent neurodivergent expression is," McCulloch said. "That encompasses autism, but it also encompasses bipolar disorder and ADHD and dyslexia and a whole rainbow of different ways of thinking. And some people haven't had the opportunity to step into their most empowered self, based on the way that they think. And we really, really believe that being inclusive of all brains will make a better society."