The Artful Life Questionnaire: Brandon Gryde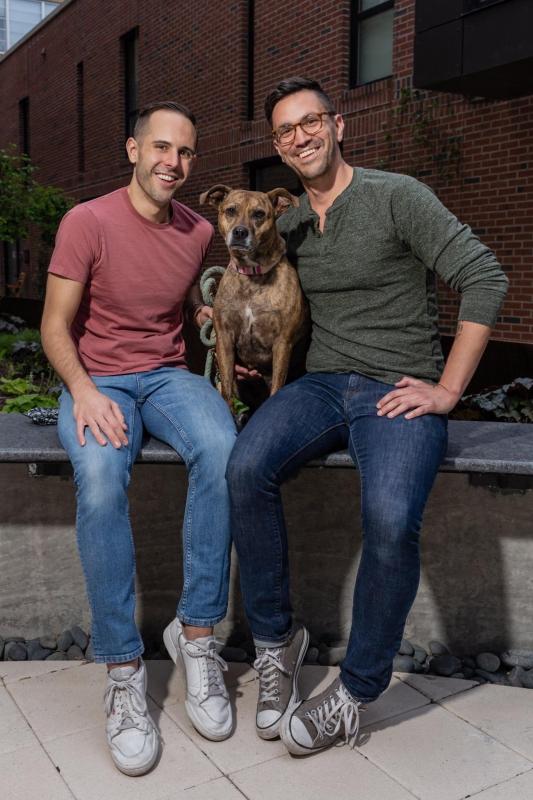 What we know for sure: We all have a story, and engaging with the arts helps all of us to tell our own stories on our own terms. We also know that there are ways to engage with the arts other than in formal cultural venues, and that sometimes it's more about the process of art making than it is about the end product. We also know that living an artful life, which is to say, living a life in which the arts and arts engagement are a priority means different things to different people based on their own interests, their communities, and many other factors, including equitable access. The Artful Life Questionnaire celebrates the diversity of ways we can make the arts a part of our lives, and, hopefully, inspires and encourages us to live our own unique versions of an artful life.
NEA: Let's start by having you introduce yourself.  
BRANDON GRYDE: I'm Brandon Gryde. I am a 45-year-old Mexican-Norwegian-German, who has lived in DC for 15 years now. I'm originally from Los Angeles and still carry that Angeleno part of me with me. I'm in a fantastic relationship with my partner, Ben, and we have this amazing nine-year-old pit bull. We enjoy sitting around on the couch watching a good TV show with a glass of wine. Professionally, I'm director of Presenting & Multidisciplinary Works and Artists Communities at the NEA. I've been there for just over two years and have really enjoyed the privilege of getting to know all of the folks in our discipline and having the opportunity to work with a great team.  
NEA: What are five words that come to mind when you think about the idea of living an artful life?  
GRYDE: Joy, fulfillment, entertainment, learning, and emotion.  
NEA: Pick just one of those words and expand on how you see its relation to living an artful life.  
GRYDE: I love, love, love to read. Not having to commute [to a physical workspace], I still spend probably that little bit of a cushion in between waking up and starting work reading for about a half hour, mostly fiction, but also a little bit of nonfiction. I really enjoy the learning aspect of, of reading. I think I've been very intentional—maybe in the past ten years, more so than I was when I was younger—of reading fiction representative of of different perspectives. Fiction allows you to explore multiple perspectives and beliefs and learn about a range of communities, their histories and traditions. So that's what I would make a connection to—the learning part of living an artful life.  
NEA: Where do you currently live, and what are some of the ways that your community tells its story through the arts or through creative expression?  
GRYDE: I live in the District of Columbia. Comparable to other cities, you have large institutions that are known throughout the country. You also have really thriving music, theater, visual arts, and dance scenes here that are just under the radar of what tourists might be aware of. It's nice for folks to be able to participate in something that's a little bit off the beaten trail, that is more community-centric. DC as a city has the whole federal government industry side, but also there's a thriving community that has a growing food scene, a thriving cultural scene, and a lot of activities happening in it that are really focused on the community of DC and not necessarily the U.S. capital part of DC. I also live in the Eckington neighborhood of DC, near the Metropolitan Branch Trail, and I daily enjoy the path's many murals on dog walks and bike rides.  
NEA: Is there a particular place in your neighborhood that is a creative touchstone for you?  
GRYDE: I enjoy finding spaces where there's opportunities to read and to have those quiet moments. I love those moments like that cushion of time right before work. To me that is a space where I get to not have to think about what's going to happen when I open up the computer. I enjoy going to the pool on the weekends, and sitting with my Kindle or a book and spending two hours just reading. I think particularly in the past couple years where, you know, we couldn't go anywhere; that morning reading time has been a place that has provided a little bit of solace and escape.  
NEA: What's your favorite informal way or space to engage with arts and culture?
GRYDE: We have friends who throw little cocktail parties, every now and then. Every time we go to their house, there's a moment where one of our friends sits down at the piano and starts playing. Everybody gathers around the piano and sings. It's not something that is a ticket-buying cultural experience, but it's, I think, one of the really joyful opportunities that we have to sit around and be with people that we love. Whether you're participating in singing or not, it's just fun to have people who are stepping up and attempting a song. Some people are great, you know, because [the group includes] a lot of folks who are also part of the arts and cultural space of DC. Some of us are awful, and that's also fun.  
NEA: Can you share an arts experience or a moment of arts engagement that has had an identifiable impact on your life?  
GRYDE: When I went to college, I went in with an undeclared major. My attempt was to try and find a pathway outside of the arts. I knew I didn't want to perform for a living, and I thought I needed to find something different. My sophomore year at UCLA I started taking a vocal jazz class after a friend recommended it to me. It was taught by the head of the program, Dr. Kenny Burrell, who is an NEA Jazz Master. I was a terrible, terrible jazz vocalist, but I really loved this class. Every time we had to sing, I was terrified. But I loved listening to my classmates sing, and I loved his instruction. He was just so good at guiding everybody in terms of thinking about what direction they wanted to take. After taking this elective for a year, I thought, this is my last chance to see if I can get into an arts program. So I literally put a note under Dr. Burrell's door during finals week my junior year of college that said, "This is my last chance to audition, and I don't want to do it if I'm wasting anybody's time." I got back to my room, and there was a message from Dr. Burrell, saying, "We'd be happy to have you in the program. You start next quarter. You have to audition as a technicality, but we're setting you up with private lessons." I never became a good jazz singer, but I had an opportunity to learn from so many of my classmates who were good jazz musicians. So much of the instruction [in that class] came not just from the teachers, but also from my classmates who were working professionals and were coming back for their degrees. [That experience] really helped when I figured out I wanted to pursue arts administration as a career. I could at least say I had an arts degree on my resume. I think it would have been harder to get started in this field without that experience.  
NEA: If you hadn't ended up in an arts career, do you think the arts would have still been part of your life?  
GRYDE: As a kid, I participated in musical theater programs. Growing up, I went to an arts high school in Los Angeles, and I was the kid that wanted to watch the Tony Awards every year. If I didn't have an arts job, I honestly have absolutely no idea what else I would do. But arts would definitely be part of my life because not only did my parents make it a part of my childhood growing up, but [the arts] were something that I personally attached myself to. I was fortunate to have parents who supported all those crazy interests of wanting to audition for the community theater as an elementary school kid and joining a youth Shakespeare program in junior high and all these kinds of things. So yes, I think the arts would have always been a part of my life, whether I was working in the field or not.  
NEA: Do you have a current art practice or a way of regularly engaging with the arts?  
GRYDE: I don't have even an amateur practice, in terms of art making, unfortunately. I sing in the shower and I sing around the house. I have a partner who works in healthcare who's also very musical. So we do have a house that is continually filled with music.