Behind the Lens: A Conversation with Film Director Luis Gerard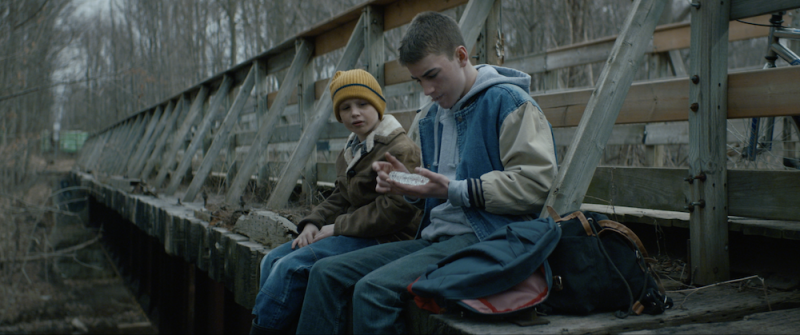 As a writer, director, and producer, Luis Gerard is what one may refer to as a "one-man-band." Born and raised in Puerto Rico, Gerard established a passion for the world of cinema by spending evenings after school in his father's arthouse movie theater studying film and learning how to operate the equipment. Gerard brings his signature realism to commercial projects for clients such as Ikea, Nike, and Mercedes, as well as narrative feature films, which have gone on to win international honors at the Cannes Film Festival, the New York Film Festival, and the London International Film Festival.
Gerard's recent film The Wake is a short that stars Emmy Award winner Isaac Kragten and Deaf actor Zander Colbeck-Bhola as brothers who navigate life surrounded by death within their parents' funeral home. The Wake recently won a Jury Award at the Thomas Edison Film Festival and received an Honorable Mention at the Oscar-qualifying Cleveland Film Festival. We spoke with Gerard about his artful upbringing in Puerto Rico, his creative process for writing and directing The Wake, his advice to aspiring filmmakers and writers, and what the world can expect next from behind his creative lens. 
NEA: What drew you to the world of writing and directing for film?
LUIS GERARD: My dad is a film buff. [He] always loved cinema, and I think he always wanted to study film, but my grandmother did not allow him to do that. He became an architect and an engineer, but I grew up very close to cinema through him. Even though he was an architect, he had his passion business on the side, which my grandparents ran for him—the first arthouse movie theater in Puerto Rico. Often, my grandparents would pick me up after school when they went to the cinema; the first screening was around 4:00 pm. I would do my homework in the theater, and I would also watch movies.
There's no film industry in Puerto Rico, so I didn't think of it as a possible career path. It wasn't until my second year in college that a friend said, "Why don't we do a short film?" And that was kind of like a switch in my brain! A few months later, we were shooting a short film, and it did well in the film festival world. The film premiered at the Venice Film Festival in Italy, which was the first time a Puerto Rican film had competed there. That gave me the confidence to continue that path. With the [production of] The Wake, it's me trying to find my way back into the career that I wanted after years of doing mainly advertising.
NEA: Could you explain the creative process that went into your vision for The Wake?
GERARD: I wrote [The Wake] in early 2017, and it was one of those things that I wrote, not necessarily thinking that I was going to produce it or direct it. I wrote it quite fast, but part of it came from reading an article that left an impact. That year in the United States, there had been over 360 mass shootings, so it was an average of one per day. I thought, "Maybe it'd be interesting to write something that deals with gun violence," but from a different standpoint. Make it a little less black and white with characters that are still innocent. Kids sometimes have an infatuation with guns, and you see that all the time—kids playing video games or going to the toy store and buying plastic machine guns or pistols. For a kid, sometimes a weapon is a symbol of power. They don't necessarily take it seriously or [think] that they can inflict damage with a gun in their hands.
Eventually, I came up with the idea of two brothers that grew up in a funeral home. Because the wakes took place at the funeral home where they lived, when someone died in the neighborhood, they knew where the [dead neighbors] lived and that their place would be empty, so they could go and steal.
NEA: The film was not line or dialogue heavy. Can you explain the strategy behind this?
GERARD: The answer probably lies in my first black-and-white short film, which had no dialogue; it was quite a complex story about a kid growing up with his mom. In 15 minutes, the film showcased different key moments in his life until he became an adult. I remember I went to my father about [that] film, and his advice was, "If you're going to do a short, do something with no dialogue because that's the best way to know if you can tell a story." That was fantastic advice because I learned the value of narrating without the necessity of words. I love the visual storytelling aspect of cinema and not depending on actors to explain the storyline with dialogue. I guess you see that in The Wake. Most of the film is silent, but it feels organic because one of the main characters is deaf. 
NEA: The role of Walter was played by Emmy Award-winning actor Isaac Kragten. Did you know exactly who you wanted to play each character? What role did you play during the casting process?
GERARD: I did not know Isaac. I spent a lot of time in Canada, where the film was shot. We spent about four months casting. It was a long process; we searched for two kids who could act and look like siblings. To complicate matters, one had to be deaf. Eventually, I was lucky to find Isaac. He did a great job as an actor; he also took the role seriously because it was demanding. He had to learn his lines in sign language and the role was also physically demanding, with a lot of cycling and running. But the most challenging aspect of the casting process was finding someone with a certain charisma, an angel, because [Isaac's character] is a bit of a sociopath and the things he does are questionable. He has a relationship with his brother and cares for him, but at the same time, puts him in danger. I remember someone who watched the film when it premiered at Cleveland [International Film Festival] said to me, "That boy—I don't know if I liked him, but I cared for him." That's exactly what I wanted. 
NEA: With the addition of Zander Colbeck-Bhola, who is deaf, what were some of the major differences in how you directed the cast?
GERARD: With Zander, the process was a little more challenging. When I started casting, I had to choose between two paths. One was to find an actor who would play as deaf or find the real thing. I thought about it for a bit, but I was always sure I wanted to go for the real thing. I didn't know how complicated that would make my life. Directing Zander had to be done through an interpreter, and it wasn't just one; I needed two because they would get tired after a few minutes of translating. I also had Braden Kenopic with me, a young actor who in real life is deaf. He was the one who taught the cast their lines in ASL (American Sign Language); he sat next to me on set, making sure that the take was right. Sometimes, a little thing in the hands or fingers can mean something different, so he would tell me when the take was good. Brendan was the first to see the film when I had my first cut. I wanted him to tell me if there was something wrong with the takes I had chosen so we could change them. To my surprise, he wrote back saying that the signing was perfect, which is a credit to him and the cast.  I didn't want someone from the Deaf community to watch the film and go, "What the hell is that? That's wrong. That's inaccurate." The perfectionist in me wouldn't be able to live with that so I was very thorough with the sign language.
Working with Zander was a learning experience. I went to his home a few weeks before starting the shoot because Zander was very shy, so I wanted to make sure he was up for the task and clear on what I needed from him because he had never been in front of a camera. That night was a very enlightening experience because [most of] his family is deaf—kind of like Coda. The youngest sister is the only one who can hear and speak, so I learned a lot by watching the family dynamics, mainly how they communicated among themselves. If a brother wanted to call the other, they would switch the lights on and off or stomp on the floor. I incorporated some of those things in the film because it added realism. This experience expanded knowledge and understanding of the Deaf community, something I knew very little of before embarking on this journey. 
NEA: What projects are next for you?
Gerard: I have a few things that I'm working on. Last year, I wrote a script called Where Only the Devil Dares. It's a story that I've had in my head for a long time, 12 years. I wrote the outline back in 2010, but I never wrote this script. It wasn't until last year—I had a little more time with COVID—that I sat down and wrote it. It's similar to The Wake because there is social commentary wrapped in genre. There are elements of drama and thriller mixed together. Also, I'm in the process of writing a feature version of The Wake. The first act is very similar to the short film, but then it evolves into something a little different. Then I have two other projects—one called a Blind Eye, which has to do with illegal immigration. And again, it's elements of drama and thriller.
NEA: What advice would you give to aspiring filmmakers and writers?
Gerard: I think it's a tough industry, so you need to develop a thick skin. The industry is more open than ever, which is great, but that creates other challenges. There are more people in the industry now, and anyone can go and shoot something. It's hard to get people to read a script beyond page ten, especially if you're an unknown commodity. Unless you are an established writer, it's not easy to get decision makers to read your material, making it harder to break through a crowded industry. The key is to create your own projects and opportunities no matter the challenges.