A Conversation with NEA Literature Fellow Honorèe Fanonne Jeffers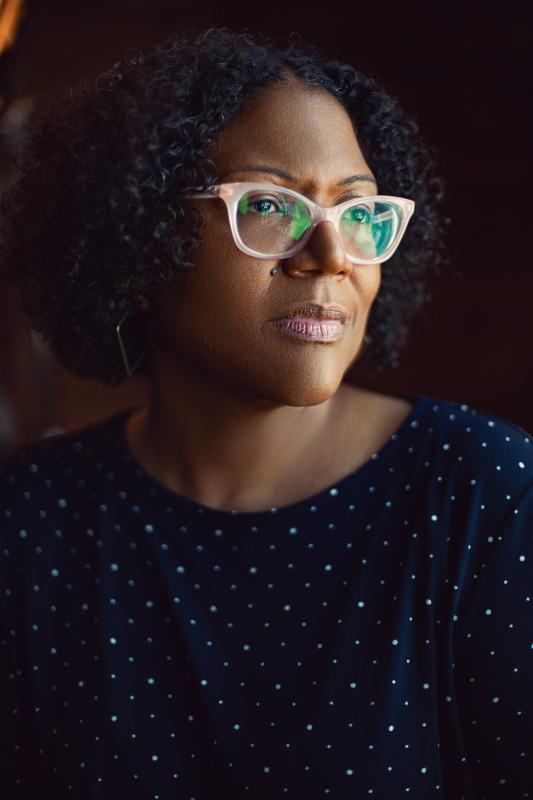 UPDATE: If you've taken a look at any literary "Best of..." lists or nominations for major book prizes, you've no doubt seen the name Honorée Fanonne Jeffers whose first novel, The Love Songs of W.E.B. Dubois has garnered a fan club—and list of honors—that keeps growing exponentially. But lest you think Jeffers is an overnight success, her latest triumph comes from decades of hard work, including the 2020 publication of her most recent volume of poems, The Age of Phillis, written with support from an NEA Creative Writing Fellowship. Here's our conversation with her about that collection, the importance of NEA support to her work, and the power of persistence.
Poet and NEA Literature Fellow Honorée Fanonne Jeffers is tired.
Her most recent book took more than 15 years to complete. The Age of Phillis, a work of poetry and biography, chronicles in verse the life of Phillis Wheatley Peters, an enslaved woman who became America's first Black poet to publish a book. The book required an immense amount of scholarly research and emotional labor to write. Jeffers, using funds from her 2011 NEA Literature Fellowship, travelled to West Africa to better understand Peters' life before she was stolen from her family and sold into slavery. Here in the United States, she scoured census records and historical documents while digging deep into her own well of personal experience to give readers a glimpse into Peters' inner life.
Since the 2020 release of The Age of Phillis, Jeffers has received numerous awards and honors. The collection was longlisted for the National Book Award, and it is a finalist for the Pen-Faulkner, the Los Angeles Times Book Prize, and the Oklahoma Book Award. Jeffers was also awarded the $50,000 USA Fellowship, supported by the Andrew W. Mellon Foundation. Most recently, she won the prestigious NAACP Image Award for Outstanding Literary Work – Poetry.
Jeffers spoke with the Arts Endowment about finding the parallels between her life and Peters', the role the NEA played in helping her persist with the work, and the importance of imagining the inner life of this phenomenal 18th-century woman.
NEA: How did it feel to win the NAACP Image Award as a Black poet writing about America's first published Black poet?
HONORÉE FANONNE JEFFERS: You know, I was really shocked! I swore I wasn't going to win because I wasn't campaigning to have people vote for me. I just don't have time for that right now. I got to tell you, it is amazing. I put everything I had into this book. When I finished this book, I had to take a rest, because I didn't have anything more to give. I had to gear back up to put what I had into the novel [I was writing] again. But, I worked on this book for more than 15 years. I just feel like it's a miraculous journey. I was doing well as a poet, but I think every writer wants to have the recognition of their peers. And to have the recognition of my peers for a book that I put every single bit of soul that I had into it is wonderful.
NEA: The Age of Phillis gives a glimpse into what Peters' inner life might have looked like. Why was it important to you to not only provide a biographical narrative of her life, but also explain how she might have felt, what she might have hoped for?
JEFFERS: Well, even before I started working on this book, I read a lot of history about Black people, early African-Americans of the 18th and the 19th century. And then, when I started doing research for this book, [I did] a deep dive into research on the transatlantic slave trade – and that is a horrific moment in American history. I think that the only period in American history that is more horrific is the removal of the Native Americans, and forcibly wrenching them from their homeland.
I wanted to honor Miss Phillis's sacrifice, the sacrifice of this little bitty girl—she was between seven and eight years old when she disembarked from the brig called Phillis and was named for the slave ship. I wanted to not only honor her, I wanted to honor her parents. I wanted to honor all of those people whose names were lost to history.
When [historians and scholars] were writing about her, they would write about her life in Boston. They would write about print history. They would write about the white people that she spent time with. But nobody ever wrote about her feelings. I felt like that was really important. If you cannot imagine a historical figure as a human being, then you have missed a large part of their life.
What I try to do is I try to think about my own feelings as I'm thinking about this little girl being ripped from her parents. What are my feelings as I'm thinking about this little girl who was forced to set aside her natal language and learn a new language? And who is probably very bewildered about where are her parents. What are her feelings about this white lady, Susanna Wheatley, who's nice to her, but owns her as a slave? I thought about how I was feeling as I was thinking about these issues, and then I tried to move those feelings into what her feelings may have been. I did this because there are very few white scholars who really consider how Black people are feeling. Even the fact that people insist on calling her "Phillis." Nobody calls Thomas Jefferson "Tom" or "Thomas." Right? You may notice I will either call her "Phillis Wheatley Peters" or I will call her "Miss Phillis." But people refuse to give her respect. And that pissed me off.
One thing that just keeps coming back to me is when she was in London and she was taken to the Tower of London. They had animals that were chained up and one of them was a wolf called Phillis. I thought [about] how would I feel that somebody white would take me to go see an animal, a wolf, an ancestor to a dog and, say, "Hey, this wolf got your name?" Like, how rude is that? At the same time Miss Phillis is keeping on her shoulders the entire humanity of Africans because some white people were debating the humanity of African people. I think that it was not just my feelings, it was also just common sense to consider how she might have felt in that moment. And I'm confused as to why I'm the first person that has talked about this in print. It's common sense to consider how she felt seeing an animal that's enslaved with her name. Why wouldn't we be thinking about that, examining that emotionally, critically, all of that?
NEA: In the poem "How Phillis Wheatley Might Have Obtained the Approval of Eighteen Prominent White Men of Boston to Publish Her Book of Poetry," you imagine how a young Peters' would have experienced a room full of white men. You write that she smiled to stay alive, and you know this because you've been in the same position of smiling to survive, to advance your career. Can you talk a little bit more about that and why you chose to address the reader in that moment?
JEFFERS: We're not really sure at this point whether that meeting ever took place, but I wanted to be very respectful about it, because it was kind of a hypothetical that Dr. Henry Louis Gates had posed back in 1985 in [his introduction to a special issue of] Critical Inquiry. However, the scholar Joanna Brooks, did forensic evidence to prove that it wasn't possible for there to have been a meeting [between those eighteen prominent white men and Miss Phillis]. But still, I felt like I had to confront that imaginary moment.
Though I don't confront this issue overtly in that poem, I did consider that Black women's sexuality was stolen from them many times. They were sexually assaulted. Whenever you walked into a room with white men, there was always that moment where you were going to be sexualized or that possibility that you would be sexualized, and there's still that for me [in contemporary times]. I have had white men, famous white writers [do this].
So when I thought about her, what if she had been in that room with eighteen white men? What would she have felt? I knew it would be even more than what I had felt in my own moments because at least I was free and I was also a woman in my 30s when [I was sexually harassed at a dinner party]. If this was 1772, she was something like 17 or 18 years old, a young girl, still in childhood. She probably would have been afraid.
There's a review [of The Age of Phillis] on Goodreads. People always say, "Don't read those. Forget them," but you can't help it, and most of them are very, very kind. But there's one that said, "Meh, I wanted more of Phillis and less of Honorée." There was no way that I could write that book without connecting to myself to Phillis Wheatley Peters because she is the mother of African-American literature. I can't be here talking to you on this phone about a book, any book, not just a book written about her, any book without it going all the way back to her. She made this moment in my life possible. Every Black writer you see in America, Phillis Wheatley Peters made their lives possible. Whenever I think of her, there's always my shadow. Whenever I think of myself, there's always her shadow.
NEA: You make a lot of connections between Peters' experience and that period in history to what is happening today and your own life, showing that history really isn't that far away.
JEFFERS: No, it really isn't. William Faulkner wrote, "The past isn't dead. It isn't even past." I remember when I was watching the news on livestream on January 6 [,2021] when those white supremacists stormed the U.S. Capitol, and I just was like, "Is this what my ancestors felt when they saw lynch mobs?" and it went all through my body. I was screaming and howling and crying, and I felt sick. It felt like somebody had opened up a history book, and the pages had come to life, and not in a good way. When we think about historical fiction or historical literature, we always think of the cute stuff, the ladies in the bustiers and the panniers, and silk and lace. We think of Bridgerton or something like that, but there's a lot of ugly [white supremacy] to [Western] history.
NEA: How did your 2011 NEA Literature Fellowship help you write this book?
JEFFERS: Let me tell you a little story. I was at the American Antiquarian Society (AAS) in 2009, which is where I decided to write this book. Before then, I was only going to write a handful of poems to include in my fourth book, The Glory Gets, which came out after I won the NEA [fellowship]. Then, I decided, when I began to find gaps in the historical research [on Wheatley Peters and her husband, John Peters], that I should write an entire book, and I had that with the encouragement of my American Antiquarian Society mentor, Caroline Sloat. While I was there at the AAS, I gave scholarly remarks, and then I read from the poems.
When you're a poet—and by that time I had been publishing for 12 years—you understand the power that your presentation of a poem has on an audience. So, when a young white man, Jonathan Senchyne, came up to me and he was like, "Honorée, that was so wonderful," I was thinking, "Well, of course it was." Then he said, "When are you going to Africa?" I said, "I'm not going to Africa," because at that time, I was very cranky about the transatlantic slave trade and enthusiastic West African participation [in the trade]. It wasn't just [that] they didn't know what slavery was. By the time the child who would be renamed Phillis Wheatley was stolen into slavery, the slave trade had been going on for over 200 years, so I was very conflicted about going to Africa. I had a lot of grief and anger but of course that's not realistic because the people who are there now [in West Africa] are not the people who were involved in the transatlantic slave trade.
So I told [Jonathan] I wasn't going, and I will never forget he said, "You're going to start her story with slavery?" He named something that I hadn't even thought about, and I was so embarrassed. Then I was mad. But when I got back home, it just kept reverberating that I was supposed to be telling a story that nobody else had ever told, and here I was doing what everybody else had done.
I said [to myself], "I don't have the money to go to Africa. That's a lot of money." I applied to the NEA thinking I wouldn't win, and [when I received the fellowship,] I cried like a fool. That's when I knew I was meant to write the book. There have been other moments like that where I wanted to give up because this was a hard book to write. I can't even tell you the toll it took on me, though I don't regret one bit of it.
There were moments where I was frustrated. It took me about eight years before I even knew how to frame the book. Frustration, exhaustion, grief, it was a lot. I am not going to lie; I wasn't always sure I was going to continue this project. The only reason that I truly did was because there were so many people who were counting on me. There were scholars who were like, "We can't wait for the book." When you've said you're going to write a book, you can't, 10 years in, say, "Psych!" I knew there were so many people counting on me, not the least of whom was Miss Phillis. She was counting on me, and I could not let that lady down.