Our Town Grant Spotlight: SMALL TOWN * BIG ART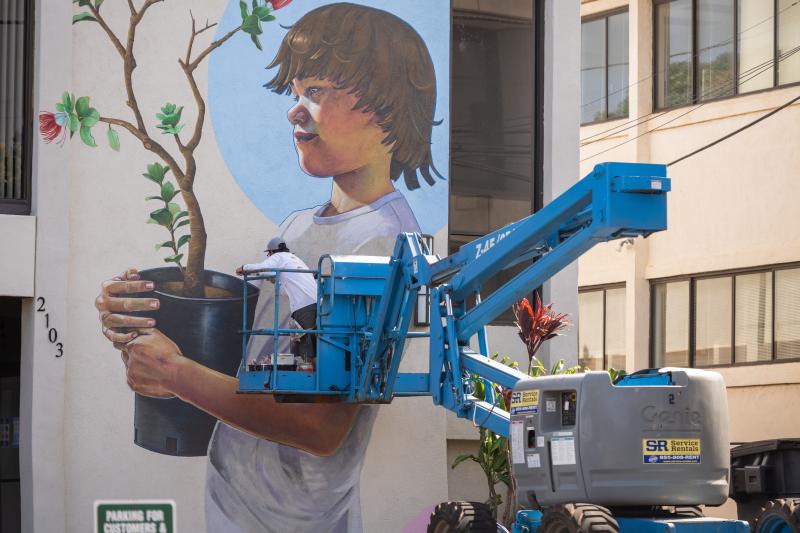 In January 2020, a human-sized Chinese food to-go container greeted visitors to the Maui County Building. The sculpture, which reads mahalo, thank you in Hawaiian, across the top, was installed outside of the mayor's office as part of a creative placemaking project in Wailuku Town, the county seat of Maui. 
The project, SMALL TOWN * BIG ART, received a $75,000 Our Town grant from the National Endowment for the Arts in 2018. The County of Maui collaborated with the Maui Historical Society on the project in an effort to celebrate the unique culture and history of Wailuku through a variety of public art installations. 
"Chinese Take Out: Super Size" was created by artist Sean Baba. The installation was intended to recognize Wailuku's Chinese population, which has been a part of the town's culture for generations. 
"When I created this, it was received beyond what it represented to me, and the diversity of who gravitated to it was overwhelming," Baba said of the sculpture.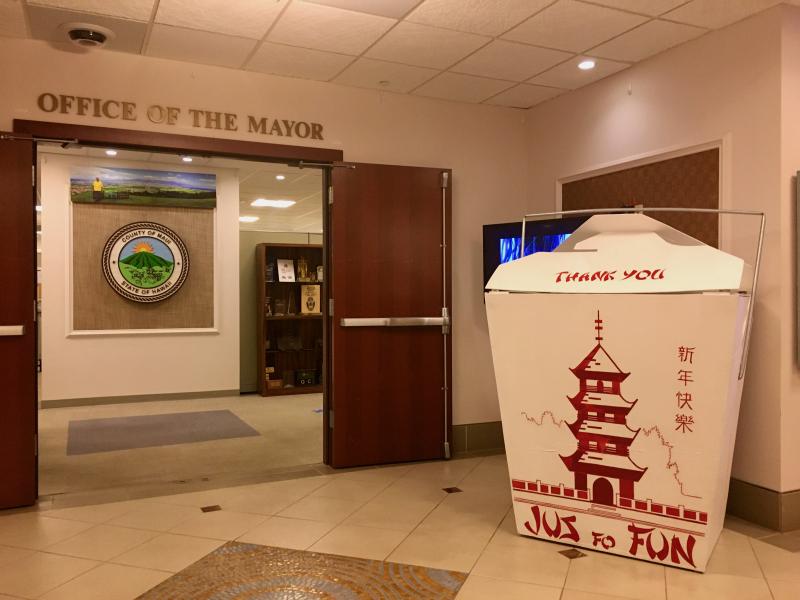 Kelly McHugh-White, a public art specialist and manager of SMALL TOWN * BIG ART, said that Chinese families in Wailuku approached members of the project to thank them for recognizing the place of Chinese culture in Wailuku's history and to provide their own stories about the history of the Chinese in the area. 
"These people that devote their lives to creating historic record of their lineage are now coming to us because they see the community engagement power that the arts have," McHugh-White told the Arts Endowment.  
Incorporating history, specifically oral histories, and community elders is an essential aspect of SMALL TOWN * BIG ART. As part of the process of selecting and creating the public art installations, conversations between Wailuku elders and younger generations are recorded, then condensed into a three-minute clip. Those clips become the request for proposals (RFP) that artists choose from. 
McHugh-White said that throughout the course of the project, kupuna stories—elder stories—have held significant interest for the community. 
"We're hearing now from people that can't afford to live here anymore and have been displaced that when they're homesick, they just go on our community consultations [webpage] and just cry and listen to elders talking about growing up in Hawai'i," she said. 
Once artist proposals are received, a community panel selects the projects that will move forward. Artists then speak with Kumu Hula, master teacher of Hawaiian dance, Sissy Lake-Farm about their ideas. She takes key words from their conversations and based on those words, chooses a selection of proverbs from Ōlelo No'eau, a book of proverbs and poetry by Mary Kawena Pukui, who wrote the Hawaiian dictionary. 
Together, she and the artists narrow down to one proverb that connects their project to Wailuku. For "Chinese Take Out: Super Size," the proverb selected specifically addressed the Chinese community: O ke aloha ke kuleana o kahi malihini, love is the host in strange lands.
"[This process] started to resonate really strongly with our cultural community," McHugh-White said. "We've got the artists' market because we're offering them funds to do something wonderful. We have the elder community because it's their stories and ideas that are being brought to life. And now we have the cultural community through the work of Mary Kawena Pukui – they're feeling that there's a place for them at the table."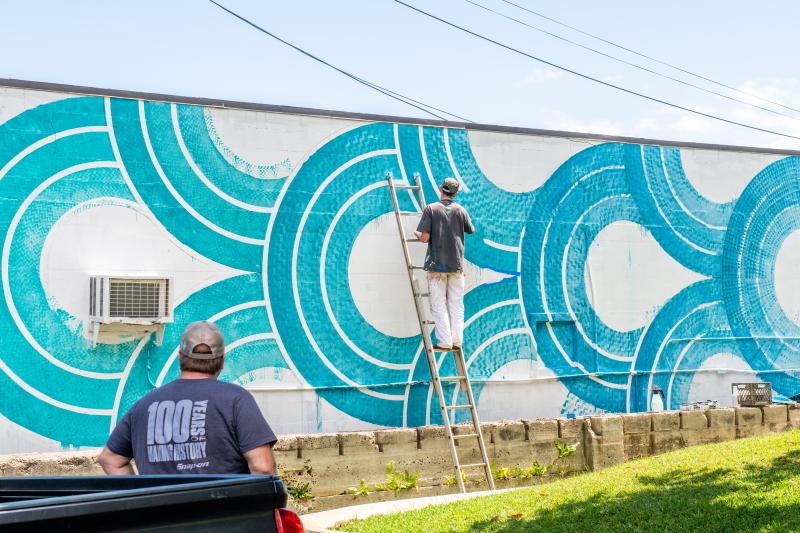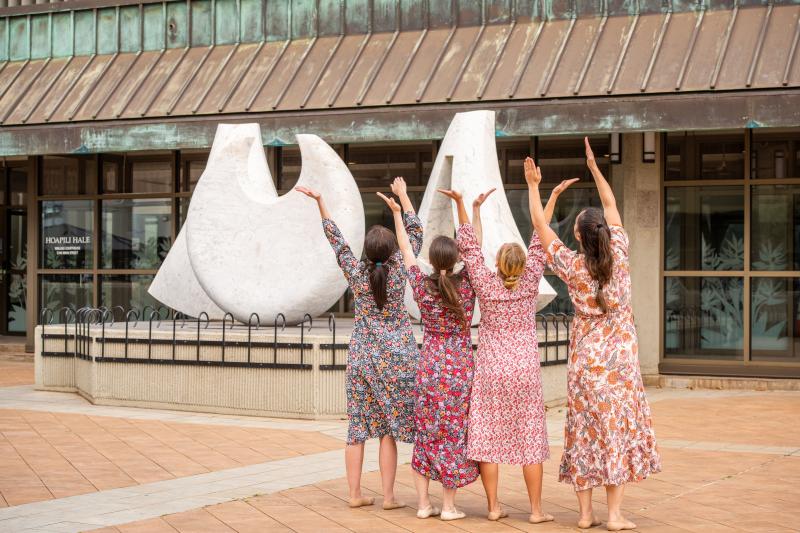 The SMALL TOWN * BIG ART website notes the artworks represent a "revitalized identity" for the Wailuku. The aim of the installations is not to project ideas or dreams of the future, but rather to ground the town's identity in its existing history and culture. 
Both the community and the SMALL TOWN * BIG ART leadership valued local artist participation, and McHugh-White said one of the initial goals was to highlight the existing arts entities in the area. At the same time, she said that it was vital to acknowledge they weren't operating in a vacuum. 
"What's important for us…is that the spirit of aloha is shared with the world," she said. 
"We love that the community wants to celebrate their local artists, but we also want to make sure that we're inviting new artists to learn lessons from Wailuku and share them with the world and spread what's happening."
Gaining community trust throughout the program was accomplished in part through partnerships with institutions across Maui (Our Town projects require there be a partnership between a nonprofit organization, like the Maui Historical Society, and a local government entity).  
"We try really hard not to put ourselves in a position of being the factual sources, but instead to put ourselves in the position of being community builders, of connecting dots within the community," McHugh-White said. 
McHugh-White is a white woman from New York, and although she has lived in Hawai'i for 15 years, she said she cannot act as an authority for the diverse cultural communities with historic roots in Wailuku. Working with different institutions in Maui has provided a level of accountability and accuracy to the projects that is important to community members. 
"All of these institutions are made up of people, and social capital is the most valuable capital, isn't it?" she said. "So if someone's telling me, oh, that species of fish, doesn't live in that part of the river, I can say, well, I've been working with the Department of Aquatic Resources specifically, Uncle Skippy Hau who ran that department for 30 years, and he told me it was." 
"And then they're like, oh, got it. You know what you're talking about."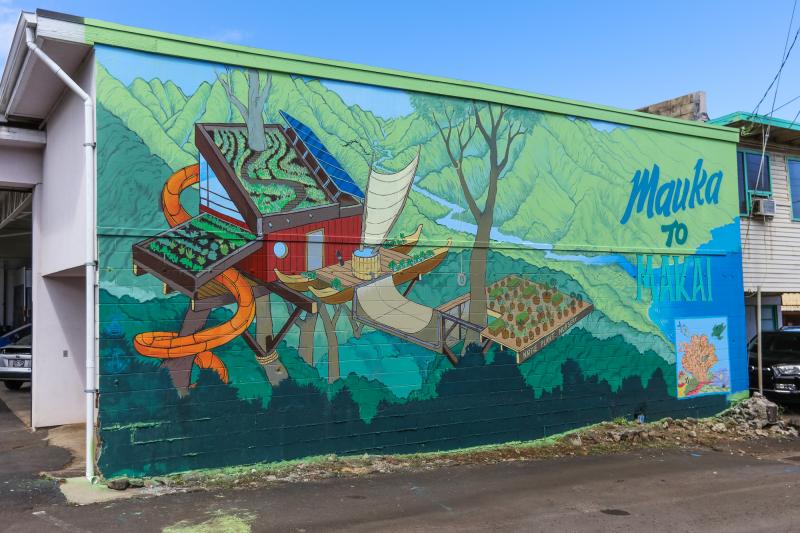 SMALL TOWN * BIG ART has garnered so much community enthusiasm that the program is now being scaled to a countywide initiative. Three new towns have been selected for the expansion, with Wailuku's program continuing with the help of an additional $30,000 grant from the Arts Endowment, which will also support the development of a public art master plan for the county. 
"Having that NEA stamp of approval is gigantic for us," McHugh-White said. "Just having the national investment and the caliber of the NEA people. I don't know that [people] would be listening as intently without it."
The challenge, McHugh-White said, is ensuring that SMALL TOWN * BIG ART and similar programs can continue without gentrifying the area.  
"This thing has splintered into so many different directions beyond our intentions because we are being so sensitive to what's resonating with the community," she said. "It's been a big zigzag. It is not a straight line. And it's been fascinating to be along for the ride, even though we're the drivers."