Poetry as Play: A Conversation with 2022 Poetry Out Loud National Champion Mia Ronn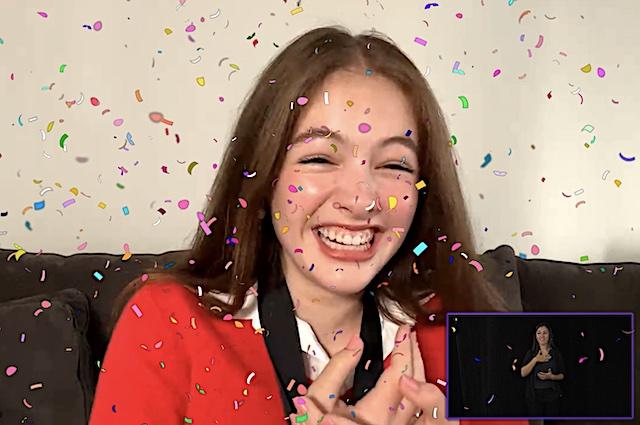 It was a year of firsts for the 2022 Poetry Out Loud National Finals—for newly crowned national champion Mia Ronn, it was her first time ever participating in the recitation competition. She is also the first student representing California to earn the top prize.
Ronn, a rising senior at the Archer School for Girls in Los Angeles, California, was named the 2022 Poetry Out Loud National Champion on Sunday, June 7. She competed against eight other students from across the country for the national title and the $20,000 grand prize. Aidyn Lorin Jai Reid, representing Colorado, received second place and Oscar Manuel Landa Samano, representing Arizona, came in third. You can learn more about Poetry Out Loud and all of this year's state and jurisdictional champions in the program book.
The National Endowment for the Arts spoke with Ronn on Monday morning following her big win. Our conversation, conducted via video conference, is below.
National Endowment for the Arts: What went through your mind when you heard that you were the National Champion?
Mia Ronn: I think it took me a minute to process it. It was total shock. I was still on the [video livestream] and my entire family came running into the room screaming. So, it was a little bit of chaos, and I was trying to re-center and process what just happened. But once I got my feet back on the ground, I was just totally overwhelmed with joy. I feel so lucky!
NEA: Going back to the beginning, how did you first get involved in Poetry Out Loud?
Ronn: It was all thanks to my theater teacher, Ms. Poverstein, she's absolutely wonderful. My theater class, which is called the Drama Queens, is sort of like half class, half theater troupe. We all entered into the school competition and it was mostly just the theater class, which was super fun because we're also all really close and we got to help each other out. It was a super fun process at school.
I hadn't heard of Poetry Out Loud previously. And when I did, I was like, "Oh, this sounds really cool. This sounds like something really up my alley as somebody who really loves the written arts and really loves performance and theater." And so, all thanks to my theater teacher, it just kind of snowballed from there, and it was so exciting.
NEA: What was the hardest part about participating in Poetry Out Loud?
Ronn: As somebody who really loves theater, I think finding the line between the kind of performance that I was used to and the spoken word poetry that I had very little experience with previously was difficult. I think there's a lot of crossover and a lot of similarity between the kind of performance I'm used to [and poetry recitation]. It kind of felt like performing a monologue, but at the same time, I get to play with the words a little more.
Really finding that line and finding a balance between using the skills that I had previously from acting and balancing that with finding, "What's different here? And what's new? And what can I do with this? And how can I experiment here in ways that I haven't previously? And where do I have to kind of pull back and realize that I am not performing a character in the same way?" I would say that finding that line was one of the more difficult pieces.
NEA: And what would you say was the best part?
Ronn: To echo what I said about the more difficult side of finding that line, it was also really fun to be able to kind of play with words. I love talking, and I love writing as well and playing with words. It was really fun to be able to take performance that I love so much and storytelling and really just use words as tools. [During yesterday's finals, the host, poet and educator Kwame Alexander] talked about words as tools and as weapons and as such a magical thing. I think that's something that resonates so deeply with me, as I was the baby who was talking crazy early, always just grabbing strangers' hands on the streets and trying to start conversations with them. I love using words, and so that was just incredibly special to be able to play with that so much here.
NEA: How would you describe your POL experience in just three words.
Ronn: Shocking, joyful, and memorable.
NEA: What have you learned about yourself through this process?
Ronn: I think that I learned a lot about how I can use poetry to connect further with myself as a writer—how I can use performance to learn more about the written process. I've always loved writing, but I haven't had quite as much actual experience with it in training as I have had with performance and storytelling. To be able to learn how much the two connect, and how much the two cross over, was really special. I hope to take that into the future more and continue to write, because this has really inspired me to get back into writing more. Above all, it's reminded me how much I love poetry and how much I would love to get back to writing it myself.
NEA: Of the three poems you recited for the final, which would you say is your favorite and why?
Ronn: I would have to say "No, I Wasn't Meant to Love and Be Loved." I think that that poem, it felt the closest to a monologue to me. It was just so fun to play with, and I spent so much time going over that one. The use of language in it is so beautiful—it's this really passionate conversation and this really beautifully written piece that's just so poetic. I'm going to be honest, it took me like 15 reads through to really get in there and comprehend what Mirza Asadullah Khan Ghalib was saying, because there's just so much happening underneath the words and it's so passionate. I spent a lot of time talking to my theater teacher about it. She was so helpful throughout the whole process, and we spent a lot of time playing with the different possible meanings. That was just such a blast with that one.
NEA: As a writer and reader yourself, are there any other poets or writers that inspire you or resonate with you?
Ronn: The first writer or the first poet who always pops into my head is Mary Oliver. My dad and I are very close, and he introduced me to her at a pretty young age, and just the way that she talks about nature and the way that she describes the natural world, that's always resonated with me very deeply as somebody who really loves being outside. Especially with my family and with my dad. We used to go on hikes all the time, and we still go on walks, a lot of the time at night. We just love sitting in silence and listening to the birds, and I think Oliver puts into words so beautifully that connection between humanity and the natural world. That's always been really special to me.
NEA: Do you have any advice that you would have for students who are considering participating in Poetry Out Loud next year?
Ronn: Just jump in. I hope that even more students can be introduced to Poetry Out Loud because it's really such an incredible experience. Most of the students at my school didn't know about it previously, and I was so excited that it was brought into my school, because it's just such an incredible opportunity to learn more about yourself as a performer and a reader and hopefully a writer as well.
I hope that it's going to be in person again soon, because as wonderful as this was, I really loved connecting with the other performers over Zoom and I wish that I could have met them in person. They were all mind-blowing. I was sitting there last night watching this just in awe, and I hope to meet them someday.
My advice to anyone participating, or hoping to participate, is just soak it in. Really just enjoy it. Jump in headfirst. If it's new, if you don't really know much about it, it's such an incredible opportunity to connect with other students and with yourself. Also, pick poems that really resonate with you. I think that was massive for me. I remember I found the poem "Two Guitars," because I was looking through all of the poems about music, because music is one of the most meaningful things to me. That was just monumental in being able to connect to them and the performance. That's what I think really makes a performance genuine is when you really care about the material.
You can learn more about our 2022 Poetry Out Loud National Champion Mia Ronn in the video below!