Seven Things You Might Not Know About It's a Wonderful Life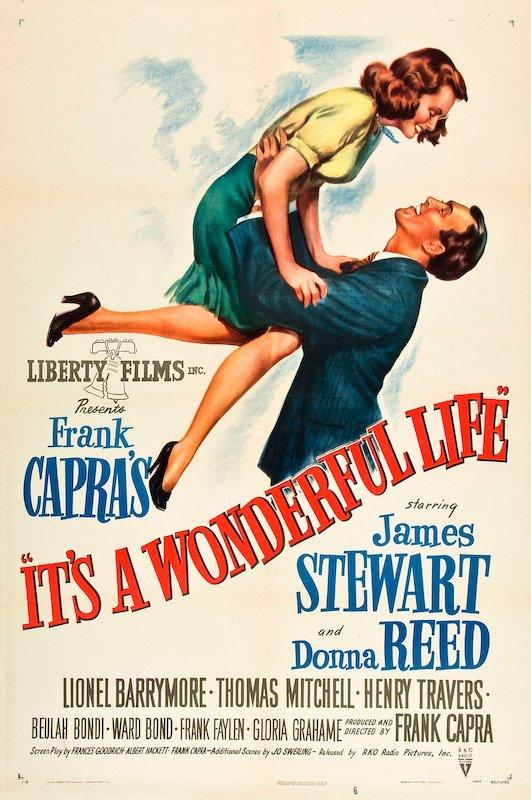 We admit we're not sure if it's actually true that every time a bell rings an angel gets its wings, but we do know that no matter how many new holiday movies are released each year, It's a Wonderful Life still tops the list for many of us. Here are some festive facts you might not know about this enduring Christmas classic.
Did you know… When It's a Wonderful Life was released in 1946, it was a box office flop for RKO Studios. And the critics were also lukewarm on it. It didn't become a Christmas classic until its copyright lapsed, and broadcasters were able to show it royalty-free.
Did you know… The short story on which the film is based—Phillip Van Doren Stern's "The Greatest Gift:"—wasn't initially much of a hit either. After being rejected by several publishers, Stern self-published it in 1943 as a Christmas novelty for roughly 200 family and friends.
Did you know… Even though audiences and critics were initially meh about the film, it still garnered five Academy Award nominations, including one for Best Picture. (Samuel Goldwyn's The Best Years Of Our Lives ultimately won the top prize that year.) Among the numerous Best of… lists it's been added to since its inauspicious debut, it's also part of the National Film Registry of the Library of Congress, which recognizes films that are "culturally, historically or aesthetically significant." (The Library has recently announced the latest additions to the National Film Registry.) 
Did you know… Though it seems impossible that anyone but Jimmy Stewart could play George Bailey, Cary Grant and Henry Fonda were also considered for the lead role. Stewart and Grant later appeared together in the film The Philadelphia Story with Katherine Hepburn. Stewart and Fonda were roommates for several years in New York City while both actors honed their skills in live theater.
Did you know…  The studio's special effects lead, Russell Shearman, invented a new type of "snow" for the film, which is still used today. The mixture comprises water, soap flakes, foamite, and sugar. Previously, snow effects were achieved using either untoasted cornflakes (which were quite noisy to work with) or, even worse, asbestos. For this achievement, Shearman and his team won the Technical Achievement Award at the 19th Academy Awards (the only winner out of the five It's a Wonderful Life Oscar nominations).
Did you know… In 1977—just a year after It's a Wonderful Life became available to television audiences—it was adapted into a made-for-TV movie called It Happened One Christmas. Starring as the angel, renamed Clara Oddbody for this production, iconic comedic actress Cloris Leachman, received her second Emmy nomination. And the great actor/director Orson Welles played the villainous Mr. Potter. 
Did you know… Though It's a Wonderful Life has become inextricably linked to the Christmas holiday season, the film's director Frank Capra didn't think of it as a holiday film at all. Capra—who had previously worked with Jimmy Stewart on two other films—saw the movie as an examination of "the individual's belief in itself," as reported by the Wall Street Journal. In that same interview, Capra noted, "I didn't even think of it as a Christmas story when I first ran across it. I just liked the idea."
Do you have a favorite holiday film? Let us know on Twitter (@NEAarts) or on the National Endowment for the Arts Facebook page.