Water Watch: A Conversation with Environmental Artist Stacy Levy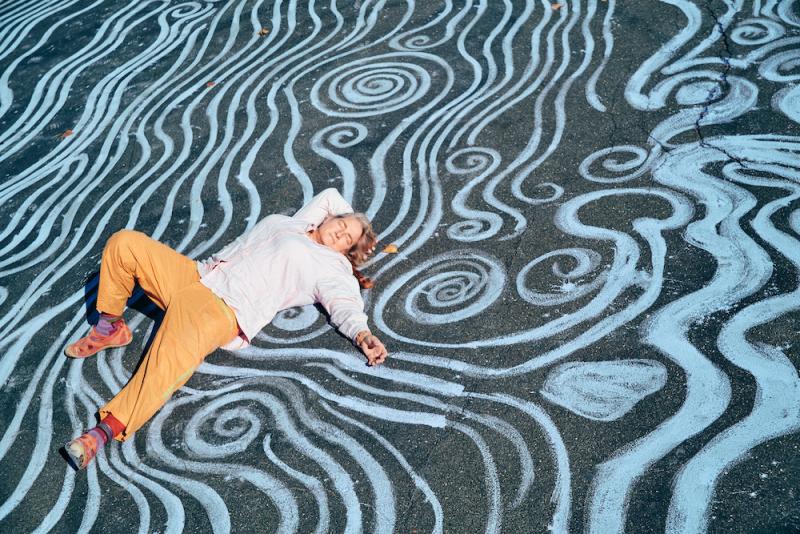 If you had a chance to travel to Domino Park on the East River in Brooklyn, New York, earlier this summer, you would have seen brightly colored, vinyl "flowers" attached to the pilings. Typically, tidal activity is difficult to measure with the human eye, but the tide flower petals are engineered to move with the water, visibly highlighting the rise and fall of the tide. Stacy Levy—a sculptor and environmental artist who uses natural resources and art to tell ecological stories —is the mastermind behind this public installation.
Levy's installations bring visibility to rainfall, water patterns, and other ecological processes within an urban environment. Working alongside architects, engineers, horticulturalists, and scientists, Levy blends art and science into memorable and sustainable art works for people to engage with and learn from. As she acknowledged, "Art can be a part of helping to solve some of the messes that we as humans have made. Art can stick a finger into creating a solution for erosion control, habitat enhancement, and infiltration of rain water."
Born in Philadelphia, Pennsylvania, Levy was always fascinated with the natural world around her and the ebb and flow of water. She carried this childhood interest with her to Yale University, where she earned a BA in sculpture, and then to Temple University, where she earned an MFA.
Levy's home studio is in Spring Mills, Pennsylvania, but she has completed public commissions around the world, here in the U.S. in Florida, Texas, and Arizona, as well as further afield in Canada and Japan. In 2019, she received the Penn Future Award for Women in Conservation for her work. This fall, with grant support from the NEA, Levy will work on an installation that is part of a multi-year project in Cuyahoga Falls, Ohio, called "River in the City." The project will focus on enhancing the community's relationship with the Cuyahoga River. We spoke over the phone with Levy about her origin story, her process for creating public installations, and what success looks like.
NEA: What is your origin story as a sculptor and environmental artist?
STACY LEVY: I grew up on the edge of Fairmont Park in Philadelphia, and spent a lot of time exploring there. In that area was a stream that ran through, and I would go down to the stream—particularly after it rained—put in sticks to float down it, and watch the water swirling. It always had a distinctly funny smell and, years later, I realized that it was not just an ordinary stream; it carried the runoff from a sewage outfall. Polluted and scary waters are really important waters, and they should be talked about. I started to think of how water runs through our landscapes and its draining flows over the streets and through the backyards. There's a whole system of connectivity through the water that we don't really perceive, unless you start to follow a stick down a stream to see where it's going. Many artists are covering pristine waters; I want to cover more mysterious, unsung waters of our urban fabric. The opportunity to play in water is so much fun, and something we don't do anymore. Nobody plays in the rain anymore, and I want to bring that back.
NEA: How do you describe your work as an environmental artist? What questions are you asking as you work on projects?
 LEVY: I always think of my art being more like a verb and less like a noun—where art can really be effective in doing something or having an action instead of just sitting there. Collaborating with the level of water, height of a tide, or erosion is really important when you are doing art about nature. The action of nature is often invisible. My first job is to make nature visible. My second job is to create active solutions to small site issues, such as: Where does the rain go? Can I alter the typical path of urban rain—down a drain and in a pipe—and allow it to soak into the ground as it wants to?
NEA: How do you decide if you want to say "yes" to a project?
 LEVY: I have a tendency to say yes to anything, but it's the site that's gives me the invitation. If the site is evocative or there's a natural process that is calling to me, I can't say no. In my outlook, nature is my client. I have to listen to what nature needs and if there's a need for me, then I want to jump in.
I wake up thinking about how things are looking and how they're working. Things that are really nourishing to me are often nature-based, so I always try to bring that to places where there's a nature deficit. There's so much nature in an urban area that we're not trained to see, and we only think of nature happening in the mountains or a big body of water. But it's happening in a puddle, as rain rolls out of a gutter, or where algae are growing on an awning.
NEA: We know that public art projects have the most impact when they really consider the needs of the community. How do you engage the community with your work in the development process?
LEVY: One of the things that's really important is to take small investigatory steps with the community into learning about the nature that is part of their backyard. I like to work with communities to explore what's happening on the edge of the river and to talk about what kinds of organisms are living in that river. While I'm working, that's the best time to listen because people start talking about what they hope for the site and what they are afraid of for the site. You really get a sense of people's wishes and fears and that's important information for an artist to process.
NEA: How do you draw pieces of inspiration from your travel and infuse them in your work?
LEVY: One of the great things about changing locations is that you see things freshly. Having the time to let ideas percolate up through your mind is very important. A lot of my studio time happens in the in-between: on trains or in cars. These are my best places of thinking because I am out of my regular demands of the day and my mind has a chance to wander and ideas get to inhabit the mind that I might not have thought about before.
NEA: How do you know if a project is a success?
LEVY: You don't get a lot of direct feedback unless you sit around your project and wait for people to start using it. I remember going to check on a project and this young girl was walking down the street. She looked up, and said "Oh! That's pretty!" I've also had people who were sitting in an installation I've made at a park and I said "Hey, are you enjoying this? Do you know I actually built this?" And they said "Yeah, I love this place! How did you know what we wanted?" That is such a great feeling. Even if I don't hear from art critics, hearing from the community is thrilling.