Widening the Door: A Conversation with Poet & Performer Denice Frohman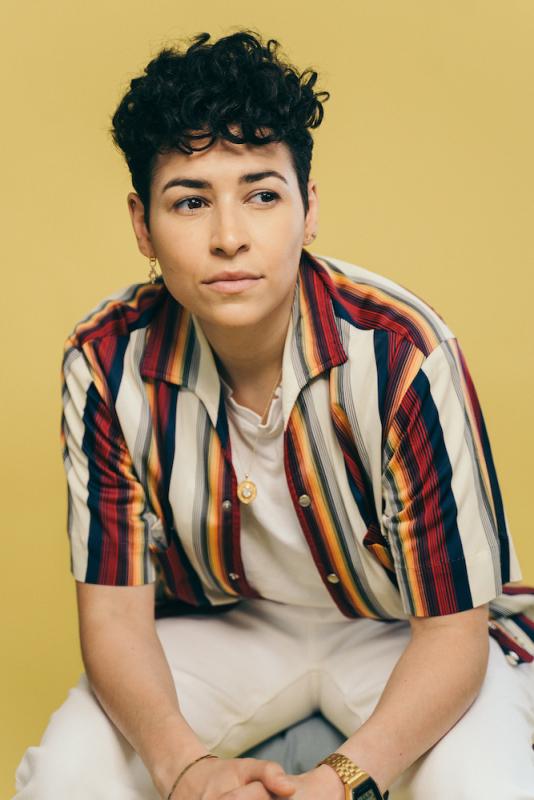 Growing up in New York City, poet and performer Denice Frohman came to life as an artist through her childhood love of hip hop and early introduction to the city's famed Nuyorican Poets' Cafe. Raised by a Puerto Rican mother and Jewish father who played saxophone for Tito Puente, she fell in love with storytelling through music. Her work explores the complexities of language, lineage, queerness, and the colonial relationship between the United States and Puerto Rico. Frohman sees her poetry as a tool for social change, cultural preservation, and aims to subvert traditional notions of power and knowledge.
Frohman currently lives in Philadelphia, where she writes, performs, and was recently named a 2022 PEW Fellow by the Pew Center for Arts & Heritage. Her work has appeared in the New York Times, the BreakBeat Poets: LatiNext, Nepantla: An Anthology for Queer Poets of Color, ESPNW, and elsewhere. A former Women of the World Poetry Slam Champion, she's featured on hundreds of national and international stages from the Apollo to the White House.
Frohman is featured on two projects recently supported by the NEA. One led by the Philadelphia Contemporary, "Love Jawns: A Mixtape II," includes the production of a film based on an epic poem featuring stories of Philadelphia's Black and Brown women. Intercultural Journeys will present the other "Esto No Tiene Nombre,"a one woman show uplifting the oral histories of Latina lesbian elders to tracing lineages of love, activism and identity. We spoke with Frohman about these projects, her artistic process, the creative inspiration that informs her poetry, and what she hopes people take away from her work.
NEA: The NEA is honored to support your work this year with both Intercultural Journeys and Philadelphia Contemporary.
DENICE FROHMAN: It was such a coincidence that both of these projects were being supported by the NEA. The Intercultural Journeys project is one of the most important works of my career thus far. Intercultural journeys came to me over a year ago, basically saying, "If we gave you a black box theater, what would you do?" I've had this longing to connect with other Latina lesbians and to know my lineage and my history. I want to ensure that that history is brought into public memory and on an official record. My hope is that this project is a meaningful contribution to the archive. I repeatedly said to myself, when I was starting to have this idea for a one-woman show centering the oral histories of Latina lesbian elders, "I know we exist, but I want to be found". Those two things are not necessarily one in the same. I could not name more than three or four Latina lesbians that I had ever read. That longing was a really big driving force for wanting to begin this journey to understand my own lineage, and to make that lineage accessible to the next generation of Latinx LGBTQ young people. "The title of the play, Esto No Tiene Nombre, comes from tatiana de la tierra, a Colombian, lesbian poet, and editor, who founded an international Latina lesbian magazine [with that name] in the 90s. "Esto no tiene nombre" translates to "this doesn't have a name," which points to the question of how does one name what doesn't have a name? How does one name something that feels so expansive, which is queerness to me.
I see this one woman show as an expansion of my artistic practice, as a poet and as a performer. I'll be conducting interviews and creating a poetic tapestry of poetry and song, weaving in stories [from these interviews] with my own. I'm not only interested in excavating history, I'm also interested in having conversation around their personal lives, their interiority, to explore themes of desire and longing. How did you make a life for yourself when you did not see a model of what it means to be out, to be Latina, and to be lesbian, and to have those identities coexist and not live forever and ever in conflict with one another? It's been such an honor to sit down with these mujeres … and to shed light on an important part of American history that oftentimes is overlooked.
As for the work with Philadelphia Contemporary, I mean, anytime spoken word artist and curator Yolanda Wisher asks you to jump on a project you say yes. She's been the poet laureate of my heart for some time. She's the people's Poet Laureate of Philly. I appeared on the Love Jawns: A Mixtape podcast, and I love seeing how Yolanda is expanding this project intoLJAM II, a short film, and really rooting it in community along the 23 bus line in Philadelphia. I'm really just excited to work with writers, and women who don't consider themselves writers, which is actually the more exciting thing for me, to collaborate with them to create an epic poem. It's a form I love that Yolanda chose because it's a form that is often dominated by white male voices. To add the voices of Black and Brown women to a conversation about economic justice is incredibly important.
NEA: How does making art about race, gender, and sexuality affect your personal relationship with your identities?
FROHMAN: I really love that question because it's typically asked in the reverse way. The first time I came out was in a poem when I was 19 years old at the Nuyorican Poets Cafe. It was poetry that catalyzed that moment for me, a really young, scared, insecure, and unsure 19-year-old kid who was really coming into themselves, and was not on solid ground. Poetry asks us to have an intentional relationship with language. I felt invited into a deeper knowing about myself because of poetry. I felt called to be a more authentic version of myself. Not just on the stage, but off the stage. When I got off the stage, a light bulb went off. I realized I needed to start to take steps to be authentic in my real life. Poetry gave me the bravery and strength I didn't have. When I say poetry, I don't just mean the poems, I mean the community of poets that really helped me at that time. I came to poetry because I had something to say. Now I feel like I come to poetry because I don't know what I need to say. As a young person, I had so much inside of me that needed to be declared out loud, and I needed people to hear my song and to be a witness to my truth. Now as an adult, I feel that poetry is inviting me into an unknowing, to questioning the assumptions I've made about myself. I think poetry is a way to see a thing, but see it new.
NEA: How does working in community shape your artistic process and practice?
FROHMAN: I'm not someone who could be tucked away in a room and just write poems and never share them out loud. That isn't part of the tradition that I come from, as someone deeply inspired by and influenced by the Nuyorican poetry movement. I've always been engaged in community, primarily through the sharing of my work in public spaces. I read my poetry out loud not only because I believe in this communal alchemy of gathering, and the power in that, but also because my mom can't really read English. My relationship with my mother has impacted my relationship to language, almost more than anything else. Over the course of my writing career, creating sonic and cultural echoes between me and my community is really important. I'm not interested in creating work that feels inaccessible. I don't think you have to be esoteric as an artist to create work that is stirring and complex.
I love how the Intercultural Journeys and Philadelphia Contemporary projects are both different invitations to community. I would say more intentional relationships to community because they are longer term projects. These collaborations are inviting me into a new space and in a more expansive space in my artistic practice. As writers, we can be very siloed. To be involved in two very different projects that are very community-oriented, these can't happen in silos. They require a lot of collaborators. As a writer, I'm really, really appreciative of this moment. Something that I say to participants who agree to be interviewed for "Esto No Tiene Nombre" is I really want you to feel cared for throughout this process. It's really important as an artist to not sacrifice integrity and sacrifice relationship building for a particular timeline or for a particular end goal.
NEA: How did you decide to make your living as an artist?
FROHMAN: I realize how connected my upbringing was, in really unique ways, to my life as a writer. I didn't grow up knowing any writers. I didn't know any poets. But poetry was there, because rhythm and music were there, because storytelling was there, because of the traditions that I come from, both Puerto Rican traditions and diasporic traditions. It was in the air that I was breathing. The Nuyorican Poets Cafe was instrumental-hands down-in introducing me to a poetics that felt like my own. It felt like the widest door; it felt like an invitation to really be yourself and to share stories that matter to you. The poetry I was exposed to before was a really narrow, canonical, Eurocentric, heterosexual male version of the literary world, which is simply inaccurate. Those canonical doors started to crumble. I started to be introduced to a wider canon that was incredibly familiar to me and sounded like the people I grew up with. It was really a great sense of permission, feeling like the various parts of my upbringing, music and storytelling had found a home in spoken word. It was the beginning of my own poetic practice.
Of course, hip hop was so instrumental in me falling in love with language. Which is really the first question, before you become a poet, it's when did you fall in love with language? I remember before the internet, before you could look up lyrics. I would sit home, with my tape deck or CD player and write lyrics by hand. I would write Busta Rhymes' lyrics by hand. Listen, I know the lyrics to "Give Me Some More." I know the lyrics to "Dangerous." I was just captivated by groups like the Roots and Lauryn Hill. Mos Def is one of my favorite rappers of all-time. These artists made me fall in love with storytelling. And the lyrical prowess, the alliteration, the repetition, it made me fall in love with language.
Growing up listening to salsa songs, I wasn't fluent in Spanish, but I fell in love with how words made you feel. I think one of the most interesting things about some salsa songs is some of the faster paced salsa songs, the ones that you really dance to, they have the saddest lyrics ever. They're about not knowing. "Yo no sé mañana" is a very well-known salsa song, people dance to it all the time. But the lyrics are really about not knowing, not knowing what tomorrow will bring. I don't know if we'll be together. It's very sad. I love the tension between the content and the form. That's what makes art surprising and interesting. It's what makes audiences lean in, creating unexpected moments of intention.
NEA: Who or what inspires you artistically?
FROHMAN: I really look to the work of Willie Perdomo, John Murillo, Patricia Smith, and Aracelis Girmay just to name a few . I am challenged by Vievee Francis's work, by her haunting and descending gestures. There's something unresolved that I love there. I love Natalie Diaz's imaginative thinking, especially in her latest collection, Postcolonial Love Poem. I am incredibly excited for Yesenia Montilla's new poetry collection, Muse Found in a Colonized Body, and Ricardo Maldonado's The Life Assignment (both published by Four Way Books). I would say those are some of the writers that I'm moved by, challenged by, inspired by. I also have to say, because of my own upbringing, I'm inspired by domestic workers and by mothers whose first language isn't English. Those women are in the room with my poems, whether or not the poems are about them. I'm thinking about migration and intergenerational trauma and the women who carried us without having the space or the resources to work through that.
NEA: What do you hope people take away from experiencing your work?
FROHMAN: Ultimately, my hope is to inspire young LGBT kids of color to not feel like they have to hide who they are. It makes me emotional to say that. If I had one intention or hope, it would be to inspire young people to tell their own stories, and to see themselves as writers, creators, and narrators. I was writing poems for years before I called myself a poet, because I didn't think I deserved that title. I'm very, very interested in debunking this idea of who is or isn't a writer, which was, for me, questioning whether my story was important enough. When audiences are engaging in my work, I'm particularly interested in those who maybe did not feel permission to tell their story, or who questioned whether it was important, to feel inspired to put pen to paper, to pick up an instrument, and live their truth a little bit louder. That would be it for me. I'd be good.