The Artful Life Questionnaire: Greg Reiner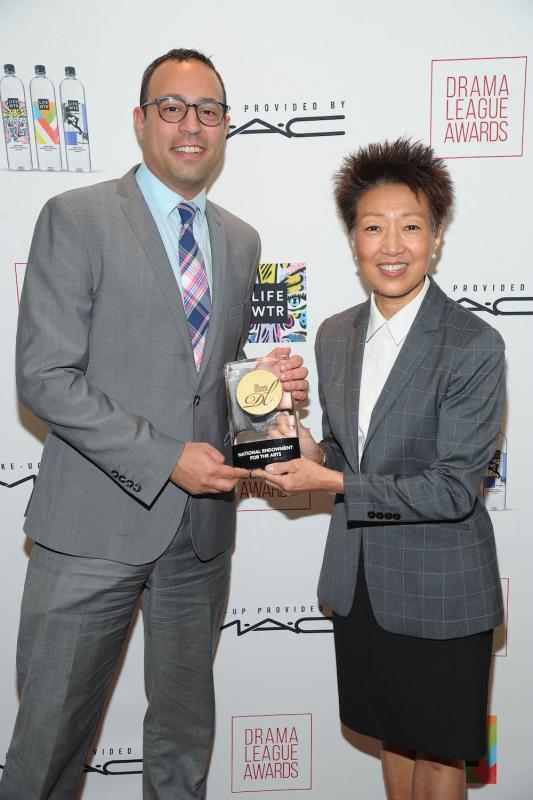 What we know for sure: We all have a story, and engaging with the arts helps all of us to tell our own stories on our own terms. We also know that there are ways to engage with the arts other than in formal cultural venues, and that sometimes is more about the process of art making than it is about the end product. We also know that living an artful life, which is to say, living a life in which the arts and arts engagement are a priority means different things to different people based on their own interests, their communities, and many other factors, including equitable access. The Artful Life Questionnaire celebrates the diversity of ways we can make the arts a part of our lives, and, hopefully, inspires and encourages us to live our own unique versions of an artful life. In today's edition of the questionnaire, we're speaking with NEA Director of Theater & Musical Theater Greg Reiner.
NEA: Please introduce yourself. Do you have a current art practice or a way of regularly engaging with the arts?
GREG REINER: My name is Greg Reiner, and I am the director of Theater & Musical Theater at the National Endowment for the Arts. What that means in practical terms is that I am responsible, with my incredible team of Ouida Maedel and Ian-Julian Williams for the NEA's grantmaking to the theater and musical theater fields. I came to the NEA after twenty years of running theaters on both coasts, including Tectonic Theater Project, where I was proud to be part of the team that was nominated for a Tony Award for our production of 33 Variations, and most relevant to my work at the NEA, I produced a national event for the premiere of "The Laramie Project: Ten Years Later," in which we worked with theaters in all 50 states, plus DC and Puerto Rico, to premiere the play on the same night. It was through this experience that I was so inspired by the collective power and shared community of our field that the opportunity to support the theater field on a national scale was too thrilling to pass up.
NEA: What are five words that come to mind when you think about the idea of living an artful life?
REINER: Curiosity, generosity, empathy, joy, community.
NEA: Pick just one of those words and expand on how you see it as part of living an artful life.
REINER: I think all great art comes from a place of curiosity—about our world, about our fellow humans, and about viewpoints outside of our own experience.
NEA: Where do you currently live, and what are some of the ways that your community tells its story through the arts or through creative expression?
 REINER: I live in the Mount Pleasant neighborhood of Washington, DC. It's a neighborhood that constantly inspires me by the creativity I see on display every day that I stroll through the area. The Mount Pleasant Artists Collective, the Mount Pleasant Library Friends, and the Lost Origins Gallery are pillars of the creative expression in the local community, and each do their part in empowering the residents to live artful lives, whether as art makers or consumers, and often both.
NEA: How do you think that living an artful life can improve the well-being of your community?
REINER: It's clear to me that engagement in the arts, in any form, makes communities stronger and healthier. Going back to ancient drawings in caves, humans have always used the arts to understand ourselves better and to knit together the shared fabric of our collective selves. What do we do when we want to learn about civilizations and societies that preceded ours? We look to the art that they created; paintings, novels, statues, buildings and monuments, plays.
NEA:  Is there a particular place in your neighborhood that is a creative touchstone for you?
 REINER: I'll name two that both spark my creativity in different but related ways—both pertaining to the culinary arts. The first is Nido, which appears to be just a food and wine shop, but in fact is a locus of community. It's owned by three incredible women—Thea Merl, Morgan Stana, Erin Lingle—who take such artful care in who they stock, largely women and BIPOC [Black, Indigenous, people of color] winemakers, and how they engage with their community. If you're in the area, their Friday wine tasting evenings are always a hub of local residents eager to engage with the producers and their neighbors. At the other end of Mount Pleasant Street, Clementine Thomas opened up Bold Fork Books, a cookbook store, about two years ago, and it's quickly grown into another hub of community, with a book club, cooking classes, and organizing their regulars for bake sales to support the DC Abortion Fund, which I find a great way to combine my love of baking with my passion for supporting reproductive rights.  
NEA: What's your favorite informal way or space to engage with arts and culture?
REINER: I don't know if this counts as informal, but there's just nothing I love more than watching a great play. The experience when everything from script, performance and direction come together in the service of telling a story is a high that I'm constantly chasing.
NEA: If you didn't work in the arts, do you think the arts would still be a part of your life?
REINER: The arts would absolutely be part of my life. The idea of a life without arts is too bleak to even contemplate. Everything from enjoying a great novel, to an evening of theater, to the wealth of incredible filmed entertainment available to us in this moment, for which the writers absolutely deserve everything they're asking for, is vital to living a full and rich life.
NEA: Can you share an arts experience or moment of arts engagement that has had an identifiable impact on your life?
REINER: An experience that often comes back to me is reading the script to Angels in America for the first time when I was in high school. Reading Tony Kushner's masterwork brought to life people and ideas that I knew on some level existed but had never seen articulated in such vivid form opened up the world beyond the small town I grew up in in incalculable ways. It was, to quote the play, a "threshold of revelation." In particular, the depiction of the relationships between Prior and Luis, and Luis and Joe, were the first queer relationships I had ever seen, in fiction or real life, and as complicated as those character were, it was so affirming to see them as fully realized humans, in an era before shows like Will & Grace brought gay characters further into the mainstream. And it's a powerful reminder again of the arts' ability to make us all feel seen, to know we're not alone, and that what we all have in common is far greater than what we think divides us, if only we can take the time to engage with each other on a human level and exercise that innate curiosity we are all born with.