The Artful Life Questionnaire: Kate Clarke Lemay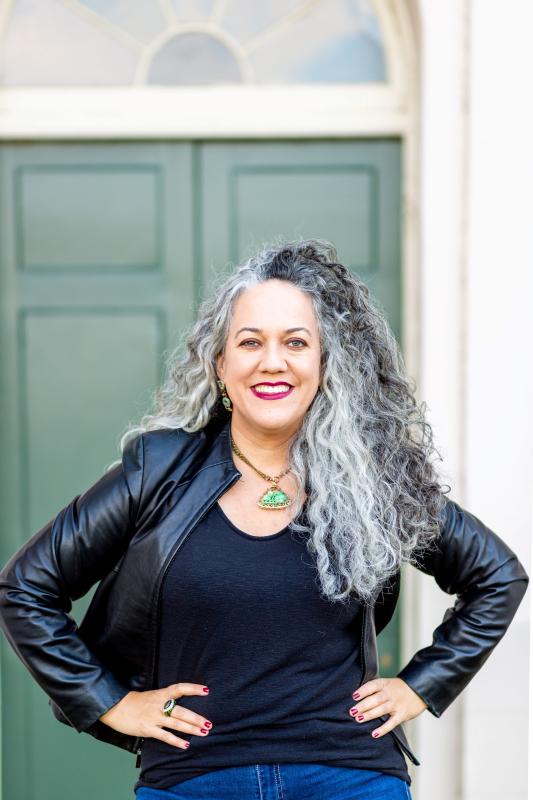 What we know for sure: We all have a story, and engaging with the arts helps all of us to tell our own stories on our own terms. We also know that there are ways to engage with the arts other than in formal cultural venues, and that sometimes is more about the process of art making than it is about the end product. We also know that living an artful life, which is to say, living a life in which the arts and arts engagement are a priority means different things to different people based on their own interests, their communities, and many other factors, including equitable access. The Artful Life Questionnaire celebrates the diversity of ways we can make the arts a part of our lives, and, hopefully, inspires and encourages us to live our own unique versions of an artful life. In today's edition of the questionnaire, we're speaking with Kate Clarke Lemay, historian at the Smithsonian's National Portrait Gallery.
NATIONAL ENDOWMENT FOR THE ARTS: Please introduce yourself.
KATE CLARKE LEMAY: My name is Kate Clarke Lemay, and I use pronouns she/her. I am a writer, scholar, curator, and art historian who specializes in art of the United States. As a curator, I organize exhibitions about lesser-known histories of the United States through art, biography, and portraiture. As a scholar, I focus on the intersection between art, war, and memory. My first book, Triumph of the Dead, addressed the role of the American World War II cemeteries in Franco-American diplomacy.
NEA: Do you have a current art practice or a way of regularly engaging with the arts?
LEMAY: I am constantly reading and writing about identity, portraiture, and the history of the United States. I direct PORTAL, the scholarly center for the National Portrait Gallery, and I really enjoy engaging in public conversations with scholars and artists about their work.
I also work on my house in my free-time, but I would not call my sometimes not-so-handy work anything artful.
NEA: What are five words that come to mind when you think about the idea of living an artful life?
LEMAY: Openness, motivation, curiosity, discipline, and time.
NEA: Pick just one of those words and expand on how you see it as part of living an artful life.
LEMAY: I think two of the words go together: openness and time. Often I have my best ideas when I have the space and time to open up, observe the world, and make connections. I thought of my exhibition, "Marlene Dietrich: Dressed for the Image," in about two weeks in late 2015. In that moment, I had time and space to ponder about images of strong women who had made an impression on me when I was a teenager. I made the connection from Madonna to Marlene Dietrich — and I then got curious about Dietrich. I studied her biography and found that she was bisexual and shared what is thought to be the first [on-screen] kiss with another woman in the 1933 movie, Morocco. She was a fervent anti-Nazi.
With this research, and the portraiture to express these themes, I had the foundations for my curatorial argument for the show. I wanted to demonstrate that Dietrich's influence resonates with people to this day precisely because knew exactly how she wanted to express herself. She dressed, as she said, "for the image." That made me query what the "image" was, and why it was so successful.
My creative brainstorming happens best when I have time and space to listen to my hunches — those little voices in the corner of my mind that all too often get squashed out by everyday responsibilities.
NEA: Where do you currently live, and what are some of the ways that your community tells its story through the arts or through creative expression?
LEMAY: I live in Hyattsville, Maryland, one of the first urban suburbs outside of Washington, D.C. — and I can't tell you how happy I am that I landed here. Hyattsville boasts a thriving arts community. My neighbors include art handlers, curators, historians, professors, and artists. I am a member of the Pyramid Atlantic Art Center, which is an important organization focused on printmaking, papermaking, and book arts — and they curate wonderful exhibitions. They offer classes, too, and they host residencies and fellowships.
The other amazing resource that is very close to Hyattsville is Community Forklift. They have the most amazing staff and it is an incredible place for people looking for home materials and to get inspiration for how to resolve tricky DIY projects.
NEA: How do you think that living an artful life can improve the well-being of your community?
LEMAY: One of my neighbors, Erica Riggio, spearheaded a program (with her business partner, Angela Justice) in Hyattsville in 2017 to "Fight the Blight" in a section of the city that was empty for years, just sitting there, pending redevelopment. Riggio and Justice, who are interior designers, organized with artists and volunteers to paint murals on some of the empty buildings, and as a result, Hyattsville's corridor along Route 1 / Baltimore Avenue became a site of joyful expression. I love that these creative minds, Riggio and Justice, saw possibility for expression in an area that other people would only have seen empty building and blighted spaces. Everyone benefitted, and Hyattsville is by far the most visually interesting neighborhood along the Route 1 corridor.
NEA: Is there a particular place in your neighborhood that is a creative touchstone for you?
LEMAY: I walk my Great Dane along the Northwest Branch of the Anacostia River almost every day, and we see all kinds of birds there — ospreys, bald eagles, great Blue herons, and red-shouldered hawks. Once, a great white egret flew ten feet in front of us. I get my best thinking done when I am on this path, which, although situated in the middle of the city, attracts the most beautiful wildlife. This routine is the simplest way I have found to incorporate time and space into my schedule for creative thinking.
NEA: What's your favorite informal way or space to engage with arts and culture?
LEMAY: Visiting artist's studios is highly rewarding for me. Red Dirt Studio is in the next neighborhood over, Mount Rainier, and the directors have organized open studios, but you can also just schedule a visit. When I was curating "Votes for Women: A Portrait of Persistence," I met with them to practice a keynote talk that I was giving, and I had the best brainstorming session with them. The artists who have studios there make important work that I have come to recognize in exhibitions and installations across the metro D.C. region. It is kind of a thrill to have seen these works in progress in their studios, and I feel lucky that they are my neighbors.
NEA: Can you share an arts experience or moment of arts engagement that has had an identifiable impact on your life?
LEMAY: In 1997, I had the opportunity to visit the Normandy American Cemetery overlooking what is referred to as "Omaha Beach" in Normandy, France — one of the many sites of landings made by American, British and Canadian troops on June 6, 1944. Beyond its significant meaning as a site of memory of World War II, the cemetery caught my art historian's eye as a very important combination of architectural, art, and landscape design. All my senses went off like a live wire in this very hallowed ground. I felt hyper-aware precisely because the space was so intentionally designed.
The art and architecture, including the endless headstones in the shapes of the Latin cross or the Star of David, punctuated my vision and the space around me, creating a phenomenological experience that I've never forgotten. Later, in 2006, when I was searching for a dissertation topic, I asked myself, "When has art made me stop in my tracks? When have I really felt moved, and why was that?" My mind kept returning to that experience. I wrote my dissertation, and then my first book, about those artists and architects who created the five American war cemeteries in France from World War II. That experience in 1997 really set my course as an art historian.
NEA: If you didn't work in the arts, do you think the arts would still be a part of your life? In what ways?
LEMAY: Definitely! If someone asks me what I want to do, my first answer is always "Let's go to an art museum!" Art is where I find stories to identify with or take solace in; art also is what prompts me to ask hard questions of myself. Art offers a bridge through time; it is a window into another life, or another experience, that I will never have. Frankly, art offers a beautiful way of thinking. I always learn something new from the time I spend with art.