Back to School Grant Spotlight: In Progress
Filmmaker and teaching artist Kristine Sorensen has collaborated with the Bug O Nay Ge Shig School on the Leech Lake Reservation for decades. This year, she will be teaching children whose parents worked with her when they were students.
Sorensen is one of the founders and current executive director of In Progress, a digital media nonprofit that conducts programming across Minnesota, with studios in Saint Paul and Crookston, a small town in the northwestern part of the state. At the Bug O Nay Ge Shig School, In Progress facilitates Living Histories, a digital arts and storytelling project that integrates digital arts platforms and tools into classroom curriculums.
For the upcoming 2023-24 school year, In Progress teaching artists will spend 20 days at the Bug O Nay Ge Shig School over a nine-month period, working with elementary and high school students on project development, production, and post-production. On non-residency days, classroom educators are equipped to continue working with students on their projects, ensuring the learning experience is not isolated to those days the teaching artists are on site.
Many of the teaching artists working with the students, most of whom are tribally enrolled, are from the Leech Lake Reservation or other nearby tribal communities.
Sorensen said bringing in artists who are from the region and have familiarity with the life experience of the students opens up avenues of storytelling and creating that are not always evident in mainstream media. Giving educators ownership of the curriculum encourages students to remain engaged and integrate Indigenous history and culture into their projects.
Living Histories has been supported by 11 arts education grants from the National Endowment for the Arts since it was formalized in 2013, but Sorensen's relationship with the Bug O Nay Ge Shig School began long before then. This longstanding commitment to this work is another essential ingredient to Living Histories' success.
In the late 1980s, Sorensen traveled to the Bug O Nay Ge Shig School, nestled deep in the pine trees of the Chippewa National Forest, to recruit teachers for a digital media workshop. When she arrived, she was thrilled to see jerry-rigged VCRs and recording devices in the classroom, a make-shift studio for students to experiment with.
"They were creating stories with so few resources, and they were in their glory," Sorensen said of the staff and students at the time. She knew in that moment she wanted to support the school's work in media education.
Since then, Living Histories has existed in some form – even when it did not have a name – evolving with new technologies and the deepening trust that developed between Sorensen and the school's community.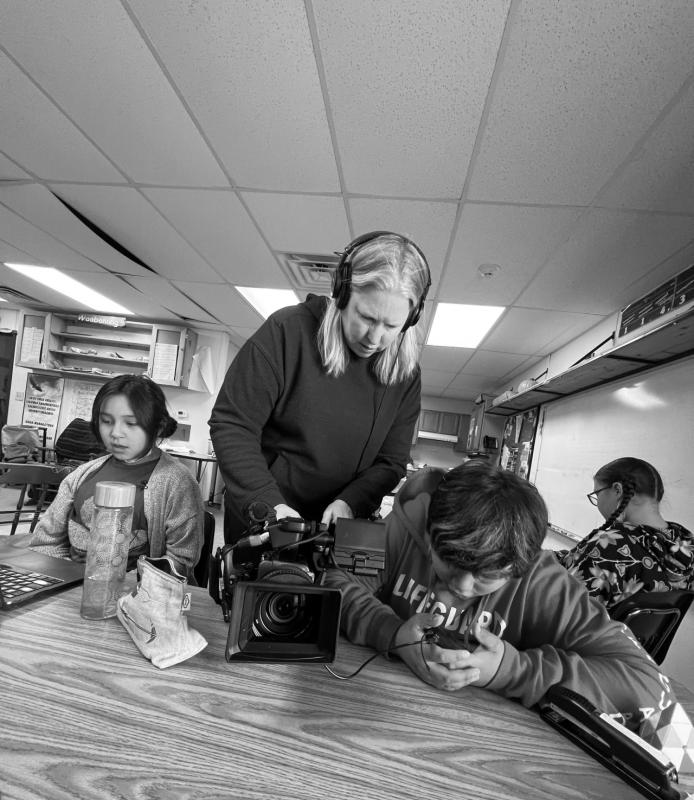 With the ubiquity of digital media in U.S. culture, Sorensen believes learning how it's made is as essential to these students' education as learning to read or write.
"If a student goes through 12 years of education and is not provided with the skill set to understand the construction of media, then their choice often is to passively accept what is given," she said, "Who's story gets told, and how is it culturally expressed?"
As part of Living Histories, one Bug O Nay Ge Shig student, McKaylee Kingbird, created a social media campaign to honor her sister, who went missing in 2021. She then shared her work on Facebook, which garnered the attention of a network of people and organizations who raise awareness about missing and murdered Indigenous women. The campaign reached tens of thousands of people.
"She created artwork around that subject matter because she wants to keep her sister's story alive," Sorensen said. "And that's the best artwork – when young people are defining their own stories. That's when it's powerful. That's when it's of far reach."
This project is also an example of the trust that Sorensen has built with the community on the Leech Lake Reservation. Sorensen taught some of Kingbird's aunts, so the family knew her already. She was able to work with Kingbird's mother as well as the school's counselor and art teacher to ensure everyone was on board and understood how the project was proceeding.
"If I was brand new to a community, that [project] might not happen," she said.
Consistency and continuity are key, and were prerequisites set forth by the Bug O Nay Ge Shig community from the start.
"What I was told when I first started working with the Bug O Nay Ge Shig School was that you're welcome to be here. We welcome you into our community, but if you're planning to just come and go, then don't come," she said.
Sorensen advised that other organizations interested in working with rural or tribal communities make the investment of time. She also noted that while there may be a lack of resources or funding, to focus on the unique assets and ingenuity that already exist in a space – like a makeshift studio using old VCRs.
"It's not about the community's need or the school's need," she said. "It's about the opportunity to really change your organizational view and your partnership with them."