Back to School Grant Spotlight: Storycatchers Theatre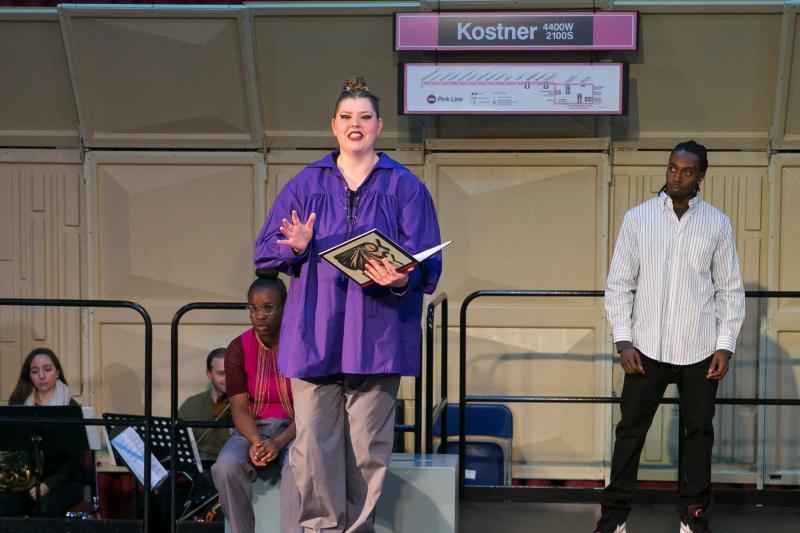 Located in Chicago, Illinois, Storycatchers Theatre has been a transformative force in the lives of justice-involved youth for the last three decades. In 1990, Storycatchers Theatre's residency at the Cook County Juvenile Temporary Detention Center launched a nationally recognized model for healing-centered work with these youth. Guided by a philosophy that encourages young individuals to harness their authentic narratives, executive director Tasha Levy said, "Storycatchers Theatre has evolved over 36 years to provide a safe, creative space for justice-involved youth to confront their trauma by writing and sharing their stories." With a dedicated team of 23 teaching artists, the organization helps over 100 youth annually, sparking personal growth and societal awareness. Its innovative methodology helps system-impacted youth take ownership of their narratives, develop leadership qualities, and navigate their paths toward positive change.
In January 2022, the organization received an Arts Endowment grant to support the work of Changing Voices—a program that ignites the creative potential of system-impacted youth, guiding them to create musical theater from their own experiences. Levy explained, "It's a safe space where they are empowered to celebrate their histories, perform their stories in the community, and build the skills needed for future success."
Levy spoke with us about Storycatchers Theatre's engagement with the community and court system, Changing Voices program success stories, and the importance of telling our personal narratives as a means of healing and transformation.
NEA: Storycatchers Theatre's mission statement is to guide "young people to transform their traumatic experiences into powerful musical theatre, inspiring them to develop the courage and vision to become leaders and mentors." How does Storycatchers Theatre utilize the arts as a key to empowering system-impacted youth and helping them reach their full potential?
TASHA LEVY: Storycatchers leverages the collaborative aspect of creating new work to advance the social and emotional development of young people who have emerged from communities affected by decades of structural racism and low public investment and then come of age in prisons or detention centers. It is unrealistic to expect these young people to work and live productively unless they have access to healing-centered support during incarceration and upon release. Storycatchers provides an artistic pathway through which these young people can share their experiences without shame and receive public recognition for overcoming their challenges.
There is considerable established evidence that performing arts programs are effective at preventing violence and improving behavior, particularly in youth. One of the most significant reports on this subject is Shirley Brice Heath's article "Living the Arts Through Language and Learning: A Report on Community-Based Youth Organizations," a landmark 10-year study on the effectiveness of after-school community programs. Brice Heath found overwhelming evidence that youth arts programs were more successful than other programs at helping young people develop self-reflection, leadership abilities, and respect for themselves and others. She concluded that participation in the performing arts is particularly beneficial to at-risk youth because these programs demand that youth find a positive way to channel anger and aggression as a condition of participation in the collaborative process.
NEA: Could you describe the ways in which the organization works with youth at all stages of court involvement?
LEVY: We work with youth who are detained, incarcerated, and navigating post-release. We serve two distinct populations at the Cook County Juvenile Detention Center. In addition to working with teenagers who are awaiting adjudication (in other words, they are not yet sentenced and will either be sent home or be sentenced to one of the Illinois Youth Centers), we also work with youth known as Automatic Transfers. These are teenagers who are facing charges in adult court. Most of them have been convicted in adult court but are considered too young to be transferred to adult prison. In addition, Storycatchers has programs at two Illinois Youth Center facilities for incarcerated youth, one in Chicago and the other in Warrenville. All three of these residential programs engage youth residents on a year-round basis on an average of twice-weekly sessions.
And now we have a new home for the third stage of court involvement—post-release. Our reentry jobs program, Changing Voices, which has been supported by the NEA since its inception in 2014. The NEA support has helped us get to where we are today with Changing Voices, which now offers an eight-month curriculum that includes case management and job- and life-skills training and a dedicated anchor site in the Washington Park neighborhood. We're transforming this new anchor site into a trauma-informed space that supports young people between the ages of 17 and 24 who are on parole, probation, or post-release, giving them what they need to envision and pursue successful futures.
NEA: What are some of the main challenges that Storycatchers Theatre faces in its work with justice-involved youth, and how does the organization address these challenges?
LEVY: One of the main challenges is that we can't be everything for the youth we serve. This became most evident when we launched the post-release jobs program. Initially, we tried to replicate our residential model but quickly came to understand the scope of obstacles and challenges faced by these youth as they face reentry. In response, we've incorporated case management and job skills training into our performing arts curriculum, and established a network of partnerships with youth-centered service organizations that offer access to critical post-release resources such as safe housing, addiction treatment, counselling, and pro bono legal services. We cannot provide all of that by ourselves, but we are constantly working to expand our network of partners and allies.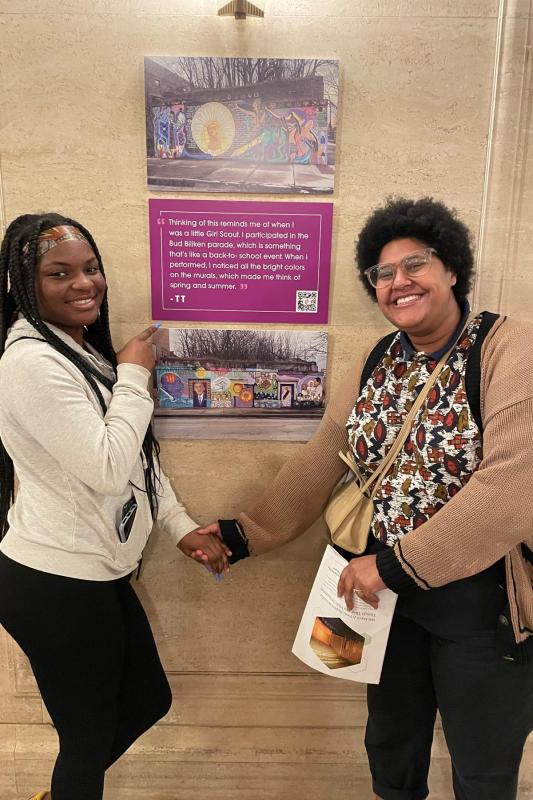 NEA: The award-winning film GIRLS ON THE WALL profiles the organization's work with justice-involved youth. Could you provide insights into the impact the theater workshop had on young women participants?
LEVY: When we began working at Warrenville [Prison], it was the state's only secure facility for adolescent girls. Our Warrenville program provided a rare opportunity for in-depth exploration focused exclusively on issues and challenges faced by incarcerated girls between the ages of 13 and 21. One of the things that we discovered early on in our tenure at Warrenville was that almost all of the girls had experienced some form of sexual abuse or sexually related trauma—and most of them had told no one. The first time that a story circle produced a sexual assault story was electrifying, as every girl in the room realized that she was not alone. It was profoundly sad but also deeply empowering, and from that moment on, the program at Warrenville increasingly focused on using the creative process to help these young women express and begin to address the long-term impact of their traumas.
NEA: In light of the transformation of Illinois' juvenile justice system, how has Storycatchers Theatre played a role in inspiring and advocating for positive change in the treatment of detainees?
LEVY: For many years, Storycatchers has leveraged its work with system-impacted youth to create engagement opportunities with law enforcement, the justice system, and the general public. This positions and empowers these young people as self-advocates and community leaders. A key element of our approach is to prepare and empower court-involved young people to take control of the public narrative and represent their needs from a platform built on personal experience.
In July 2020, Governor J. B. Pritzker unveiled a plan to transform Illinois' juvenile justice system, moving young detainees from prison-like facilities into more residential-style group homes. Storycatchers was specifically named by the governor during his announcement of this policy as an organization that had "dedicated years, if not decades, to lighting the way for the change that we are making." This transformation will take place over a multi-year transition period, and Storycatchers anticipates taking an active role as an ongoing resource to young people at all stages of court involvement. The Storycatchers program model is uniquely adaptable to serve youth whether they are living in secure facilities, group homes, or navigating reentry.
NEA: Could you briefly share some success stories from justice-involved youth who have participated in the Changing Voices program and experienced positive transformation in their lives?
LEVY: Greg joined the first Changing Voices program cycle following his 2014 release from prison. While with us, he showed great potential and was promoted to apprentice teaching artist for Storycatchers at both Illinois Youth Center programs. Greg said he feels like a role model and "Just because someone does a crime, doesn't mean you should label them as a criminal for the rest of their life," he added. Greg emphasized that if people look beyond the backgrounds and past crimes of juvenile offenders, they will see "a lot of good kids."
More recently, of the 12 youth who completed Changing Voices in May of 2023, three are currently enrolled in vocational programs with Safer Foundation; one is working in health care; and three have enrolled in schools in the City Colleges of Chicago network. Additionally, one is currently in a GED program, another is in training for a real estate career, and three are actively applying for jobs while also exploring entrepreneurship possibilities in the fields of fitness and entertainment. This is reflective of the program's focus on guiding each youth participant to develop an action plan to follow upon completion of the eight-month curriculum.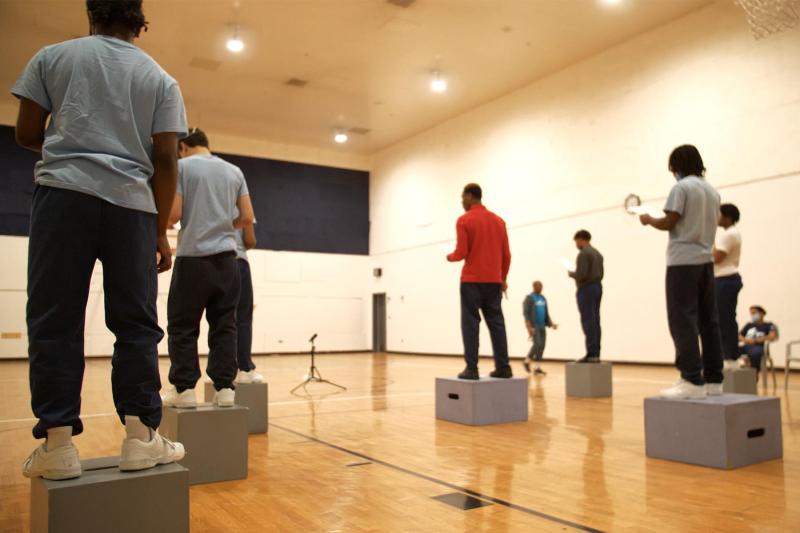 NEA: In what ways does Storycatchers Theatre collaborate with community partners and organizations to enhance the resources and opportunities available to program participants?
LEVY: We have always operated in partnership with others and are committed to helping to build a network of community resources that will lift up these young people as they navigate court involvement and reentry. Our main partners are the facilities we work with are Cook County Detention Center, Illinois Youth Center Chicago, and Illinois Youth Center Warrenville, which give us the space and access to work with the youth. We also built partnerships to create access to cultural experiences as well as critical resources such as safe housing, counseling, and job placement. We couldn't do it alone. And because we don't have to, neither do the youth.
For example, for many years, the Illinois Department of Juvenile Justice has permitted small groups of youth to go on off-site field trips to see Storycatchers presentations in other facilities as well as to attend professional performances in the Chicago area at venues such as Steppenwolf, Goodman Theatre, Mercury Theatre, and Drury Lane Theatre; and the Chicago Symphony Orchestra (CSO). From 2010 to 2017, the relationship with the CSO brought significant musical talent directly into the facility at Warrenville: Chicago Symphony Chorus singers, CSO musicians, musicians from the Civic Orchestra of Chicago (the CSO's pre-professional training orchestra), Maestro Riccardo Muti, and the internationally renowned cellist Yo-Yo Ma.
More recently, the relationship with Steppenwolf led to tours of Steppenwolf for Young Adults productions in the facilities where Storycatchers delivers programs. In addition, Steppenwolf has invited Storycatchers youth to present excerpts of their original work on the Steppenwolf stage as part of post-show dialogues with audience members.
NEA: Looking ahead, how do you see the organization evolving?
LEVY: Storycatchers' next initiative will be to grow its post-release support by establishing a new Alumni Resource Center. Our goal is to create a resource center that can serve any individual who has previously participated in any of our programs, going back to the 1990s and extending into the future. We want to offer a suite of services for system-impacted youth and adults, including but not limited to a computer lab that alumni can use to take online courses, perform job searches, and complete college and job applications; on-site career counseling and tutoring; mentorship opportunities; and access to services such as substance use education, family counseling, and safe housing.
We envision the Alumni Resource Center in the same building as Changing Voices in order to share resources. That way, alumni will be able to freely use the Changing Voices rehearsal space for writing, rehearsing, and other healing arts practices. This will also facilitate opportunities for alumni to serve as mentors both for Changing Voices youth and younger alumni, as well as potentially engage with our youth who are still living in secure facilities. We envision a strong post-release network of support that will generate peer mentorship to encourage system-impacted young people to stay on track and out of prison.
NEA: Finish this sentence: Storytelling is essential for everyone because…
LEVY: Because it helps us understand others and ourselves. It allows us to feel empathy, and the ability to learn from stories is a skill that will help the youth that we serve for the rest of their lives. In addition to personal goals, storytelling enriches lives and provides guidance to living and connecting with others