Celebrate 2023 NEA Jazz Master Sue Mingus!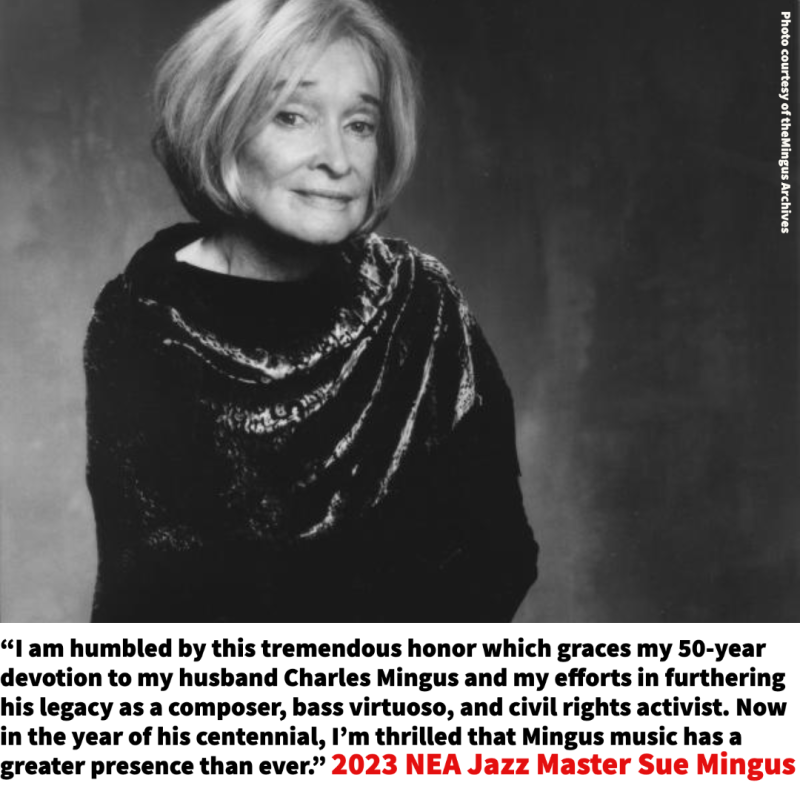 Sue Graham Mingus—recipient of the 2023 A.B. Spellman NEA Jazz Masters Fellowship for Jazz Advocacy—was a fierce proponent for the legacy of her late husband, Charles Mingus, one of the legends of jazz. In addition to being an archivist of the bassist and composer's life and music, she also directed various incarnations of his bands to perform and record Mingus' music: the Mingus Big Band, Mingus Dynasty, and Mingus Orchestra (as musical director she won a 2011 Grammy in the category "Best Large Jazz Ensemble Album" for the release Mingus Big Band Live At Jazz Standard). Mingus' documentation of her husband's body of work resulted in a sizeable archive, the Charles Mingus Collection, that was acquired by the Library of Congress in Washington, DC. MORE.
Join us Saturday, April 1 at 7:30 pm ET as we celebrate the 2023 NEA Jazz Masters: Regina Carter, Kenny Garrett, Louis Hayes, and Sue Mingus. Watch the Tribute Concert webcast live from the Kennedy Center on www.arts.gov.